Zero Aftermarket
From Unofficial Zero Manual
Overview
Vendor-supported accessories or accessories with confirmed fits for the Zero platform are listed below.
Unofficial or owner-discovered fits for the Zero are covered as Common Modifications or Advanced Modifications, depending on the need for customization or fabrication.
Procedures for installing official accessories are covered as Common Modifications as well.
General Information
Zero motorcycles launched an accessories store in mid-2013. Parts are only available through dealers.
Covers luggage options.
Covers windscreens, handguards, and tank grips.
Formerly (circa 2013) included heated grips and a heated seat option.
Covers charging, the power tank, the power pack, and 12V accessories.
Covers gearing ratio options, the chain kit, FX shock, and the 2013 rear brake upgrade/fix.
Covers crash/drop bars, windscreens, the rain guard, and Pro Taper offroad footpegs.
Covers the brake lever parking hold and the belt tension gauge.

Formerly included a garage work mat and other items.
Riding Gear (includes touchscreen-compatible gloves) and branded casual wear also have sections for fans.
Hollywood Electrics has been a significant supporter of the Zero market for several years, and has supported aftermarket charging and racing customizations.
They now have an online store, featuring:
Twisted Throttle has some Zero-specific and Zero-fit-suitable product listings.
They resell R&G's Zero-fit products for the North American market:
Otherwise, they list waterproof DrySpec soft bags and tires that fit.
AF1 Racing is an Austin, TX, USA Zero dealer that publishes some Zero-specific pages listing OEM parts and accessories.
Their AF1 Zero Accessories Listing features R&G Racing's products as well as side racks and matching side cases from the Givi and SW-Motech fittings.
Battery Upgrades
EV battery upgrades are necessarily very constrained:
The output voltage must be the same to avoid re-engineering the systems, so additional capacity must be added in parallel, not series.
The cell technology should be a good match to have reasonably good load-sharing between batteries in parallel.
The batteries should be harnessed in tandem without much dynamic reconnection, so a "battery trailer" right now is just a concept for recharge buffering.
Judging from the OEM offerings, the BMS software is essential for getting good cooperative behavior with the bike's MBB. This means that battery modules should have as close a match of hardware signaling connections, and BMS hardware and software revisions, to get the best result and avoid technical issues or damage.
OEM Power Pack Module
The Power Pack module is Zero's solution for modular battery power, available for the X platform bikes.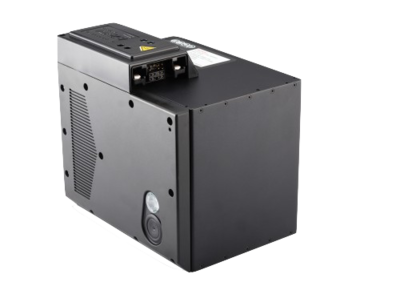 As of 2017, the X platform includes a non-removable long brick module in the default configuration.
It is unclear whether a long brick module will be separately available except by special order.
The removable power pack module option is available by request with some additional cost.
30Ah(?) Farasis cells in 28s1p configuration with a BMS.
Suitable for 2014+ bikes.
New case shape, slightly extended!
Different part number per year.
Discontinued; special order for 2013 models?
28Ah Farasis cells in 28s1p configuration with a BMS.
Suitable for 2014+ bikes.
Same part number for 2014-2016, new part number for 2017.
Discontinued; special order for 2013 models?
25Ah Farasis cells in 28s1p configuration with a BMS.
Suitable for 2013-2015 bikes.
Different part number per year.
Dimensions

9.5 x 7.5 x 9.75in (HxWxL)

Weight

45lbs.
Operational Notes

Cell balancing seems less effective than the main power pack.
OEM Power Tank
The Zero's Power Tank is the only available battery upgrade for the S platform that is officially supported or has a straightforward path to install.
It's equivalent to a single Power Pack module for a Zero FX/FXS.
It has its own internal BMS which requires a significant amount of behavioral parity and configuration matching with the bike's Power Pack.
The MBB is wired and configured to talk to two BMSs total, #0 for the Power Pack and #1 for the Power Tank (This corresponds to handling two BMSs for each X platform module).
Power Tank logs and settings will be accessible as BMS #1.

Dealership Install Requirement

An install requires dealership access to:

Check and match firmware revisions between the Power Tank, Power Pack, and MBB.
Connect the systems safely so that there isn't a major current inrush that damages the bike or the Power Tank.
Revisions

The Power Tank and Power Pack products are revised per generation of Cells. The Power Tank adds 25% capacity to the main pack.
2.8kWh (discontinued) original version released 2014.
3.3kWh (discontinued), released 2016.
3.6kWh, released 2018, listed for 2014+ models.
Install Limitations

Only one Power Tank may be installed per vehicle.

The S Platform tank area is the only reasonable place to mount a Power Tank, because of its incredible density.
The MBB is configured to coordinate and communicate with two BMS units.
The Main Pack has one BMS on the S Platform, and the X Platform is set up to carry one or two Power Pack units, each with a BMS, unless using a Long Brick (2017+).

It is not set up for disconnect without dealership involvement.
Parts
Part numbers

| Part number | Part | Price (USD) |
| --- | --- | --- |
| 24-08153 | TANK BODYWORK ASSEMBLY CHARGETANK | 300 |
| 24-08175-1XX | DSR TANK ASSEMBLY BLACK | |
| 24-08177-1XX | DSR POWER TANK ASSEMBLY BLACK | 125 |
| 12-08011 | Power Tank Fasteners and Harness Kit | |
Location

It fits in the tank area for 2014+ Zero models of S/DS/SR/DSR under the tank plastics.
Mounting

2014+ frame features are required for the approved mount.
A carrier tray in the tank area suspends the Power Tank almost a centimeter total (3mm gap clearance) above the main Power Pack battery.
Holes in the frame on the forward inner sides of the tank area anchor the Power Tank.

These holes typically are covered by cable runs, and can be found by moving them aside.
J-bolts hook into these holes and retain a corner bracket around the top rear edge of the Power Tank.
Operational Notes

Cell balancing seems less effective than and separate from the main power pack per cell balance with powertank?.
Dimensions

9.5 x 7.5 x 9.75in (HxWxL)

Weight

45lbs.
Troubleshooting

Early installations (2014) of the Power Tank had issues where the Power Tank's capacity would not count towards the bike's capacity, or the bike might shut down.
General consensus appears to be that charging a bike with the Power Tank (prior to some BMS firmware revision) could cause a self-protective disconnection due to imbalances between the Power Tank and the main Power Pack.
While this shouldn't happen with 2015+ Power Tanks, they can still have issues during or after installation if the Power Tank's charge state is not matched / balanced with the main Power Pack.
Basically, one or other contactor might not shut, resulting in reduced power capacity.
If for any reason something like this occurs, plug the bike in and wait for pack voltage and power tank voltages to match. The bike should operate normally at that point.
Connections

A cable harness attaches to the Power Tank's rear-facing output port.
The harness hooks into the bike's main systems to communicate with the MBB, and also runs to the B+ and B- terminals on the controller to deliver power to the motor.
Pre-2014 models also have an incompatible interconnect harness, much like their accessory charging circuit is lower capacity.

A 2013 model with the battery recall applied might support the connection harness, but the MBB will likely not interface with it.

WARNING Only connect or disconnect this cable while the main contactor is open and the motorcycle is fully de-energized. Connecting a Power Tank with any circuits powered could damage or disable the vehicle entirely.
General guidance before connecting or disconnecting any high-powered electrical systems from a Zero:

Wait a full 10 minutes to be absolutely sure that components have discharged fully, but 2 minutes is typically safe.
Confirm this with a DC voltmeter.
Operation
The Power Tank has its own BMS and contactor and coordinates with other bike systems via the MBB.
The contactor limits are presumably the same as for the main Power Pack contactor limits, except that the current/power input limit would be ¼ of the Power Pack.
The Ah rating of the Power Tank should be displayed on it just to understand what the current basis for 1C is.
Chargers
Charger Comparison
This table simplifies details for the sake of comparison. See the notes below and investigate based on your needs and allowable tradeoffs.
Charger Comparison (typical configurations)
Vendor
Model
Power (kW)
Weight (lb)
Density (kW/lb)
OEM Warranty
Protection
Self-Protection
Custom Orders
Tank Count
External
Inlet to Onboard
Charge mode enable
Cost (with input adapter)
Zero
Onboard Calex 1200W
1.3
17
0.08
✓
IP65 for enclosure

IP25 for connector

✓
✗
0
✗
N/A
✓
800 USD
Delta-Q QuiQ Charger
1.0
11
0.09
IP66
✓
✗
0
✓
✗
✓
600 USD
2018+ Charge Tank
6.5
25?
0.26?
IP66
✓
✗
1
✗
✓
✓
2295 USD
Hollywood Electrics
Elcon 2500
2.5
15.6
0.16
✗
IP46
✓
✓
0
✓
✓
✓
1300 USD
DigiNow
DigiNow Super Charger
3.3
9
0.37
IP67
✓
✓
1
✓
✓
✓
1755 USD
6.6
18
2
+800USD?
9.9
27
3
+1500USD?
EVTricity
EVTricity Fast Charging Kit
6.6
13.2
0.50
None
✗
✓
N/A
✓
✗
✗
1513 USD

*1990 AUD

8.8 (tuned)
0.66
Notes

This summary compresses some assumptions together for the sake of comparison.

Power/Cost

Figures are per configuration and do not count the onboard charger.

Stacking

Multi-unit costs for non-OEM chargers is lower per unit, and isolated units can be stacked, up to 1C.
SCv1 (eMotorWerks) and Manzanita Micro units are not isolated, should not be stacked.
SCv2 (current DigiNow) and Quiq are isolated, can be stacked.

Protection

IP codes are sourced from the supplier, and can be compromised by vendor kit assembly.

DigiNow has reported separately submitting their assembly for lab testing to get an assembly rating listed below.
EVTricity's supplier does not rate their equipment for vibration or dust ingress or vehicle usage; treat with care.

Warranty Coverage

Zero will not cover system failures related to unapproved chargers if the charger equipment or its usage is deemed related to the fault.
Using chargers like these may cause early failures if not operated safely. Discuss warranty coverage with your dealer.
Level 1 AC
The following chargers can handle 110V or 220V AC at common frequencies, but have individual power ratings that fit the common NEMA 5-15 North American outlet plug (typically 15A at 110V but it's safest to draw 1.3kW or less).
Zero sells a custom version of the Delta-Q QuiQ Charger for the Zero battery pack.
Power

1kW per unit
Handles 110V or 220V and varying AC frequencies.
Physical Attributes

Lightweight; easily fits Zero's Givi E21 side cases.
Ruggedized (IP66 rating) with cooling fins but no active cooling.
Connecting

Plugs into the Zero accessory charging port.
Can be combined using Y-adapter cables with other Quick Chargers for up to 4kW additional charging (4 chargers with 3 Y-adapter cables).
Maintains the bike in charging mode even when keyed off (charge-mode enable integration).
Operation

How to Charge a Zero Electric Motorcycle, by Proximidude shows how to use one with an FX.
Technical

"charger has a 10k pullup to 5V on the center pin. That won't start charging without the key or onboard to begin, but it will continue charging and indicating after key off and onboard off." (credit to Keith, http://electricmotorcycleforum.com/boards/index.php?topic=7407.msg62912#msg62912)
This is the generic version of Zero's Quick Charger, and is not usable as sold.
It would require programming to work with the Zero, including the enable signal.
The output voltage is fixed when bought, and cannot be adjusted; the highest is 96V, not directly usable for the Zero battery pack.
Level 2 AC
All of the Level 2 AC options except the multi-unit diginow are single-phase oriented. Mennekes adapters provide three phases, and the Diginow sold with Mennekes adapters (Europe, NZ) are wired so one 3.3kw brick draws from each phase, up to all three phases.
Zero branded 200-240VAC Charge Tanks are based on a J1772 inlet at this time, with a Mennekes adapter, which is necessarily single phase.
Adapter Cord
The onboard charger will accept 208-240V AC but still charge at a 1.3kW.
Using a splitter between the onboard charger and other Quick Chargers or the Elcon is a common configuration.
C13 Output

The onboard charger and OEM Quick Charger have C14 inlets for C13 plugs.
C19 Output

The HE Elcon 2500 and EVTricity external chargers had C20 inlets for C19 plugs.
J1772 Adapter Cords
OEM

SAE J1772 Charging Adaptor is just the J1772 to C14 cable adapter cord, at $300.
SAE J1772 Charging Socket Kit for 2013 Zero models mounts the connector in front of the left frame stanchion next to the onboard charger inlet, at $500.

After 2013, the frame shape there is slightly different and would require a different fitment.
TucsonEV makes plugs, inlets, wires, and cords for J1772.
They offer a specific J1772 To Zero Adapter product to connect to the onboard charger and a (preconfigured) number of Delta-Q QuiQ chargers officially supported by Zero (basically splits into 1-3 C14 plugs).
It's cheaper than Zero's cord, and offers a splitter option to power one or two Delta-Q QuiQ chargers in parallel with the onboard charger, up to 30A theoretically.
OEM Charge Tank
The most convenient charging option is the OEM-supported Charge Tank for 2015 models onward.
It's more convenient than an Elcon 2500, but for subtle reasons seems to be slightly less compatible with a range of charging stations (see the User Guide).
Revisions

2.5kW (discontinued) released 2016.
6.5kW, released October 2017. Only available as a factory installed option for 2018+ models at this time.
Only available in J1772 configuration, Mennekes single-phase adapter offered for Europe, Australia, NZ.
Power Level

Provides its own charging power (2.5kW for 2016-2017) while also engaging the onboard charger for a total of 3.8kW (2016-2017) while leaving the accessory charging port free.
2018+ models yield 6.5kW for a potential total of 7.8kW when the bike is not a single-long-brick bike (7.2kWh) in which case it would operate within the ~7kW limit.
Location

It only fits in the Power Tank area (so they can't both be installed) and requires a dealer-only installation (very involved).
Operation

The bike must be keyed on before initiating a charge cycle with the Charge Tank.
Once charging, the bike can be keyed off; the Charge Tank and onboard charger will keep the bike in charge mode.
Reference
DigiNow Super Charger v2
This refers to the V2 of the product as released in 2017.
Product link DigiNow Super Charger V2.
Limited orders made for the Super Charger V1 through 2016 have been upgraded to a two module version of the V2, and ordering is now generally available at a scaling price by having a modular assembly.
Features

Made of 3.3kW modules in configurable numbers, up to 11.2kW for current Zero models' charging limits.
Tank Bag cowl area fitment for one module air-cooled.
Power Tank cowl area fitment for two modules air-cooled, and three modules with a yet-to-be-designed thermal management system.
Ordering

DigiNow has a distributor in UK and sells directly outside of Europe.
Technology

V2 is based on a new Elcon charging product arranged in multiples.
They limit themselves to lower amperage when connected to North American household voltage levels, which are typically designed for 15A at 110-120VAC.
They are made to run at full power on 208-240VAC, and they have also been tested to run at full power from ~170-360VDC
Cooling is provided by air-blowing fans; a liquid cooling system is also available by special request.
The Elcon product page indicates that it can communicate over CAN bus, which requires a custom control module to tell it what to do for integration with Zero's systems to be safe and reliable.
Also, Elcon supplies are electrically isolated, eliminating some design and handling issues with the V1 platform.
There is no controlling user interface currently provided, but DigiNow has stated they intend to add Bluetooth / BLE support (including for units already shipped), implying some kind of mobile application to communicate over a protocol.
Guides

DigiNow's Supercharger V2 unboxing video for a quick overview of the hardware.
Eric Shattow's Supercharger V2 unboxing video for a closer showing of the hardware.
Eric Shattow's Video showing the Supercharger V2's hardware connections
Connections
J1772 primary inlet.
Anderson connector (SBS75XBRN) primary outlet with a "keepalive" signal transmitter.
(Unlisted, must ask) a controller connection with a separate Anderson "keepalive" signal transmitter.
Optional Inlet Adapters
Hardware
DigiNow Super Charger Installation
This charger can be ordered in a few different configurations, making it the most flexible charging option currently available.
This attempts to describe most available options and concerns.
Your charging arrangement may vary per your requested options.
Reference

The following photos feature a MY2016 DSR, charge tank bracket and cowl, and single module SCV2.
Parts
(1) J1772 inlet wired for 2 charging units, or 1 charging unit and a split to feed the onboard charger.

For 3 charging units, two J1772 inlets will be provided, one wired for 2 units and one for 1 unit with an onboard charger split.

(1 to 3) Elcon HK-J charging units with 12V fans wired and mounted to a simple aluminum heat sink on one side.
(1) Y-split cable with two (2) Brown Anderson SBS-75X connectors and one (1) downstream Red Anderson SBS-75X connector.
(1) Potted aluminum box containing the control board. The wiring should connect to each charging unit.
Instructions
Discharge your power pack to 75% or lower.
Power down your motorcycle and unplug the charger, ensuring the contactor clicks open.
Wait 10 minutes for all components to completely discharge.
Connect the J1772 inlet to the chargers, and the control board to the chargers.
Perform an unloaded test:

Connect the J1772 inlet to a source of 220V power rated for 6.6kW (30A) (via adapter if necessary).
On early models, verify that the fans turn on and if a light is visible on the control box, that it is lit.
Station power (if confirmable) should read a few tens of watts, like 40W.
Disconnect the J1772 inlet.

Wait a couple of minutes for the charging units to discharge fully before connecting them to the motorcycle.
Connect the charging system to the vehicle: connect the output Anderson connector to the accessory charging port.
Turn on the bike and make sure the contactor closes.
Make sure the bike operates (twist throttle or roll the bike to make sure the controller is engaged).
Open the Zero mobile app if possible to check charging activity on the battery.
Repeat the test above with the battery connected and verify charging by the amount of amps reaching the battery in the Zero app Battery Screen.
Verify that the charge-mode enable signal works by keying the bike off.

Observe that the bike stays in charge mode and the app continues to report incoming current.
If this fails, disconnect the inlet from the upstream source and recheck connections once discharged.

Verify that tapering works at high states of charge by completing a charge beyond 80% SoC. The tapering should happen in concert with battery voltage reading 116V.
Install Chargetank Inlet Bracket (Optional)
Installing a dual SCv2 under the Chargetank

Relocate the flasher relay and the clip which holds it to the frame. It can be attached to the Chargetank inlet support bracket.
The dual modules will fit with the fans forward and the body bolt heads pointing up. If the fan wires don't exit the fans to the top, slowing work the fans out of the airbox to rotate them.
Discontinued. Evtricity writes... "On a personal note I have been splitting my time between the EVtricity Zero chargers and a new electricity comparison and energy saving service for Australian households at https://wattever.com.au. I'll be devoting the majority of my working time to wattever.com.au over the next few months while continuing to provide support to EVtricity charger owners in 2017 and 2018. I'm also hoping to ride my SR a little more and enjoy spring and summer in Australia.
"In terms of future charging solutions, we have some new Zero fast charging options - in addition to what we have provided in 2017 - that we will be evaluating over coming months. In 2018, we'll assess whether there is an opportunity to again provide fast charging options for Zero motorcycles."
EVtricity assembled two options for fast charging out of stationary computer power supplies - a 3.3-4.4kW AC charger and 6.6-8.8kW AC charger.
These charging kits were fully assembled in Australia.
The units were programmed to charge Zero motorcycle models from 2013-2017.
This kit filled the niche for a mostly-stationary charger programmed for a Zero, trading off durability for cost.
WARNINGS

These are not waterproof or dust-protected and are not warranty-protected if mounted to the motorcycle.
Neither the OEM nor the vendor has submitted these for independent protection testing, so they are not rated for protection from the elements with an IP code.
Treat these as stationary power supplies which may be transported at some risk.
If transporting this charging kit, keep these stored within a waterproof case and cushioned to protect from vibration.
Construction

Emerson R48-2000e3 rectifiers (datasheet)
Custom PCBs & wiring
Anodised aluminium case.
The units are configured for Zero motorcycles maximum voltage (116V) and the AC input current limit can be specified at ordering to suit the power sources used by the Zero owner e.g. 15A/16A or 20A.
EVtricity also offers a matching Mennekes or J1772 adaptor to allow two 3.3kW chargers and an onboard to be plugged in simultaneously or one 6.6kW charger and an onboard charger.
The 6.6kW unit is effectively two single chargers placed in one case with independent AC input and DC outputs providing modularity in case only lower current (15A) power supplies are available.
The unit is not weatherproof so needs to be carried on the bike in weatherproof luggage and kept away from rain/dust when charging or in storage.
The charging kits do include DC output cables to plug into the Zero fast charge port but do not include the AC input power cables required for each location e.g. NEMA to C19 cables, Schuko to IEC C19 cables etc.
The units have IEC C20 sockets - an international standard socket - and power cables with a matching IEC C19 plug are readily available in most countries.
| Configuration | Power | Dimensions | Weight |
| --- | --- | --- | --- |
| Double Fast Charging Kit | 3.3kW (up to 4.4kW customized) | 29cm x 18cm x 5cm (excl. cable glands and cables) | 3kg |
| Single Fast Charging Kit | 6.6kW (up to 8.8kW customized) | 29cm x 18cm x 10cm (excl. cable glands and cables) | 6kg |
Ref. Products Page
Variants

Default input limits vary by Level 2 AC standards per region (EU = 16A, US = 15A, AU = 15A) and custom AC input levels up to 20A per input (two inputs on the 6.6+kW charger) are available on order.
DigiNow Super Charger V1 (discontinued)
Product link DigiNow Super Charger V1 (courtesy of Internet Archive's wayback machine).
This charging product went through an intense development and testing phase in late 2015. Due to manufacturing and contractual issues this is now discontinued and has been replaced by the Zero Aftermarket#DigiNow Super Charger V2.
Features

Monolithic 12kW charging capability
Power Tank area fitment air-cooled.
Ordering

Product is discontinued.
Technology

V1 was assembled as a homologated single 12kW high powered switching power supply derived from an existing generic unit to fit in the Zero tank area.
The control board sets up a WiFi access point with a mobile-web application server for adjusting how it operates once it's supplying power.
The control board is powered from the external charging source.
DigiNow has indicated that the V1 situation was difficult for some reason involving the supplier, but specifics are not commented on publicly yet.
V1 is working for customers in the field, and provided a reasonable development platform for understanding the parameters of operation and compatibility issues with various charging station technologies, that fed into the V2 platform.
Hollywood Electrics Elcon PFC 2500
Harlan at Hollywood Electrics sold a customized, programmed Elcon PFC 2500 charger to work well with the Zero battery pack.
Product Page

The Elcon Quick Charger product page is no longer available (this link is form archive.org's wayback machine); presumably it can be ordered specially or serviced but it seems like the Supercharger v2 (also Elcon-based) in the 3.3kW configuration is considered a better value and the way to go forward.
Customizations

It is programmed for the Zero voltage range and performs smooth charging cutbacks as a full voltage is approached.
The output leading to the accessory charging port uses the signal pins to ensure that the motorcycle stays in charging mode once charging has started, even without the onboard charger or leaving the motorcycle keyed on.
The input plug is an IEC 60320 C20 coupler instead of Elcon's stock NEMA 5-15P plug (for US 110V outlets).
Cabling

This includes a splitter for the onboard charger, for conveniently reaching 3.8kW for a single Elcon or 6.6kW for dual Elcon inputs.
A single Elcon or a pair may be accommodated.
NEMA 14-50 (typical RV park 50A plug) support is also available.
Other customizations can be accommodated on request.
DIY assembly of power cables and adapters is possible and can be cheaper than purchasing, but should be learned and performed carefully to avoid high power electrical faults that could cause damage or injury. Crimping should be performed by a professional with the best possible tool for the connectors and cable gauge to avoid dangerous bad connections.
Product Information

It is very flexible and robust, but requires programming to adapt it to a specific vehicle.
It performs at 2.5kW at 220V AC input or at 1.2kW at 110V AC input (effectively current-limited).
It is primarily designed for use in electric forklifts and light industrial trucks.
As delivered, it takes power in through a NEMA 5-15P plug and outputs through a grey Anderson connector.
The Elcon PFC product range offers a variety of power outputs; the 2500 happens to be the most powerful that can be effectively carried on a Zero in a Givi case.
The HK-J charger is a newer model that outputs 3.3kW at 220V AC or 1.6kW at 110V AC. It's smaller and lighter than Elcon's PFC 2500. It would require significant programming and customization to be used with a Zero.
Product link: Elcon's HK-J series 3.3kW charger
The Diginow Supercharger v2 is based on similar chargers plus a sensor and canbus controller unit.
"newbie" user Josh reports that similar units can be ordered without canbus control.
He proposes a group buy. I'd be wary of sending money to a person without a track record.
Thunderstruck EV sells a non-homologated assembly of what appears to be the same charger as used in the pre-2018 OEM Charge Tank with a separate generic controller. Naturally, this requires using quite a bit of programming and configuration to set up successfully. It's a 2.5kW charger with ample air cooling.
Combining Chargers
One can combine chargers to feed the Accessory Charging Port using the right cable.
Zero's Y-Cable below is designed to do this. It's intended for their Quick Charger but can be used on an Elcon 2500 or other isolated charger able to work with the enable pins.
Notes
There are 2 enable pins on the Accessory Charging Port.

You have to use two chargers to each pin.
One pin can't drive more than 2 chargers.
If one pin drives two chargers, the other pin must drive 2 chargers or none at all.
So, 1, 2, or 4 chargers can be supported, but not 3...

UNLESS you add a jumper and pin to the Anderson connector to bring both pins on the same sensor wire.

2013 and earlier models accessory charging port have a 30A current limit, so can't handle 4 Quick Chargers.
Steps
Join a pair of chargers with a Y-cable.
For a second pair, join them with a second Y-cable.

To combine the pairs, you need a third Y-cable that output can be connected with your bike.
Ref. If I add the third QuiQ charger, it cancels out one of the other two leaving one QuiQ charger working, along with the onboard charger (about 2000 watts)
Zero sells a splitter input cable for combining their Quick Chargers into the Accessory Charging Port.
It can be used on any charger rated for the Anderson connector (SBS75XBRN).
Alternative

DIY Charger Y-Cable procedure.
DC
DC charge stations are conceptually just offboard AC chargers programmed for higher voltages.
DC charging works differently than AC to DC charging. The power output is based on voltage rise. A CHAdeMO can only charge 6.2 kW at 50v if it follows the spec, which most do not.
Most DC chargers (ChaDeMo and CCS, in practice) do not go below 200V, meaning the Zero has to fake the system out. In doing so, you get an immediate voltage rise causing the DC charger to think you have completed your charge nearly immediately.
A CHAdeMO station is no different from an offboard high power charger which would also result in the same thing.
If you plugged the output of one charger into the input of another charger, the first charger, which is powering the second charger would turn on and off again immediately.
The nature of DC charging uses the battery itself as a load causing voltage drop.
This is the premise of how DigiNow controls the Supercharger power and voltage output, and how it knows when to slow down and by how much.
Cost

Inlet hardware which can handle reasonable power run around 800 for the incomplete plug alone excluding control board's, wiring harnesses etc.
For this reason, DC charging hardware still costs more than AC charging hardware.
Ref. DC-DC charger
OEM
Zero offered a CHAdeMO solution for the 2013 models that placed an inlet on the left side of the frame behind the battery and installed a custom charging path to the battery. Unfortunately, they had enough troubles with charging station implementation for Zero battery voltage that they abandoned support for this solution.
There is controversy about this action from Zero. The core feature of the problem is that some earlier implementations of CHAdeMO charger stations did not provide DC voltage in the range that the Zero battery operates in. The lowest voltage that is supposed to be supported in a CHAdeMO implementation is 50VDC, however, most other CHAdeMO consumers operate at above 200VDC, so some implementations were made only to support that voltage range. Unfortunately, Zero's range is around 96VDC-118VDC depending on the state of charge. If properly implemented, a CHAdeMO charging station and a Zero Motorcycle are compatible. To compound this, most of the charging stations that were installed that were only 200VDC+ compatible were installed within the stomping grounds of Zero's HQ, so they received an inordinate level of reinforcement of their incompatibility worries. Later implementations of charging stations, done in other areas of the country, were much more consistently compatible. [1]
Charged EVs magazine story about Zero and CHAdeMO has the most detail of any explanation so far.
station compatibility summary on the forum
Third-Party
TusconEV CHAdeMO inlet at $650 could be the first component in the a DIY CHAdeMO solution. Signaling logic would probably have to be added.
QuickChargePower CHAdeMO products are promising, between an available CHAdeMO inlet at $800 and the JdeMO setup for the RAV4 EV. There are reports that the owner plans to develop a solution for the Zero.
SAE/Combo
CCS builds on the J1772 plug to add a DC plug.
CCS is actually more complex than ChaDeMo by far, but that complexity also makes it much more secure. It uses encrypted TCP sockets over the power lines themselves with security certificate transfers, etc. Whereas CHAdeMO works via simple CAN bus messages.
DIY Chargers
A thread on DIY charging on a budget: Charging solution for $2k or less?
QuickChargePower offers a number of components at reasonable prices (relative to the market and electronics sophistication).
Building a series of two high-density 48 V DC power supplies is a way to get a custom charge assist, although computer power supplies are not ruggedized or weatherproof. The power supply will need adjustment to produce a higher voltage of 54-55 V DC so that in series the pack produces 108-110 V DC, sufficient to run through most of a battery charge cycle.
Meanwell

Eltek
Windscreens
OEM Windscreens
Zero Touring Windscreen
Recent addition with a spoiler and more design for aerodynamic comfort.
Provides efficiency gains of 10-15% particularly when crouched.
Relatively modest with more angular styling.
Official Third-Party Windscreens
They make an adjustable fitment for 2013+ Zero S/DS/SR/DSR bikes with tint and height (18-24") options with a recommendation table for rider height!
They make touring windscreens for Zeros
They have a particular design philosophy around windscreens that works rather well for good airflow and low drag.
Third-Party Windscreens
MRA Windscreens
Makes the mounts and windscreens that Zero brands for its bikes. They have other options that provide some choices.
Puig Windscreens
Makes windscreens and mounts for sportbikes, naked bikes, and cruisers.
Makes windscreens designed for maximum efficiency, claims +15mpg difference at highway speeds for a number of motorcycle models.
Offers some windshields for naked bikes that can be adapted to a Zero:
Discussion thread proving and itemizing a BMW fitting by user:BrianTRice. Efficiency gains are 15-20% except in severe headwinds.
===Slipstreamer
Slipstreamer S-05 Turbo Zero SR install confirmation, with a successful aerodynamic and comfort improvement. (forum reference).
Slipstreamer Spitfire install confirmation.
Slipstreamer SS-10 Viper install confirmation.

Chinese LARGE Windscreen from eBay

This is apparently a family of windscreens (sport-touring and cruiser style) with handlebar mounts. They are cheap ($55) but not of great quality.
Crash Bars
Zero has a parts catalogue for dealers for the police (SP/DSP/FXP) models - the crash guards and crossbar, and the upper left and right brackets, but they don't sell the hardware (screws and bolts). The manual entry for the Frame attachment points is sufficient now to source the hardware easily.
This product is a "retail civilian version" of the Drop Bar Kit that is complete, and includes a new skid plate because the S/SR skid plate is not designed with the drop bars in mind (lighter weight, probably plastic, with no pre-drilled holes for mounting). The civilian version does not include brackets for mounting extra hardware, however, but it is apparently cheaper.
Pre-2015 Fitment
The pre-2015 frame does not support the drop bars' intended shoulder attachment points.
A 2013-indicated protection kit has been spotted in Zero's catalogues, but it likely requires machining to install and could weaken the 2013 frame if not installed professionally.
The FX and FXS models support lighter, smaller drop bars, again derived from fleet/police customer needs.
Notes
Drop bars for FX now come with hardware, but might not be complete.
It appears they might assume you have the frame mounting screws.
Fairings
Zero seems reluctant to commit to an OEM fairing design, for probably mostly business, branding, and budget reasons.
However, a well designed conventional front fairing should increase range at highway speeds by 30%.
A front fairing with a carefully crafted rear tail could do more, up to 50% (oversimplifying how this works here).
Full Fairings
Hollywood Electrics appears to have created a custom sport-touring fairing for their racing bikes, hinting at a production run available soon.
Price and date TBD/TBA.
References
See the Zero customizers page for some faired Zero offerings by Hollywood Electrics and others.
Cosmetic Bodywork
OEM
The Power Tank and Charge Tank have tank plastic options which can be bought separately or selected for color customization.

Both use a relatively flat surface for the centerpiece, and the Charge Tank has a J1772-sized inlet hold with built in waterproof cover with a spring-loaded hinge.
As of 2017, the Charge Tank centerpiece is separately available as part number 24-08137 for $40, to turn your existing tank plastics into a J1772-inlet-using tank.
Hollywood Electrics devised some carbon fiber body pieces:
This provides 2013 Zero models with a small but reasonably good-looking hard plastic shroud around the Koso instrument cluster.
Presumably this has a marginal effect on drag and energy consumption, but it probably helps smooth airflow with or without a windscreen.
2014+ S models have a plastic enclosure for the headlamp that interferes with this.
Flyscreen
Flyscreen rubber bumper with tape
(2) spacers
(2) M5⨉25 cap head bolts
Tools
3mm Allen key
Cutting tool (~scissors)
Installation
Remove the upper mounting screws for the headlight.
Place the included bolts through the holes in the side of the flyscreen.
Place the spacers onto the bolts on the inside of the flyscreen.
Carefully place the flyscreen over the headlamp, matching the bolt position to the upper headlight mounting holes.

The bolts must be withdrawn slightly to surround the headlight mount points.

Engage the flyscreen mounting bolts to hold the flyscreen onto the headlight.
Cut the rubber bumper's two side spacers off.
Place the bumper against the top of the Koso gauge instrument cluster.
Remove the tape along the top and press the flyscreen to it.
Tighten the flyscreen mounting bolts.
Tank Grips
Tank grip pads are very useful for maintaining a crouched position comfortably and getting better control over the balance of the motorcycle.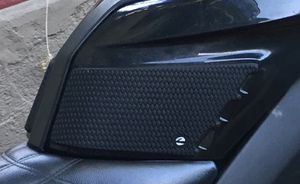 OEM
As of 2017, Zero offers soft TechSpec tank pads for 2013+ models on the S platform for $60:
Third-Party
TechSpec makes many different shapes in a soft material. Some generic shapes are suitable for customizing (1200GS pads fit the DS tank with a little adjustment) with the right cutting tools.
Mudguard
This is a modest and inexpensive mudguard that mounts to the underside of the license plate tail extension.
Walkthrough Video

Difficulty and Time Estimate

Easy / less than 1 hour.

Parts and tools
Rain guard kit
optional washers
license plate bolts long enough to add the rain guard
Phillips head screw driver (not a bit driver), wrenches or screw driver for the license plate hardware.
Instructions
Remove the license plate.
Peel off the red reflector above the license plate.
Back out, clean, and save the three screws under the reflector to remove the reflector bracket.
Put the rain guard in place with the wide tabs lined up with the top holes of the license plate frame.
Locate two recessed Phillips head screws under the tail that are in line with the narrow-spaced holes at the front of the rain guard and remove.
Make sure the wires feeding the turn signals are in the forward notch on the rain guard.
Put the white spacers in the kit into the recessed tail holes and secure the front of the rain guard using the supplied long screws. Optionally add washers to the underside of the rain guard before inserting the screws.
Attach the new reflector bracket and apply the new reflectors.
Attach the two wide tabs to the back of the license plate support using the license plate bolts while reinstalling the plate.
Photos of installation on Facebook
NOTE: This has been observed to fail when encountering any non-trivial debris, and could very dangerously dig into the rear tire.
This mounts to the axle on the right side and adjustably extends over the rear upper quarter of the rear tire.
It extends far enough to easily clear the DS tires.
The bracket fits under the axle nut without compromising its fastening, although it does not snuggly conform to the axle diameter.
The S/SR front fender bolts directly onto the FXS lower forks, for those interested.
A low front fender for the DS/DSR 19" wheel is yet to be determined; it will likely require a cheap custom bracket to secure an existing fender.
Fender Brace
The DS/DSR/FXS models have a dual sport fender which does flex a bit at speed.
Some research indicates that the bolt pattern mounting the fender matches the Honda XR650L, allowing third-party fenders to replace it.
Confirmed fit:
JSN Engineering also offers an auxilliary LED mount that uses the same attachment point.
Installation

The pattern is 4 holes in a rectangular shape 58mm (2.3in) wide and 50mm (1.95in) front to back (center to center).
The bolts are M5x15mm button head socket screw for a 3mm Allen key.
Remove the fender with a 3mm Allen key.
Flex the fender to match the fender brace while keeping the mounting bolts in the fender to hold the brace the way it will be installed.
Mark the fender where the holes for bracing align with the fender plastic.
Remove the fender and drill holes matching the marks.

Double check how the alignment should happen since flexing will cause it to differ.

Replace the fender with the brace above it, and then fasten the fender to the brace.
Trivia

the S fork bracket has the same hole pattern as the DS, allowing it to mount hardware there.
Streamlining
There is a promising possibility that a streamlined electric motorcycle could be extremely efficient and practical.
Terry Hershner and Craig Vetter's Zero Streamliner proved that efficiency was possible by setting several records.
Practical application has yet to be demonstrated.
Reducing drag by mounting fairings that reduce the overall wetted surface of the vehicle and distributing pressure over the surface of that body.
See Wikipedia's Streamliner article for some history. See Kammback describing how a trimmed tail of a teardrop is practical.
Motivation

Context
Loss of efficiency at speed is very high for a motorcycle and rider.
Recharge rates for electric motorcycles will be roughly proportional to discharge rates at highway speeds for the near-term future.
So, minimizing drag changes the ratio of time spent riding to charging, which makes a Zero more suitable for travel.
Vetter Streamlining
Craig Vetter has been working on eco travel options for motorcycles for decades.
He recently got enthusiastic about electric motorcycle focus and helped Terry Hershner perform his streamlined cross-country trips, and has had a more conventional variant in the works for a couple of years.
However, a recent riding accident seems to have slowed or halted this progress.
References
Goals

As Vetter has explained, there are three major goals for a streamline fairing which have tradeoffs against each other:
Range
Comfort
Speed
Availability

The Vetter streamliner kit is available for sale for $2000 plus taxes and shipping.
Parts

The kit consists of fiberglass pieces made by molds held by Mike Corbin at his factory for:

The forward nosecone in upper and lower halves.
A "turret" piece made to rotate with the steering column.
A "seatback" piece meant to smoothly re-attach turbulent air behind the rider's body onto the tail.

They require a significant amount of fabrication, planning, and work to mount.
All existing fitments are bespoke and unfit for even boutique level of adoption without major manufacturing commitment (a custom vehicle from the ground up).
2013+ S Platform Fitment

A full 2013+ fitment for an S Platform Zero has not been proven, and would require significant discovery and iteration, or a drastic change in design priorities.
Terry's streamliner Zero is a 2012 fitment that involved massive destructive modifications to the frame, and is essentially a retired experimental vehicle.
The nosecone or front fairing would reasonably mount to an extension of the OEM crash bars along that plane in a forward diagonal arc.
The seatback assumes destructive removal of the entire tail of the vehicle, completely repositioning the seat and controller to serve the purpose of the vision (minimizing frontal area).
Since this operation would destroy the resale value of the vehicle and require significant shop expertise to carry out effectively, they are unsuitable for a kit.
Other Streamlining
Airtech Streamlining offers a number of fairings that are roughly suitable for various parts of the vision:
These are smaller than the Vetter nosecone but lightweight and effective.
The DBL1 seems most effective, and the DBL2 has been tried with some success.

DBL1

The parabolic or egg-shell shape is stronger and more aerodynamic.
No cutouts are provided for the wheel or headlamp.
The side profile is somewhat wider but the fairing admits some flex to change its aspect ratio.

DBL2

Wider, allowing more clearance around the 19" DS wheel and tire.
Includes a basic cutout for the wheel, and a broad cutout for the headlamp.
Side nacelles allow some air cooling to pass within the fairing.
Low height limits its benefit to airflow without additional fabrication to close up the area around and behind the steering head.
Square frontal profile reduces lean angle significantly without bringing the fairing too high for drag reduction.
Vertical sidewalls are not as rigid, requiring reinforcement.

Gilera / NSU / Agusta

The Gilera is small and even lower than the DBL2, so not useful.
The NSU and Agusta fairings are narrow but may prove useful for a bike with a sport-sized (17") front wheel.
These are good conventional fairings with a streamlining design.
Wheel covers will still be quite helpful.
All of these dump air straight onto a radiator area, but on a Zero this dumps air straight onto the front battery face, so they are somewhat compromised.
These help for most of these fairings where pushing the headlamp forward from the steering column is required.

Land Speed Record Fairings are for a GSX1300R Hyabusa, but probably can be fit to a Zero (TBD).
Luggage
Tank Bags
Obviously, a stock Zero comes with a tank bag if it doesn't have a Charge Tank or Power Tank installed, but if it does, there's a utility storage gap in front of the rider.
There's nothing explicitly fit for Zero for a number of reasons:
The tank isn't made of metal.

Magnetic tank bags might find a Power Tank or Charge Tank underneath it quite attractive, but it's unclear whether the magnets cause a problem for them in the long run.

The tank is relatively small.

Most mid-sized tank bags will seem very large on it.

There's no gas cap to clip onto.

Maybe a J1772 inlet would provide an anchor, but don't compromise its waterproofing.

Running straps around the tank plastics requires a bit of finesse.

There's room above the battery to run straps but you might want to remove the tank plastics a bit to get the straps in there.
That said, people have fit backpacks, rucksacks, and tank bags onto their Zeros, but it's all been ad hoc so far.
Strap Mount Locations
Around the steering head.
Just above the battery.
Just under the front of the seat.
Examples:
Soft Luggage/Cases
In short, most soft bags can be adapted to a Zero if they are roughly fit for its size.
ongoing forum thread of recommendations
There are some hybrid hard/soft bags that are worth a look.
HandMade Fixation for SHAD E-48 Saddle Bags shows how to use common hardware to mount these to the seat pan, very clever and seems sturdy.
Hard Cases
Top Rack
Zero offers the only supported top rack solution for 2013+ S platform and X platform models:
The only alternative top rack that works with a Zero is the Givi Wingrack universal-fit series, which won't support OEM or other side racks that fit the Zero.
Mounting plates

The Givi E251 Monokey universal mounting plate adapts most large Givi cases to the OEM top rack.
Monolock universal mounting plate adapts smaller, more scooter-oriented Givi cases to the OEM top rack.
All Givi top plate options, most not confirmed to fit.
Other manufacturers' top plates should fit if they're meant for a Givi bolt pattern.
Installation

Difficulty: Trivial (15 minute job).
Design Issues
The rack is only fastened via the two M5 bolts into the top of the frame under the seat.

Downside: The strain on those bolts can accumulate if the rack has any freedom of motion.
Upside: This connection makes the top rack a cheap sacrificial point if the bike goes down in a certain way, particularly with the police models' use of a rear rack bar.
Recommendation: When removing the seat bolts, remove any load from the top rack (and side racks) to avoid straining these bolts and possibly breaking them.
Don't add load to the racks without the seat bolts inserted.

The top rack plate is smaller than a Givi Monokey or other larger vendor's case surface.

Crafting an aluminum plate to fix to the existing plate is workable with a drill and the right machined piece of (say) aluminum.
Side Rack
Side Rack Comparison
Manufacturer
Pros
Cons
OEM

Lightweight
OEM-Supported

Limited load
Relatively fragile

Happy Trails

Very sturdy
Adapts to non-motorcycle boxy cases
Supports inner accessory brackets

SW-Motech

Detachable Racks
Sturdy
Supports adapter plates for many vendors' cases
Fits the Givi PL/PLR side case holder spec.
Monokey side cases all fit EXCEPT for the V35 series which require a PLX rack (which is attractive and tries to conform around the tail).
Boxy/sturdy Trekker side cases all fit.
Noticeably, there is a design revision between 2013-2014 racks and 2015+ racks.

The tail mount is more robust, no longer using a pipe clamp to hang from the tail.
The turn signal mounts are sturdier and well-integrated.
Fits their "SU" holder spec, also offers some adapters for Givi PL/PLR mounting.
Designed around the 2015 DS, judging from the photos and time of release.
The rack hardware is robust:

Primarily 1/2" diameter square and circular tubing.
All the bolts are M8 bolts with 13mm hex heads which match the footpeg bracket bolt heads.
The rack mounts to the seat bolts instead of the smaller holes through the top rack which do not directly anchor to the frame.
The rack includes a bracket anchored directly to the frame where the tail piece attaches, avoiding turn signal wiring extensions.

Confirmed to fit a 2014 SR, although the clearance against the rear brake master cylinder is very tight and might be of concern.
All Happy Trail products vouched for the Zero fit, lists saddlebags, tank bags, pannier bags, etc., very good adventure options listed.
Features

Has quick-release fasteners (that can be locked with an add-on) that allow the side rack to be mostly removed from the bike.
Fits a number of vendors' cases using adapters: Givi/Kappa, Shad, Hepco & Becker, Krauser, and their own TraX and Aero cases.
Other products have been confirmed fit for the DSR: SW-Motech by model: DSR
Tradeoff

There appears to be some installation conflict with the OEM top rack.
Installation

Both racks rely on lower brackets that attach to the inside of the rear footpeg mounting brackets.
These mounts re-use the OEM bolts (13mm hex head M10 bolts) which are difficult to work on (clearance around the motor, suspension, cabling, and hydraulics is extremely tight).
The straightforward way to work on this aspect is twofold:

For the upper bolts, use a long extension (12" or so) that can swivel a bit to reach across the underside of the frame. Use a socket wrench to operate from there.
For the lower bolts, remove the lower side plastics and then use a low-overhead angled socket wrench from the front side of the frame vertical to reach the bolt and operate on it.
12V Circuit
Eastern Beaver is a good resource for motorcycle 12V electrics:
Horn
Most horn upgrades will challenge the DC converter's power load, particularly while the ABS brake pump is running.
See the common modifications section on horns for some discussions about how to wire an upgraded horn in.
Lighting
Headlamp
S-Platform Headlamp
Replacement Specification

H4 specifically for motorcycle tolerance fit, but 9003 generally will fit.
Brighter Halogen (often marketed as HID)

Generally, these offer much greater light spread and brightness with the same power requirement as the OEM bulb (55W/60W).
Whiter - Brighter & Safer Headlights For Your Zero - Mike Mas covers the broad issues with motorcycle headlight choices, recommends and reviews the zXe.
Cree LED

Fanless; uses braided metal filaments for heat dissipation instead of a fan unit.
Seems easier to fit behind the headlamp assembly while still keeping the lamp cool.
Cree seems to generate some noise on the CAN bus, which can lead to start errors.
OPT7 LED

Fan-cooled, but practically silent even for the Zero.
It's brighter than the stock bulb but has an unusual light pattern.
These appear to be more CAN-bus-friendly.
OPT7 at 20/40W. Choose the H4 (9003) Single.

The cooling element does stick out a bit which might require some gymnastics with the rubber boot meant to protect the headlamp from moisture.
Replacement

Video guide: Zero SR - How to swap a headlight bulb
Suggestion: Unbolt the headlamp assembly (with 3mm and 4mm allen wrenches) from the metal brackets to get enough room to work.

...unless you have very small hands and move the existing cabling out of the way.
Detach the existing bulb's cable at the plug.
Pull the rubber cover away from the headlamp.
Twist the retaining bracket to release the bulb.

NOTE: Avoid touching the bulb; oil and dirt from your fingers can cause the bulb's surface to heat up while operating and could age the bulb prematurely. Keep the bulb clean.

Place the retaining bracket and rubber cover around the new bulb and press and rotate to fix it in place.
NOTE: For a 2013-2014 model, the plastic retaining bracket might require some filing to fit another bulb with its assembly to hold it in and lock properly. Later models have an easier shape to fit.

Calibration

When replacing the headlamp, check the light pattern emitted and adjust the set screw in the headlamp housing to get a suitable projection angle.
Wiring

If you need anything even slightly customized about the wiring, Eastern Beaver's various H4 kits cover many possibilities.
X-Platform Headlamp
Replacement Specification

H3 with dual projectors
S7 fanless H3 LEDs

Fits well and works well, just have to decide how to deal with the braid vs the rubber dust cups. Very affordable on Amazon.
These are the right length, from base to element, to focus properly and provide a sharp and accurate cutoff on the low beam. (The high beam still looks like a flashlight.)
They are brighter than even a 50W halogen and white without being blue.
Headlamp Running light
Replacement Specification

Any W3W or W5W bulb easily swaps.
The license plate bulbs have the same spec but LEDs don't work as well there.
Options
A number of LED and HID headlamp replacements are available that fit the Zero. The orientation and direction of the LEDs needs to match the stock headlamp's bulb to get as good a light pattern.
Running Lights
Turn Signals
2013+

Type PY10W, similar to 1156, but the side pins are offset by 150 degrees rather than 180.Also called BAU15S or R10W.
The glass is amber (as the lenses are clear) and smaller, since the regular 1156 glass is too big.
AF1 Racing references #AP8127489 as "amber turn signal bulb, staggered pins"
2009-2012

Clear 1156 incandescent bulbs, very standard.
There are many LED options for replacement; the usual concern is to make sure the LED turn signal has a compensator for the flasher relay.
The Zero stock flasher relay (like most stock relays) changes its frequency/period of flashing based on the resistive load on its circuit, so a compensator adds a resistor which negates the (tiny) efficiency savings.
Better yet, replace the stock flasher with an electronic one.
The orientation is specific:

Look at the pins with the middle L (load) pin on top.
The left pin should be B1+ (battery positive) and the right should be E1- (battery negative, maybe "emitter"?).

Many relays are oriented with E-, L, then B+ which will reverse-bias the LED signals so won't light them up.

Reversing the polarity of the wire-up can make it work.

Many auto parts stores stock a variety of LED specific flashers that are a cheap and simple plug in replacement.
References
For the FX, WeiserTechnik made a howto video for installing their turn signals in German with English subtitles that illustrates how to get at everything.
Brake Light
The stock tail/brake light assembly is an integrated unit with LEDs.
However, a GearBrake unit is available that connects easily into the Zero lighting wiring harness and provides a flashing function or allows regen to trigger the brake light by orienting it so its accelerometer picks up on the deceleration correctly. The product page list Zero models up to 2015 model year and will likely be updated for 2016+ when the owner gets to it. It's very easy to instal under the seat behind the motor controller.
Seat
S-Platform Seat
Corbin Seat
Corbin offers a gunfighter saddle for the 2013+ Zero S/DS/SR/DSR models.
Features
It offers easier standover height via narrow sculpting in front, and a firm supportive area in back for longer rides.
The support in back works well for leaning into the wind comfortably and getting one's legs tucked closer to the frame out of the wind.
Reviews

Forum thread: Corbin Seat available for 2013-2016 Zero's now
Bagger Seat
Bagger.com seems offers Zero Motorcycles SR in their configurator. No reports yet.
X-Platform Seat
The X-Platform Seat apparently is an exact match for a Honda CRF 450 for at least the 2005-2007 year range.
One owner reports success getting an SDG Custom Seat by SDG USA.
Forum user "odedmaz" reports a successful fitting of a Honda OEM CRF 450 seat after adjusting fasteners:
Front Fastener Issues

The front fastener on the bike needs to be longer in the backward direction.

A metal plate can be used to replace the original washer.

The two rubber bumpers under the CRF seat have to be removed.
Two M8 nuts have to be welded on each CRF's seat's braket to be able to fit the original screws.
Braking
2013 Rear Brake Upgrade
Zero offers a 2013 rear brake upgrade kit to retrofit the more effective J Juan model on 2014 models.
Parking Brake
Brake lever locks

Zero offers a brake lever lock for a basic parking brake.

This is a cheap solution but can strain the hydraulic system over time, and has been known to slip in hot weather.
It appears to be a branded version of a part available through other sites at comparable prices.

The Grip-Lock is similar, but features more as a simple security device and is a little more expensive.
OEM Parking Brake

As of mid-2017, Zero offers an integrated parking brake for the rear brake system for 2014+ models.
Dealers report that they can order it, but installations are not confirmed yet.

Maintenance

The cable does represent a low-frequency maintenance task - cables on motorcycles should be periodically (yearly?) oiled and adjusted; the manual does have recommendations on this.

Compatibility

J Juan lists a parking brake product which is likely the same thing since Zero's brake systems are sourced from them.
This implies that the Zero parking brake is compatible with 2015+ models (and 2014 S-platform models) (although the part numbers vary probably per rear brake disc diameter).
Fit against previous year models is unconfirmed, but physically the 2014+ models with the J Juan "240 x 4.5 mm disc" (and 2013 models that have received the rear brake upgrade) might work with it.
Controls
Throttle
2012-2014 models are wired for a potentiometer throttle and can accept a Domino throttle to replace the stock Magura throttle.
Throttle Lock
For complicated reasons, typical motorcycle throttle locks have a tricky adaptation to the Zero. See our Common Modifications section on throttle locks for a comparison.
Atlas officially supports all Zero models with their throttle lock that sits on the inside of the throttle grip.
They recommend only the Top Kit for the S and SR models because the handlebars get close to the tank plastics at full rotation.
DS/DSR/FX/FXS models seem to be able to accommodate both the Top Kit and the Bottom Kit; check the page for how to decide between them.
Brake Levers
Right Lever
Zero brake lever fit is generally unconfirmed, but the fit changes with the front brake systems, so 2013-2014 models have a different fit than 2015-2016 models.
The lever fit for a 1990-1999 Suzuki DR350SE is confirmed against a 2014 FX per this facebook comment thread.
Master Cylinder Replacement
One strategy is to replace the assembly around the handbrake. Searching for 7/8" master cylinder kit can yield some options (reported for a 2011 model).
Left Lever
The TacticalMindz Basic kit works to replace foot-actuated rear brake with hand-actuated and has been confirmed to work on 2014 SR.
Their Pro kit has a T connection, the foot and hand brake both activate the rear brake.
However, left hand does not activate taillight in this configuration without additional trigger.
Drivetrain
Gearing
Zero offers a Higher Speed Gearing Option for the 2013 S and DS bikes:
"Converts from original gearing of 132/28 (95 mph, 321 ft-lbs) to 98/25 (107 mph, 267 ft-lbs). Kit consists of a 98T wheel sprocket, 25T motor sprocket and 200T belt."
There was a higher torque option but it's apparently discontinued.
Resources
Chain Kit
Zero offers some chain kit options that include front and rear sprockets and a 520 DID X-ring chain.
Emergency Belt Kit
A generic lower-rated rubber belt has been made in a production batch for Zero owners to match the 11mm pre-2017 Zero belt.
Reference

Forum thread: Emergency belt kit!
EBay account: odedmaz
Installation

This requires removing and replacing the stock belt, in any case, but the idea is to avoid a roadside repair.
Usage

When/if your OEM belt breaks:
Loosen the rear axle.
Unfasten and uncoil this emergency belt.
Loop the emergency belt around the front and rear sprockets.
Tighten the rear axle.
Ride carefully at low torques and speeds to home or your dealer for a real belt replacement.
Suspension
Zero offers a Fox rear shock upgrade for the 2013-2014 Zero FX models.
Report your suspension upgrades here.
Suspension Tuning
Many recommend a professional suspension tuning job, reporting it accomplishes a lot with the stock suspension, and should be attempted before investigating replacement options.
At the very least, learning to tune your suspension yourself will make the bike more suitable for your local road conditions and loading. The rear shock preload is easily adjustable and worth dialing up or down switching to or from 2-up riding or carrying a luggage load.
Rear Shock
Penske Shock (contact for details)
2015+ models seem to be supported now, and soon older (2013-2014) models.
They're certainly able to answer customization questions.
An Ikon Shocks representative indicates they've made a Zero-appropriate rear shock for a 2016 FXS that can be ordered.
It should be appropriate for 2015 year model onwards, but ask in any case if interested.

Wilbers

They offer a rear shock upgrade for the 2013-2014 S and SR models. Shock absorber Type 640 Road
Confirmed working on a 2014 Zero SR.
via Facebook report: "It's bigger, but don't have the same adjustment capabilities. I needed to install it upside down and grind ~1mm of the width down to get it to sit in there comfortably."
Front Forks
GP Suspension Fork Cartridge Kit for track-oriented riding.

Wilbers

Wilbers Forkspring Kit for 2013+ S/SR models.
Security
Zeros are not yet widely attractive targets for theft because of limited numbers and specialized parts, but local circumstances can make it a risk.
Secure Power Supply
Wire in an always-on power supply by tapping the always-on DC-DC converter's input, and use a switching power supply to convert the battery DC voltage there to 12V or 5V to power a location-tracking device or alarm.
Disc Lock
Perfect Alarm Disc Lock for Zero bikes recommends an Urban UR-10 lock with an Artago 30X Alarm Disc Lock Support Kit which can mounts the lock while riding behind the rider's left leg, after a little sanding to fit the Zero frame.
Misc
Motorcycle Covers
Confirmed Fits

Dowco Guardian Hi-Viz in size Large for a 2016 DSR with OEM top and side cases.

Size medium should fit Zero bikes without cases or an FX/FXS.
Discussions

Has anyone found a bike cover that they liked? (popup shelter suggestions)
Dash/Handlebar Mounts
For your phone, tablet, or GPS device:
RAM mount has a full catalog of options and ways of figuring out a mount structure.
Patrick Truchon's handlebar accessories are worth considering:
RAM handlebar base with U-bolt (fits 0.5-1.12" bar).
Double-socket arm for 1" ball mount.
RAM X-Grip holder.
Incredibell for low-speed interactions with cyclists and pedestrians, because the Zero makes no noise and the horn would be too alarming.
Regular maintenance
Belt tension measurement
Diagnostics
OBD-II Diagnostics
MBB Console via Diginow Reaper Dongle
This dongle attaches to the OBD-II port (above the motor for pre-2015 model years, and under the seat for 2016) and offers a bluetooth serial port profile interface that connects to the Main Bike Board (MBB).

NOTE: Connect it directly to the port and not via an extension cable, since it derives power from a very small MBB circuit to drive its antenna, which any cable seems to attenuate too much.

2017+ models do NOT support a Bluetooth dongle because the minor power supply on pin 12 was unwired for that year onwards. A USB connection should work.
It currently uses Bluetooth's Serial Port Profile instead of Bluetooth Low Energy (which can handle serial in a custom service) but does mean that iOS can't interact with the current shipping version.
CANBUS access
Some success decoding CANBUS signals from the OBD-II is reported.
ECM Cables has a history making diagnostics devices for Buell motorcycles and has taken up Zero support recently.
Products
Electrical Measurements
This allows data logging of a variety of parameters tracking voltage, current, and regen for trips.
See this Cycle Analyst install howto.