Gen2/Replace Rear Brake Pedal With Lever
From Unofficial Zero Manual
A small number of Zero owners have installed a left brake lever to replace the rear brake pedal.
Reference
TacticalMindz Kit
togo found the [TacticalMindz "Dual Fitting Rear Hand Brake AMP Kit - Footbrake Bypass Basic Kit" at 174.00 USD] to be a straightforward install on a 2014 SR.
It's not clear if it's compatible with ABS on later models.
See Re: Riding without a clutch forum thread.
Keith's KTM lever
Keith provides some details of their installation based on KTM clutch lever 54602040300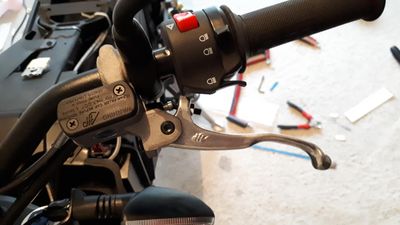 Setup to replace the rear brake's foot pedal by a left hand bar lever.
The brake has a great feeling and it can activate the ABS with one finger.
A clutch master cylinder DOT4 compatible from AJP (reference 650.00.302) with a 9.5 mm piston can be used.

Master cylinders with pistons from 9 to 11 mm are suitable.
A bigger one will give a too hard to press feeling.
A smaller one will be really too soft and not effective.
Steps (General)
Disconnect the foot master cylinder from the ABS block.
Connect the hand master cylinder in its place.

A 70 cm brake hose is long enough to connect the master cylinder to the ABS.
Notes
To make the bleeding easier, it is possible to inject brake fluid from the caliper with a big syringe up to the master cylinder.
Pressure Sensor

It is not possible to reuse the pressure sensor that is mounted on the foot master cylinder (built in the banjo screw).
The OEM sensor's thread is M10x1.25 mm.
The replacement sensor's thread on the caliper and the hand master cylinder are M10x1 mm.

It must be possible to mount an M10x1 mm pressure sensor instead of the original.

This sensor is used to activate the rear light when braking.