Unofficial Service Manual
From Unofficial Zero Manual
Overview
This describes the Zero motorcycle platform and includes as many service tasks not described (or incompletely described) in the official Owner's Manuals as customers have identified.
Some information might be hearsay or not completely communicated, but attempts have been made to verify as much as possible.
As with anything in a wiki environment, whatever you undertake with this as a guide is your own responsibility.
Coverage

Unless otherwise stated, this manual refers to the shared S Platform and the 2013+ years in particular, as previous model years varied significantly and were produced in smaller numbers.
It is a goal to cover the X Platform but progress here would benefit from volunteers invested in these models.
It is a goal to cover basic support for pre-2013 models to keep their powertrains running (battery, controller, and motor).
General Information
Platforms
Zero motorcycles benefit from some commonality around the powertrain. The motor, controller, BMS and MBB are more or less shared across all models, along with handlebars and controls.
S Platform
The S platform builds on a single evolving frame design around a full battery power pack, and consists of the S and DS and variants like the SR and DSR.
Fleet variants

SP, DSP, SRP, DSRP - Law enforcement / patrol.
X Platform
The X platform builds on a single lighter-weight frame design around two bricks of batteries, and consists of the FX and FXS variants.
Fleet variants

FXP, FXSP - Law enforcement / patrol.
MMX - Military built-to-order
Older Variants
Lift
Some maintenance tasks are better performed with the wheels off the ground. The armored pan under the battery that protects onboard charging units is strong enough and positioned well to use a center lift.
Using a scissor lift center stand is an easy method to lift the bike.
Rage Powersports BW-1604A has been spotted at Zero HQ, but other manufacturers make very equivalent stands.
A center lift is easier than a rear stand to operate solo, and it is more compact than the rear stand although much heavier.
Location (S Platform)

Use a center lift under the rear of the battery compartment.
Strap the bike securely (through the center frame tube, say) to avoid toppling it.
Confirmed fits
Location (X Platform)

The FXS (at least) has three bolts sticking out from the pan under the bike. You can put a rubber pad on your lift to make it easier to use it over the bolts.
Confirmed fits
Front Stand

The Zero does not offer axle attachment points for spools for a front stand.
The DS/DSR/FX models' front fender must be removed to use a pin for the front steering head; pin diameter unconfirmed.
The Zero steering pin diameter is 5/8" which fits Pit Bull's Pin #7, Front.Chart.
Rear Stand

The Zero does not offer swingarm attachment points for spools for a rear stand.
A rear stand can work if it cradles the underside of the swingarm snugly. This can work but takes a little care to operate single-handedly.
Confirmed fits: Pit Bull Standard Rear Stand, Pit Bull Forward Handle Standard Rear Stand, Haul-Master 1000 Lb. Capacity Motorcycle Swingarm Rear Stand (Harbor Freight)
An axle stand can be fabricated, like this Home made rear axle stand on Zero FXS.
References
Tools
See the separate Tool Kits article for a curated short list of tools with their purposes.
NOTE: integrate or meld notes below with that article.
Tools and parts to support your bike
A travel kit for a motorcycle is always a good idea, but Zero doesn't include a default set. They do sell a tool kit which covers many common tasks.
Tools for Typical Riding Issues
Torx T45 for MY2015+ to remove the seat for fuse block access.
3mm allen key for tank plastics and headlamp upper mount screws.
4mm allen key for headlamp lower mount screws.
5mm allen key for the front brake lever and front wheel pinch bolt.
Tire pressure gauge.
Tire patch kit, suitable for tubed (pre-2015 DS or FX bikes) or tubeless tires (all others).
Spare 12V fuses (10A, 15A typically).
10mm, 13mm wrench (or monkey wrench) for belt tension adjustment and front brake calipers.
Cable ties and electrical tape for wiring.
Spare Parts for Travel
VIN
The VIN is inscribed on the front head tube of the frame per the official manual.
See the VIN guide to understand how the VIN describes your vehicle, as compiled across manual revisions.
General Maintenance
Mostly, refer to the official owners' manual for regular and general maintenance.
Here's a specialization of the Motorcycle Safety Foundation's T-CLOCS checklist:
Zero T-CLOCS Checklist
Item
What to Check
Look For
Check Off
Tires And Wheels
Tires
Condition
Tread depth, wear, weathering, evenly seated, bulges, embedded objects.
Front & Rear
Air Pressure
Check When Cold; Adjust to Load
Wheels
Spokes
Bent/broken/missing. Check tension at top of wheel: "ring" is okay, "thud" means loose.
Cast
Cracks or dents
Rims
Out of round by more than 5mm. Spin the wheel against a stationary pointer
Bearings
Grab the tire and flex it; no freeplay (click) between the hub and axle; no growl or squeak when spinning.
Seals
Cracked or torn, no grease
Brakes
Function
Each brake alone can hold the bike stationary
Condition
Worn pads or discs
Controls
Handlebars
Condition
Bars are straight, turn freely, handgrips and bar ends are secure.
Brake Lever / Brake Pedal
Condition
Not broken/bent/cracked; adjusted properly.
Pivots
Lubricated
Brake Hoses
Condition
No cuts/cracks/leaks/bulges/chafing/deterioration.
Routing
No interference or pull at the steering head; no sharp angles; support clamps in place.
Throttle
Operation
Moves freely; snaps closed.
Lights & Electrics
Headlamp/Running light
Condition
Turns on; no cracks; mounted securely; clean reflector.
Aim
Just below horizontal and not skewed left or right.
Tail Lights
Condition
No cracks; clean and bright.
Operation
Running light always on; brighter with front or rear brake pressed.
Switches
Operation
All switches function correctly: motor cut-out, hi/low beam, turn signal, hazard switch.
Turn signals
Operation
No cracks; flashes with left and right turn signal switch usage; resets per switch.
Mirrors
Condition
No cracks; clean, mount and swivel joints are tight
Aim
Check/adjust while seated on the bike off the kickstand.
Wiring
Condition
No fraying or chafing; insulated.
Routing
No pinching, interference, or pulling at the steering head or suspension; wire looms and ties in place; connectors tight and clean.
Oil & Fluids
Hydraulic Fluid
Level
Check front and rear reservoirs
Cleanliness
Check whether the fluid is very dark, foamed, or has water
Chassis
Frame
Condition
No cracks at gussets or accessory mounts; no paint lifting
Steering-Head Bearings
No detent or tight spots through full travel; raise front wheel and check for play by pulling/pushing forks.
Swingarm Bushings
Raise the rear wheel and check for play by pulling/pushing swingarm.
Suspension
Front Forks
Smooth travel, equal air pressure/damping, anti-dive settings.
Left & Right
Rear Shock
Smooth travel, equal pre-load/air pressure/damping settings, linkage moves freely and is lubricated.
Belt
Tension
Check at tightest point
Alignment
Check position on rear sprocket; spin the wheel to check changing position
Sprockets
Teeth not hooked or chipped; clean and securely mounted
Fasteners
Threaded
Tight; none missing; check for corrosion
Clips and Pins
None broken or missing
Stands
Side Stand
Condition
No cracks; not bent; cutout switch equipped and working
Retention
Springs into place; tension holds position up or down
Fastener Maintenance
Always check for loose or corroding bolts.
Use blue Loctite threadlocker for non-conductive bolts.
TODO: recommend a corrosion inhibitor.
Frame/Body Panels
Frame
S Platform Frame
The 2013+ Zero frame for S/DS/SR/DSR bikes is made of anodized aluminum, weighs 23lbs, and is a combination of cast parts and welded square tubing of 1-inch outer width.
The frame slips onto the battery pack case over the top and attaches to it with four major bolts around the bottom. The charger is attached to the underside with a protective plate covering it (plastic for S/SR, aluminum for DS/DSR).

Attachment Points

The frame offers a number of rivet nut attachment points for the lower plastics.
The rivet nuts are sized to accept M5 bolts (a total depth of 20mm is available without marring the inside of the frame bar) with a 6mm shoulder to a depth of 5mm. (A longer shoulder and length are required for fastening a bracket beyond that.)
From 2015 onwards, the frame has extra attachment points made for the crash bars used for fleet/police models.

Two extra rivet nut holes on each side of the frame diagonal shoulder of the same size. They are 30mm apart (center to center).
The lower bash plate has similar modifications from that year - two rivet nut holes pre-made for M6 bolts and capped by threaded plastic inserts on each side for the lower mount. There is perhaps 10mm thread depth or allowance between the outer surface of the plate and the onboard charger enclosure.
On prior year models, the OEM or dealer would make these fittings.
X Platform Frame
The 2013+ Zero frame for FX/FXS (and X/MX/XU) bikes is made of anodized aluminum, weighs 20lbs, and is a combination of cast parts and welded square tubing of 1-inch outer width.
The frame fits two power pack modules, one long brick module (2017), or one module and an empty space for carrying small cargo.
The FXP fleet model has a crash guard mount option like the SP/DSP models but is smaller and mounted lower.
Paint matching

All models have the same anodized aluminum with a black finish/paint.
Some paint repair suggestions on this thread are worth examining: FX frame touch up
Iterations by Year

Each year's frame from 2013 onward is incrementally improved and stronger than the prior year.
The 2014 frame changed up the way the side plastics bolt on and provides for the power tank via the carrier bracket.
The 2015 frame included pre-drilled holes for the crash guards for fleet/police models.
The 2016 frame seems to be a little more built-up and has additional members bracing the diagonals to the main beams behind the shoulder.
Kickstand
The kickstand is made from cast aluminum and swings outward from the left side.
There is a safety interlock Hall sensor switch at the pivot that prevents the motor from operating when the kickstand is down.
Kickstands
Years
Model
Length
Part no
2013-2014?
S/SR
shorter than the DS/DSR
20-05660 03
DS/DSR
10.8" / 275mm
20-05661 03
FX
15.0" / 380mm
20-05662 03
FXS
2015+
FX
13.5" / 343mm
FXS
11.8" / 300mm
Both DS and FX kickstands are identical from the spring screw up to the pivot, and should interchange.
All the 2013+ kickstands uses the same pivot pin & spring.
References
Mounting

3/8" E clip, Zero part no 90-0283700, also available generically.
Mounting bracket, custom
Maintenance

The official manual recommends keeping the pivot greased as necessary with a six-month check interval.
Replacement

Tools

Centerlift.
Large flat-blade screwdriver or specialized tool like drum brake spring pliers for spring removal and replacement.
Needlenose pliers for the 3/8" E-clip.

Steps
Place the motorcycle on a center lift.
Remove the kickstand

Pull the spring off of the kickstand hook with a large flat blade screwdriver or a specialized kickstand spring release tool.

Be extremely careful working with the kickstand spring as it is under high tension. A specialized tool makes this easier.

Pull the E-clip off of the inside of the pivot.
Remove the pivot pin.
Remove the kickstand.

Perform the above steps in reverse (sic)

Place the new kickstand onto the pivot.
Clean the pin and apply fresh grease to it.
Insert the pin and fasten it with a new 3/8" E-clip.
Raise the kickstand to its stowed/horizontal position, where the spring requires the least amount of force/extension to install.
Install the spring over the kickstand hook with a suitable tool (see tools requirements).

Note: This is the most difficult and dangerous part of the job.
Use eye protection while doing this and ensure your hands won't be damaged if the spring flies back while getting it over the hook.
Focus on applying steady force with as much leverage as possible to extend the spring back along the swingarm.
One trick is to use a strong line looped through the hook as a pulley.
Another trick is to bend the spring enough back and forth to insert pennies between the coils, which holds it in an extended position. Then loop the spring over the hook and pull the pennies out with pliers.

Check the operation of the kickstand a few times.
Put the kickstand down before letting the motorcycle off the lift to rest on it.
Footpegs
Zero footpegs are cast aluminum pieces, mounted on identical hinges so are interchangeable across models.
The mount bracket uses a custom clevis, secured with a cotter pin.
Sport Footpegs

Installed on S/SR/FXS models.
Constructed as a cylindrical smooth-surfaced cast aluminum piece with a corrugated upper surface for some grip.
They are spring-loaded.
There is a feeler stud measuring M6X16 with a DIN 1587 M6 18-8 cap/acorn nut.
Dual Sport Footpegs

Installed on DS/DSR/FX models.
Constructed as a mildly-cleated rough-finish cast aluminum piece with a wide flat surface mounted horizontally.
They are spring-loaded.
Because of their construction, these actually offer less legroom than the sport footpegs.
Passenger Footpegs

Passenger footpegs are identical to the sport footpegs, since passenger geometry requires reduced legroom and a forward foot angle on the rest.
They are not spring-loaded.
Seat
S Platform Seat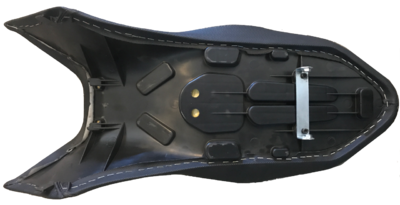 The S Platform seat is a proprietary design and fitment.
Seat retaining features
A metal bracket with holes for retaining bolts that mount through the frame from the outside.
In front and center, a pair of catches engages the frame's Y-shaped centerpiece under a pair of pins.
In front on the lowest outside edge, a pair of tabs point downwards that should slide inside the frame rails.

Without some care, these easily wind up outside the frame, flexing the seat pan and scuffing the frame lightly with plastic debris.
The large controller dominates the space underneath the seat, on the lowest part of the tail structure.

There's no room around the controller for anything but its cabling and a conduit for tail lighting.

In front, the 12V fuse block is the main item to access.

There are cables between the battery and the controller; the MBB and DC-DC converter are beneath these cables.

Behind the controller is the tail wiring area which has a little room for a tire patch kit or some tools.

Of course, storing tools for removing the seat there is counter-productive.
NOTE: When luggage racks are installed, the seat bolts are load bearing (or at least damping), so unload the racks before taking the seat off for an extended period of time to avoid stressing the racks.
Removal
When luggage racks are installed Remove the top case and/or side cases to ensure the rack is unloaded.
Remove the M8-1.25⨉50 seat bolts.

2015+

2013-2014 (with top or side racks)

5mm Allen key.
An M8-1.25x55mm socket cap screw with a 6mm Allen head can be used if the kit bolt is lost.

Pull the seat back and out.
Install
When luggage racks are installed Remove the top case and/or side cases to ensure the rack is unloaded.
Place the seat on the tail slightly to the rear of where it will sit.

Ensure that the pan's horn-shaped catches will slip under the frame's Y-shaped centerpiece pins.

Push the seat forward and down to sit in place.
Visually align the holes of the seat bracket with the seat bolt holes.

Align the seat's bracket with the frame holes to avoid wear.
Align the seat's tabs between the frame rails to avoid stressing the seat pan and marring the frame.
If the top rack is installed, too, check the alignment of that as well to avoid wear trying to thread the bolts.

Insert the seat bolts, gently engaging while checking for cross-threading.
Tighten the bolt head against the frame surface to hold it in place but do not over-tighten.
When luggage racks are installed Re-install the top case and/or side cases.
Dimensions
Seat
Seat Bolts

M8 with 1.25mm thread, 50mm long with a round end for aligning the seat bracket with the frame.
With the top rack installed, the diameter of the hole around the head is slightly under 15mm, with a maximum offset of about 12mm.

Seat Bracket Bolts to Seat Pan
X Platform Seat
The FX/FXS seat is closer to an offroad "plank" seat, allowing the rider to pick their position forward or back.
Harlan at Hollywood Electrics reports that the FX seat is an exact match for the 2005-2007 Honda CRF-450.
Panel Material
Zero body panels are made from ABS plastic.
2013-2016

The plastics' color is molded-in, and so it fades over time with sun exposure. On the other hand, they're relatively inexpensive to replace from Zero; ask your dealer.
Some use Plexus plastic cleaner to keep them polished successfully.
POLYTROL Colour restorer could help with color restoration.
Retr0bright solution developed for restoring 1980's yellowed ABS personal computer chassis material may be of use, unconfirmed.

2017+

The plastics as of this model year are painted rather than molded-in.
Tank Plastics
Fasteners

Zero plastics all are fastened with blackened M5x15mm mushroom cap socket head bolts using a 3mm allen key wrench.
All have black plastic washers with 5mm inner diameter, 10mm outer diameter, roughly 1mm thick.
Removal

Patrick Truchon's Under the Hood notes show photos of removal with simple instructions.
Keep removed fasteners and washers organized so you don't lose them.
Tools

3mm allen key wrench.
PH2 Philips Head screwdriver, preferably a compact side-ratcheting tool or a very long tool to reach across/through the steering head area.

Steps
Use the 3mm allen wrench to loosen both bolts at the rear of the "tank" around the frame centerline. They have washers to mind keeping.

Use the 3mm allen wrench to loosen 2 bolts at the front of the tank around the lock / handlebars. They also have washers.
Use the Philips-head screwdriver to loosen the three screws on each side of the front inside of the tank.

The topmost screws have washers.
The bottommost screws are the most inaccessible, recessed in a narrow slot in the plastics. A special tool is most needed here, especially with a DS/DSR to clear the fender. E.g Chapman Mfg #1916 or Wadsworth Falls Mfg Co,
Construction

All variants of the tank plastics for have identical side pieces and a black centerpiece in soft plastic with a relatively rough finish.
The stock centerpiece for 2013-2016 models is a bin container with two drain holes for collected moisture, with a soft bin held together with a simple zipper that anchors via hook-and-loop patches at the bottom of the bin as well as a loop cord that hooks through the front helmet lock.
The bin delivered per model year is different and varies in quality. 2013 seemed to have better construction than 2014-2015 years, and 2016 is somewhere between.
As of 2017, the stock centerpiece is a locking storage container with a spring-loaded hinge at the front so it swings forward to open.
The Power Tank and Charge Tank have tank plastic options which can be bought separately or selected for color customization. Both use a relatively flat surface for the centerpiece, and the Charge Tank has a J1772-sized inlet hold with built in waterproof cover with a spring-loaded hinge.

Separating

The join between the centerpiece and side pieces of a Zero tank plastic assembly is made by plastic weld using a soldering iron into soft hollow plastic pins on the centerpiece that melt and flatten around a lock washer onto holes in the side pieces.
You can break these welds using a relatively careful use of a pair of pliers to basically grip hard and twist on them until they break.

It's a slightly frustrating process but pretty quick to achieve, in about an hour. A soldering iron or extremely narrowly-focused heat gun can help the process but try not to risk damaging the plastics from overheating.

The original join process can be repeated for the new centerpiece.
Also, this means that the plastic centerpiece you remove will not be re-joinable.
Tail Plastics
Note: The author documented the reassembly; removal was inferred. Confirmation would be helpful.
Removal

You'll be disconnecting the rear lighting wiring and removing the tail subassembly, and then removing the tail plastics from that.
Tools

3mm, 4mm, 6mm Allen wrenches.
For the seat bolts: T45 Torx wrench (without top rack) or 5mm Allen wrench (with top rack).
Phillips screwdrivers.
Needle nose pliers.
Remove the black seat pan bolts and nylon washers with the 3mm Allen wrench (lower on the side near the hollow frame tube).
Use a Philips screwdriver to unscrew the bolt holding down the rear of the plastic controller cover.
Cut the cable ties around the signal wires on the left side of the seat area behind the controller.
Disconnect the turn signal wires and brake light / plate light wires.
Remove the 4 bolts that hold tail frame with a 6mm Allen wrench.

This detaches the tail frame.

Remove the tail extension using a 4mm Allen wrench. Mind the turn signal wires that go through holes here; draw them through.

Remove the black tail enclosure plastics from the cosmetic plastics via the tabs.
Use a Philips screwdriver to remove 5 screws holding the cosmetic plastics to the frame from underneath.
Reassembly
Lower Plastics
Lower plastics for the S-Platform involve two side pieces to direct air towards the motor, and one in front to cover the battery.
There is some provision for guarding the battery compartment against an impact from the front wheel in the case of a collision.
2012-2013

Relatively angular and have their own bolt mount pattern.

2014+

Lower plastics have a sculpted re-design to deliver more airflow to the motor for cooling.

2017+

Single longbrick models (ZF6.5 and ZF7.2) have lower plastics with a latch and swinging hinge to access the storage area behind the half-size battery compartment.
Removal

For 2014+:
Adapted from this forum post.

Tools

3mm Allen key

Steps (2014)+

Use the 3mm Allen key to remove the three M5 bolts holding each side panel: one at the top front corner, and one at each corner near the lower edge.
Use the 3mm Allen key to remove the 2 bolts on each side holding the front panel on and remove it.
(Optional) Use the 3mm Allen key to remove the 2 M5 bolts on each side (4 total) to remove the front plastics covering the battery.

Steps (2012-2013)

Use the 3mm Allen wrench to remove the three M5 bolts holding each side panel.
(Optional) Use the ball-point pen or similar non-scratching pointed tool to push the center pin to release the plastic rivets on the front panel and remove it.
Front Wheel/Suspension/Steering
Ignition
The ignition is mounted on the tripe clamp top in the center between the steering head and the dash.
The ignition wiring connects to a ZADI motorcycle lock with a steering lock feature and parking light enable (although the parking light enable is not connected on the Zero).
Key Blanks

Key blanks can typically be ordered from a dealer.
Key blanks appear to be available generically as JMA ZA9P1 FOR ZADI ZD23RCP.
In USA, calling them "Triumph" keys may help a locksmith find the right blank.
Maintenance
Occasional lock lubrication is recommended, and inspection of the wires for startup enable on the underside of the lock for reliability.
Troubleshooting

See the faulty ignition switch troubleshooting guide for issues with this.
Lock
The lock for the tank bag (2013-2016) or tank compartment (2017+) and possibly a helmet is keyed the same as the ignition.
The tank bag lock (2013-2016) is mounted to the frame by two (M5?) bolts under the steering head, very difficult to access without taking much of the frontend apart (as it should be, for theft deterrence).
Mirrors
Design

Pre-2015 Zeros use an angular mirror with a ball mount joint that allows rotating the mirrors 360 degrees.

Many riders turn the mirrors upside down for a little wider visibility around the shoulder/arms.

2015+ Zeros use a mirror stalk with an inboard ball mount with about 30 degrees of freedom from the stalk.
Mount

Zero mirrors are mounted from the handlebars with Yamaha/Ducati-style bolt fitting.
The bolt/thread specification is M10x1.25, left-hand-threaded on the right side and standard right-hand-threaded on the left side.
Maintenance

(pre-2015) Check that the set screw holding mirror position holds it firmly.
Use a corrosion inhibitor or thread-locker for the set screws and the mount threading since these are weather-exposed.
See Third-Party Mirrors for workable/tested replacements.
Handlebars
Both S and DS style handlebars are standard through bars that are 1 1/8" (28mm) through the middle section and 7/8" (22mm) in the outer section.
Clamps

The handlebar clamps are 2" by 1 1/8" (28mm) for the entire line of models, clamped with M10 cap screw bolts (35mm length; possibly 50mm?).
Switch Assemblies

The switch assemblies are fastened with TT20 (1/4 inch) tamper-resistant Torx bolts through the underside.
Bar Ends

2013 models bar ends are covered by the grip so are not easily changed without changing the grips.
Zero did offer heated grips for these models but dropped them after changing the bars in 2014.
For 2014+ models, any bar end accessories that match the 14mm inner diameter will fit; the stock bar ends are round plastic bumpers held in by plastic threads, so can be removed with a little twisting and pulling.
Brake Lever
Zero motorcycles have a right-hand lever for the front brake, as is common for motorcycle designs.
Primary adjustment

The brake lever has a dial for adjusting the lever position relative to pad pressure and rider finger reach; set it however lets you operate it comfortably and safely.
Micro-Switch and Set Screw

A set screw on the inside of the lever adjusts how a micro-switch is depressed.
The micro-switch is what activates the rear brake light and the "braking regen" mode at the same time.
Any adjustment or replacement of the brake lever should be followed by recalibrating this set screw to get the desired effect.
Too much free play and the switch will activate when going over bumps and result in a slightly jerky ride.
There is some guidance on how to adjust this: Brake Lever Regens before Pad Contact.
It seems like there's small difference in how this set screw is secured in stock lever compared to replacement lever (2016 SR), even though they look identical. I wasn't able to adjust this screw on stock lever, however replacement lever adjusts with no issues. You will need 7/64 SAE hex key to adjust.
Use some light threadlock compound (Blue Loctite will do) to fix the set screw in the desired position if it seems to move too freely out of the desired range.
Repair

See under repair.
Front Suspension
TODO: list the following:
fork spring rate / length / diameter
torque specs for fork, axle, clamps and steering head.
Any forks that cross-over / substitute directly.
Any triple/fork combo that crosses over.
Adjust Suspension Preload

TODO
Fork Oil Level Note

Measure from outer tube end to oil surface (Condition: spring, spring joint, spring collar, seat rubber, slider, fork bolt are removed and dust seal touches axle holder)
Steering Head Bearing
Steering stickiness or wobble may indicate an inadequately greased steering head bearing or a worn bearing.
Reference
TBD
steering head bearing size by platform/model/year
Front Suspension Specs
Fork
Shock
Years
Manufacturer
Description
Material
Model
Part#
Travel
Measurements
Oil
Material
Part#
Measurements
2009-2010
FastAce
DS/X
BDA53AR (discontinued)
2012-2013
38mm (from Zero website/manual) inverted forks with adjustable compression and rebound damping

6061-T6 Forged Aluminum (per this thread) Chrome-Moly inner tube; Alloy steel spring wire

S
ALX07RC (discontinued) 22-05418-03

Right

22-04464-05

Left

22-04463-05

140mm
Compression 12 clicks; Rebound 21 clicks

6061-T6 Forged Aluminum (per this thread)

BDA58RC (discontinued)
DS

Left 

22-06093-02?

Right

22-06094-02?

(APX05RC? or APX10AR? (discontinued))

7.00 in (178 mm)
clarification?

Distance

900 mm

Travel

220 mm

BFA57RC (discontinued))

Rebound Adjustment

12 clicks

FX/MX/XU
XU - ALX07RC AP18A0179-B002 22-02749-01
XU - Zero has 51mm in manual and 130mm on website

MX - Zero has 82mm in manual and 240mm on website

FX - 240mm

2014
43 mm inverted forks with adjustable compression and rebound damping

6061-T6 Forged Aluminum (per this thread) Chrome-Moly inner tube; Alloy steel spring wire

S/SR
6.25 in (159 mm)

6061-T6 Forged Aluminum (per this thread)

BDA58RC (discontinued)
DS
APX16RC - 22-06867-05

Right

22-06869-05

Left

22-06868-05

7.00 in (178 mm)
Compression 11 clicks; Rebound 20 clicks
BFA57RC (discontinued))

Rebound Adjustment

12 clicks

FX
230mm
2015-2017
Showa
41 mm inverted cartridge forks, with adjustable spring preload, compression and rebound damping

Outer Tube Finish

Natural Anodized (silver)

Slide Tube Finish

Nickel - Hard Chrome

Rebound (Tension) Finish

Black Anodized

Compression Finish

Black Anodized

S/SR
6.25 in (159 mm)

Free length

461.5mm.

Outer diameter

36.2mm.

Stock spring rate

7.4 N/mm

Type

SS-8

Level

117 mm

Body Finish

Natural Anodized (silver)

Rod Finish

Nickel - Hard Chrome

Rebound (Tension) Finish

Black Anodized

Compression Finish

Black Anodized

DS/DSR
7.00 in (178 mm)
FX

Left

22-05868-02

Right

22-05869-02

Free Length

789.1±2.0mm

Max Length

798mm

Min Length

580mm

Stroke

218mm

Spring Rate

5.4 N/mm

Rebound (Tension)

Max - 9 clicks

Compression

Max - 5 clicks

Preload

Min + 3.0 turns

Type

Volume

442±2.5cm3

Level

103mm

22-05879-02

Spring Rate

73.6-82.4 N/mm

Free Length

320±2.0mm

Max Length

320.5mm

Min Length

246mm

Stroke

74.5

Rebound (Tension)

Max - 12 clicks

Compression

Max - 9 clicks

Preload

2nd Position

FXS
Fork Oil Change and Spring Replacement
FastAce fork oil change / spring replacement part 2 by Ray Ivers
Tools
7mm Allen wrench for riser bolts.
Steps
Put the motorcycle on a stand.
Remove the risers and handlebars using a 7mm Allen wrench.
Loosen the fork caps, front axle, and brake caliper bolts while the front wheel is on the ground.
Fork cap / spring removal...
Oil change...
Fork spring / cap replacement...
Notes
Torques

| What | Torque | Bolt |
| --- | --- | --- |
| Handlebar clamps | 15 ft/lb | M8 |
| Handlebar risers | 25 ft/lb | M10 |
| Triple clamps (all) | 15 ft/lb | M8 |
| Fork caps | 15 ft/lb | M46 |
| F caliper bolts | 18 ft/lb | M8 |
| F axle end cap | 15 ft/lb | M8 |
| F Axle clamps | 9 ft/lb | M6 |
Verify Fork Spring Rate
How to Verify Fork Spring Rate
Add a zip-tie to the the fork tube.

Make sure it is snug so it stays in the place it was last pushed too.
Once the zip-tie is on the fork tube, you push it up to rest it against the upper fork.

Measure bike sag (unloaded)

Lift the front fork off the ground and measure the gap (zip-tie to fork gap) created by the front weight of the bike.

Measure rider sag (loaded)

Now push zip-tie back up the fork, then sit on the bike and raise your feet so all of your weight is carried through the suspension.
Then carefully dismount and put kickstand down.
Measure the gap (zip-tie to fork) created by your weight.
Add this gap measurement to the bike sag measurement, this is the total sag.

This measurement should be around 25% of the working range of the front suspension.
Now that is a guideline; it can be higher or lower than 25%.
It depends on what is happening when you are loading up the suspension (upper end).

Checking the upper end by using the zip-tie.

After riding, check the location of the zip-tie: the gap from the fork to the zip-tie.
Lets say the measurement is 5". Then you would know the total max travel used was 5" + bike sag measurement.
That total measurement should never equal the total suspension travel amount (6", I think based on your posting).

If it equal, then you are bottoming out. Increase the preload and see if this keeps you from bottoming out.
If you use max preload and are still bottoming out, you will need stronger springs.
If you find you are only using 75% to 80% of the max suspension travel, you can reduce the preload spacer length some or you can live with this.
If you are only using ~50% or less of the suspension travel, your springs are probably too stiff. You should swap springs to a lower rate spring.
Front Fender
The S/SR front fender is a colored or painted panel like the tank plastics that hugs the tire. The DS/DSR/FX/FXS front fender is an ABS plastic dual sport high fender.
Sport Fender

The S/SR front fender is a colored or painted panel like the tank plastics that hugs the (17") front tire.
It bolts directly onto the FXS' lower forks around its tire even though the FXS comes with a dual sport fender.
TODO: confirm fasteners and bolt pattern.
Dual Sport Fender

The dual sport fender attaches to the underside of the front fork triple tree.
This fender also fits a S/SR model.
4 holes in a rectangular shape 58mm (2.3in) wide and 50mm (1.95in) front to back (center to center).
The bolts are M5x15mm button head socket screw for a 3mm Allen key.
A Honda or Yamaha dual sport fender should fit this pattern without modification.
Front Wheel
Front Wheel Removal
Tools needed

6mm Allen Wrench - Axle bolt (M17)
5mm Allen Wrench - Pinch
13mm Socket - Brakes

Steps
Loosen both brake bolts using the 13mm socket.
Loosen both right pinch bolts using the 5mm allen wrench. Alternate slightly, turning each counter-clockwise.
Loosen the axle bolt using the 6mm allen wrench.
Loosen both left pinch bolts using the 5mm allen wrench. Alternate slightly, turning each counter-clockwise.
Securely lift the front wheel.
Remove both brake bolts using the 13mm socket, and lift and secure the brake caliper without stressing the brake lines.
Continue to back off the pinch bolts, but do not remove, using the 5mm allen wrench.
Remove the axle bolt and outer spacer using the 6mm allen wrench.
Replace the axle bolt with the 6mm allen bolt, turning several turns inward, without the outer spacer.
Push on the axle bolt while encouraging the left side of the axle out.

Support the wheel to reduce binding!

Remove the axle.
Remove the wheel.
Front Axle
TODO measurements
Front Bearings
The front bearings are the same size as the rear bearings (see table there for sizing), although the front has only two bearings instead of 3 for the rear.
TODO

Spacer specs
Front Bearing Replacement
Tools needed

6mm Allen Wrench - Axle (M17)
5mm Allen Wrench - Pinch
13mm Socket - Brakes
Bearing Press Tool/Kit

Steps
Remove the Front Wheel per steps above
Remove the spacers, then the dust seals, from each side and clean.
Press the bearings out from the opposite side.

A socket extension works well, alternating around the perimeter.

Clean the inner wheel.
Press the new bearings in, aligning with the inner axle tube.

A large socket works well to press only on the outer bearing.

Replace the dust seals.
Return the wheel to the bike.
Aligning the axle with the spacers, press the axle back into the forks.
Expand the brake calipers to prepare for remounting.
Remount brake caliper with the 13mm socket to the correct torque.
Return the outer spacer and make the axle bolt snug with the 6mm allen wrench.
Alternate tightening each 5mm pinch bolt.
Ensure proper wheel movement.
Tighten left pinch bolts to the correct torque using the 5mm allen wrench.
Tighten the 6mm Axle bolt to the correct torque.
Tighten right pinch bolt to correct torque using the 5mm allen wrench.
Ensure smooth movement.
Pump the brakes to return to proper action.
Lower the front wheel.
Confirm torques.
Test ride!
Reconfirm torques.
Paint the bolt heads to so that any loosening is detectable.
Final Drive
Rear Shock
Years
Brand
Model
Description
Media
Specs
Models
Travel
Length
2013-2014
FastAce
BDA58RC
Piggy-back reservoir shock with adjustable spring preload, compression and rebound damping

Spring Rate

550 ~ 805 lbs/in

Spring

Length 142mm, Diameter 57mm

S/SR
6.35 in (161 mm)
10.25-10.5 in (260mm)
DS
7.03 in (179 mm)
2015-2017
Showa
40 mm piston, piggy-back reservoir shock with adjustable spring preload, compression and rebound damping
S/SR
6.35 in (161 mm)
DS/DSR
7.03 in (179 mm)
Substitutions
2013-2014 rear shock sizes seem to match the Yamaha R3, which has a number of supported replacements.
Adjustment

The Official Manual section on Rear Shock Adjustment illustrates how to measure preload and check sag.

Compression

The official manual's description here is adequate and this can be done readily by hand on the right side of the bike at the top of the shock.

Rebound

The adjustment knob is at the bottom of the shock facing rear, as described in the manual, and can be worked by hand or with a wrench with a careful reach into that area.

Spring Preload

The official manual illustrates the collar and procedure for spring preload adjustment, but does not recommend a specific tool, and there are clearance issues in that area for tools.
The adjuster sleeve diameter is 58mm (2.3").
A Stockton spanner wrench was found to be suitable for the job if modified as follows (per 2017 DSR Showa rear shock spanner wrench):

Grind the nose of the wrench to fit the notches.
Bend the wrench a couple of degrees to clear the Sevcon motor controller fins.

Obviously, a better solution is still worth seeking.
Rear Brake Actuator
The rear brake is manipulated by a dirt-bike style pedal around the right footpeg, a common motorcycle configuration.
The rear brake has its own master cylinder behind the rear footpeg on the right.
Pedal Construction

Cast aluminum with a powder coat finish.
On pre-2015 models, the pedal is made from a single piece.
On 2015+ models, the pedal toe actuator is bolted on and may be replaced.
Rear Brake Lever/Pedal

The threaded rod from the brake lever to the master cylinder adjusts lever height.
Rear Brake Switch

The rear brake switch is activated hydraulically by pressure in the rear brake system.
The rear brake switch is built into top banjo bolt.
Ref. [1]
Swingarm
The swingarm is a dual-sided structure made in the same way as the frame. It's very sturdily constructed for its light weight.
The front pivots on the axis of the motor to minimize belt strain with suspension travel.
It has fitments for the rear axle including belt tension adjustment.
There is a hollow tube through the swingarm across the arms forming a join point for the rear shock and making a reasonable storage tube if some padding or caps are used to secure the cargo there (like a charging cord).
Swingarm Bearings
The swingarm bearings are generally the same as the wheel bearings (to be clarified).
Rear Wheel
Check Tire Pressure
Maintain minimum pressure per the manual.
General guidelines

Higher tire pressures help stability and reduce rolling resistance with a passenger or a lot of luggage, but lower pressures help on rougher/gravel surfaces.
Official recommendations are for "cold" tires, which means when they haven't been ridden in a few hours.
As tires warm up from riding, pressure increases due to the interior air heating from friction and mechanical work on the tire by the road against the wheel.
Excessive tire pressure can make the tire too sensitive to sharp debris or potholes, and increases the risk of a puncture. 45psi is where this definitely becomes a concern; modulate depending on your riding, and definitely use much lower pressures for offroading.
Rear Wheel Removal
Pulling out the axle and removing the rear wheel is straightforward; the complexity is in re-assembly.
Items to note for re-assembly

Note how the caliper sits against the swingarm.
Note the order and arrangement of the spacers.
Tools

27mm socket
Breaker bar

Instructions
Place the motorcycle on a lift or rear stand so the wheel spins freely.
Mark/photograph where the alignment marks reside on each side of the axle for re-alignment when re-installing the wheel.
Loosen the rear axle nut on the right side (27mm) with the breaker bar.
Remove the rear axle nut.
Pull the axle part-way out so that the wheel can be moved forward enough to loosen the belt.
Pull the belt off of the rear sprocket and let it hang outside of the swingarm slightly to avoid interfering with the wheel.
Pull the axle through the wheel from the left side.

Pay attention to the brake caliper: it's attached via the axle, and when the axle is removed the caliper, etc, will come loose.

Set aside the spacers with alignment marks, noting which goes on which side.
Set aside the axle and axle nut.
Pull the wheel out behind the swingarm.

The license plate tail holder will likely require rolling the wheel out at an angle to clear it.
Rear Wheel Install
Re-installing the rear wheel requires somewhat careful fitment of the wheel, spacers, ABS sensor (2015+), and brake calipers within the swingarm.
Make sure to pay attention while removing the wheel to have this arrangement in mind to avoid confusion.
Any play in the caliper position or the wheel itself could have a dramatic and damaging effect on the motorcycle while riding.
Tools

27mm socket
Torque wrench set to 75ft/lbs or 102nm
(Optional) rubber mallet to nudge the axle

Instructions (also see belt adjustment procedure)
Ensure that the axle has grease applied if it is dry, to minimize friction and wear against it under load.
Push the axle through the alignment bracket and left swingarm until flush on the inside of the left swingarm.
Place the rear brake caliper holder onto the right swingarm.
For 2015+ models, place the ABS rear wheel speed sensor on the inside of the rear brake caliper holder.

Route the wire feeding the speed sensor around the caliper holder bracket and ensure that the sensor and wire will install without tension or excessive bending.

Roll the wheel into position inside of the axle.

Ensure the speed sensor on the right side mates with and covers the rear wheel bearing before it aligns with the rear brake caliper holder on the right side, as this "sandwiches" together.
Ensure that the brake calipers are pushed to maximum expansion, then place them around the rear wheel brake disc on the right side.

Push the axle through the wheel by hand or use a rubber mallet to gently nudge the axle through the wheel.

You may need to give the wheel a wedge underneath to rest on to minimize any stress on the axle while aligning it fully.

Align the right side of the wheel with the swingarm axle hole and brake caliper holder on the right side.
Again, manually push or nudge with a rubber mallet the axle through the speed sensor, rear brake caliper holder, and right swingarm.
Run the belt over the rear sprocket.

Center the belt over the sprocket so it has about 1mm on either side.

Ensure that all components are aligned correctly before attempting to tighten the axle or even before mating the left axle end with the swingarm (which tightens the belt).
Place the axle nut onto the right side of the axle by hand.
Note the alignment of the left and of the axle's rectangular tabs; hold it in a horizontally aligned position so that tightening the axle nut places it inline with the swingarm slot.
Tighten the axle nut (27mm) with the torque wrench to 75ft-lbs.

Ensure the alignment of the axle head on the left side is horizontal and pulls the belt under tension smoothly.
Check belt tension per the belt adjustment procedure.
Rear Bearings
The rear wheel contains 3 bearings and dust shields.
Years
Platform
Kind
Type Code
Measurements
Lifespan (guide)
2013-2014
S
Unsealed
6904-2RS
20x37x9
~20,000 miles
X
6204
20x47x14
2015-2017
S
Sealed
NSK 6204DU
~50,000 miles
X
References

Ceramic bearings for a 2014SR, with success reported.
Terry Hershner: The 2012-2014 wheel bearings are 6904 bearings which are bicycle sized bearings. They lasted me about 20,000 miles per set. Best is to use a 2015 wheel on the 2014 which will work but requires modification of the spacers. I did it on my 2012. It now has 2015 wheels.
Rear Bearings Replacement
Rear Axle
The rear axle is hollow, threaded on the right side and capped on the left for swingarm fitment.
Axle measurements

| Years | Inner Diameter | Outer Diameter | Pitch |
| --- | --- | --- | --- |
| 2013-2014 | | | |
| 2015+ | 11mm | 20mm | 1.25mm |
Rear Axle Removal
This is part of Rear Wheel Removal.
Tools

27mm socket
Breaker bar

Instructions
Place the motorcycle on a lift or rear stand so the wheel spins freely.
Mark/photograph where the alignment marks reside on each side of the axle for re-alignment when re-installing the wheel.
Loosen the rear axle nut on the right side (27mm) with the breaker bar.
Remove the rear axle nut.
Pull the axle part-way out so that the wheel can be moved forward enough to loosen the belt.
Pull the belt off of the rear sprocket and let it hang outside of the swingarm slightly to avoid interfering with the wheel.
Pull the axle through the wheel from the left side.
Rear Axle Install
Belt
Zero uses a belt for primary transmission of torque to the rear wheel. It's quiet and lightweight but is a proprietary design that can wear out. If you plan to put a lot of miles on a Zero or risk the belt often, buy a spare belt ahead of time and mind its maintenance.
Belt Risks
Belts fail by snapping or by stripping the teeth.
On Landing

The most common situation for a belt snap is when going over a major bump or jump where the rear wheel leaves the ground.

If, while airborne, the throttle is not immediately relaxed, the rear wheel will rapidly spin up.
A wheel that is moving extremely quickly in the air will get jerked back to its regular speed on landing. This is transmitted to the belt through the rear sprocket and can easily strip teeth.
From Debris

Gravel or sand that gets thrown between sprocket teeth and the belt will force the belt to expand quickly under load, and can cause it to snap.
Reportedly, sand is a much more reliable path to belt failure than gravel.
The sprocket tooth design is meant to deflect gravel to the inside of the swingarm towards the wheel.
The bike has an upper debris guard made of soft ABS plastic, but does not have a lower guard.
From Mis-Alignment

An unaligned belt can wear really badly and break sooner.
Belt Specifications
Zero's final drive is a custom-designed Gates HTD (high torque drive) Poly Chain Carbon toothed carbon fiber belt. It's never been available outside of Zero's parts system. It's been the same part for 2012-2016 models. 2017 models shifted to a wider belt that can accommodate more torque/loading.
Years
Width
Pitch
Models
Sprockets
Number of Teeth
Length
OEM Part No.
Photo
2012-2016
14mm
8mm
S/SR
132T / 28T
220

30-03673 (old logo)
30-08084 (new logo)

DS/DSR
130T / 28T
2017
17mm
11mm
S 13.0
130T / 28T
FX/FXS/DS/DSR/SR/S6.5
90T / 20T
158

30-08086
Part

Gates GT Carbon, 14mm wide, 8mm pitch, 220 teeth. It's only available from Zero.
P/N's are 30-03673 ("Belt Drive, 220T, 8mm Pitch, 14mm Wide") and also 30-08084 (same belt w/new Zero logo).
One rough match for reference: Gates 8MGT-1760-12 Belt
Belt Tension Check
Krikit Tension Gauge
Zero recommends the Gates Kritit belt tension gauge to check belt tension.
MostlyBonkers made a How-to video showing how to use it.
Turning the back wheel backwards before measuring will give different readout compared to turning the wheel forwards before measuring using the same spot.

The difference may be significant to the (pre-2017) 20-30kg belt tension specification.
For wide-belt 2017+ models, the tension specification is very wide (~25-75kg) and thus has a lot of leeway but seems worth a rotational check anyway.

The center of the belt can be reached from below, without removing the mudguard.

This is described as a note in 5.14 in the 2015 manual
Ensure the blue indicator arm is pressed down.
Place the gauge in the center of the belt span, such that it is aligned longitudinally with the belt length.
Place a finger on the blue pressure pad and depress this pressure pad.
Keep pressing the blue pressure pad until you feel and hear a distinct 'click'. When this 'click' sound is heard, do not press any further.
Remove the gauge and read the belt tension by observing the point where the top side of the blue indicator arm crosses the numbered scale on the gauge body.
Care must be taken to ensure that the gauge is not 'rocked' when pressing down on the blue pressure pad. The strap above the pressure bar is provided to attach snugly over the finger and prevent any 'rocking' motion.
Due to the fact that this device requires some amount of practice and operator skill, the accuracy and repeatability of the tension readings are not high.
Improvement
Because this procedure is not trivial to perform consistently, there is a modification to make the tension gauge easier to align
Gates' Carbon Drive mobile app
As of 2017, Zero also includes a procedure in the owner's manuals for using Gates' Carbon Drive mobile app to check belt tension.
Use the application in a quiet environment. Pluck the belt near the center of the lower belt span, so it vibrates like a guitar string.
Recommended Belt Tension

| Belt Type | Years | Resonant Frequency | Tension Range |
| --- | --- | --- | --- |
| Narrow | 2013-2016 | 96.3 Hz – 124 Hz | 20 – 30kg |
| Wide | 2017+ (except S 13.0) | 42.5 Hz – 73.6 Hz | 26 – 75kg |
The frequency can also be checked with instrument tuning apps such as Tuner-gStrings.
Belt Adjustment
An unaligned or mis-tensioned belt can wear really badly and break sooner.
Alignment Procedure

The official manual has a good procedure from which this is derived. Check that first.
Video instruction: How To Adjust Your Belt on Youtube by Mistasam.

Tools

27mm socket
Breaker bar
Torque wrench set to 75ft/lbs or 102nm
13 mm open-end wrench

Instructions
Place the motorcycle on a lift or rear stand so the wheel spins freely.
Loosen the rear axle nut on the right side (27mm) with the breaker bar.
Loosen both left and right belt tension jam nuts (13mm) that face forward inside the adjusting gap.
Turn both left and right adjustment nuts (13mm) one quarter turn at a time until belt tension reads in specification.

Ensure that the alignment marks on either side of the swingarm indicate that the wheel and belt are aligned.
Roll the wheel forward and track it flush with inside of rear sprocket.
Note: Once tension is set and tracking is flush to the inside, tightening the axle nut to 75ft-lbs will tend to nudge belt approximately 1mm to the outside.
For proper alignment, the belt will track exactly centered on the wheel sprocket with a 1mm gap to either side of the belt relative to the sprocket.
Measure tension by rolling the wheel forward while plucking bottom side of belt or using tension gauge several revolutions.
Note: tension will be expected to vary slightly as wheel is rotated because front and rear sprockets are only round to a certain design tolerance.

Check that the belt is aligned with belt tension in the right range.
Re-tighten the left and right jam nuts (13mm).
Tighten the axle nut (27mm) with the torque wrench (to 75ft-lbs).
A light application of silicone lube to the lower triangle area.
Roll the wheel forward three or four revolutions to disperse lubrication to all areas in contact.
Note: Gates mfg of the belt has not tested this use of lubrication and as a manufacturer, advises explicitly to not do this.
Blast off / super blaster dry silicone lube with orange top.

'Note: Description is hearsay with no specific known lubricating product.
Alignment of the belt is critically tough to get correct, and needs to be done everytime adjusting tension.
Belt Wear
Generally, watch for belt damage and try to anticipate when to replace the belt to avoid an incident on the road where the belt snaps.
What to Check
Check the teeth for wear and cracks.

If you see cracks in the tooth forming, the belt is getting old.
If you see deep cracks starting, it's time to replace the belt ASAP.
When to Replace
When it snaps.
When any teeth have been ground off.
Hard Skips
If the belt experiences a "hard skip" from debris between the belt and a sprocket, it is likely to fail soon after. Watch it carefully if this happens.
Tension with aging

Apparently, per forum user JaimeC, belts don't wear like chains.
As they get older they'll actually get tighter, not looser like a chain.

When a chain ages, the little bearing points between the links and rollers wear causing the chain to hang looser.
When a belt ages, the rubber on the inner/toothed side begins to swell.

Since the Kevlar belt on the outer circumference won't stretch, the inner circumference will shrink making the belt tighter around the sprockets.
Generally, you want to make sure the belt hasn't gotten any tighter since you brought it home.
Belt Replacement
Ask your dealer/Zero before replacing it.
They may perform it under warrantee if it happened prematurely; and they'll likely want to understand how and why it broke, anyway, for quality reasons.
Tools
Center lift.
27mm socket wrench.
3mm Allen key.
10mm Allen key wrench.
15mm socket wrench (S models).
13mm socket wrench (X models).
Torque wrench capable of setting 75ft-lbs.
Pre-2014:

2.5mm Allen key.
24mm socket wrench.
Procedure

NOTE: For roadside belt swaps, particularly for an FX or FXS, setting the bike on its side should be possible for this work.

However, no effective procedure has been described for the process.

The following steps are suited to garage locations.
Use a lift to raise the bike from the center.
Pull the wheel off (or slide it forward) by loosening the axle nut with a 27mm wrench.
Pull off the rear tire fender by taking out the 4 hex bolts securing it with a 3mm Allen wrench. (You can get away with just removing the screws on the left side to allow lifting the fender up enough to get the belt under.)
Remove the brake pedal:

This creates clearance for loosening the swingarm bolt above it (might be optional for pre-2015 models).

S platform

Remove the right side rear brake pedal (15mm bolt).

X platform

Remove the pin that attaches the brake pedal to the piston.
Remove the two 13mm bolts that hold the grey piston bracket to the frame, and gently move the whole assembly to the left.

X platform: To access the left swingarm bolt, remove the lower left passenger peg bolt (13mm) and remove the grey cover piece.
Remove the left and right swingarm bolts.

2012-2013

Remove the set screws from the swingarm bolts on both sides with a 2.5mm Allen wrench.
Then remove the bolts by holding the inside nut with a 24mm wrench, and a 10mm hex on the head.

This was the hardest step, because there is not a lot of room to manipulate in the rear assembly - especially with a 24mm wrench!

Hang the swing arm with a strap on the tail section.

The swingarm will pull back enough for the belt to fit through the frame.

Check the front sprocket for debris, and clean it with a firm but non-abrasive brush.

If the sprocket is damaged somehow or the teeth are too worn to engage the belt, get it replaced to avoid damaging the new belt.
The rear sprocket regularly deserves the same treatment.

Slide the belt over the front sprocket.
Replace the swingarm bolts.
Slide the belt over the rear sprocket.
Re-check belt tension and alignment.
Re-install the rear brake pedal.
Re-install the rear tire fender.
Lower the sidestand and then lower the bike carefully from the lift onto the sidestand.
References

Facebook comments by Bobby Loo.
Sprocket
Sprocket Specifications
Sprocket Specifications
Belt
Front
Rear
Width
Pitch
Years
Models
Teeth
Depth
Bore
Other
Teeth
Depth
Bore
Other
Ratio
14mm
8mm
2012-2016
SR
30
15mm
1"
key measurements?
130
15mm
1"
4.33:1
FX/FXS
25
132
5.28:1
S/DS/DSR
28
130
4.64:1
2017
S 13.0
17mm
11mm
FX/FXS/DS/DSR/SR/S6.5
20
17mm
spline measurements?
90
17mm
4.50:1
Sprocket Wear On Belt
Wear debris from the tire or the road can accumulate on sprocket teeth, putting pressure on the belt which can wear it out faster.
Recommendation

Keep the sprocket teeth clean to minimize wear on the belt.
A non-abrasive brush should be effective.
Front Sprocket Removal / Swap
Some guidance from Terry in this motor removal thread:

Basically, if you are doing this to try to get more acceleration by moving from a 28 tooth to a 25 tooth, Harlan recommends trading in the DS on a 2015+ SR or 2016 DSR if you need the off road capabilities. You will get much much more acceleration and not hurt your top end performance.
On the drive belt side, the upper rear 5mm bolt takes extreme care to remove. It is tapered to locate the motor. There is a very strong chance of stripping the head and have to drill it out. Make sure to have a machine shop close by just in case.
The other 7 bolts, 3 on the sprocket side and 4 on the rear brake side are the only thing simple and straight forward.

You will need a special 3" or longer 6mm allen head socket for sticking in the hole through the frame at the front of the motor.

Remove the rear brake pedal and assembly to get the heel guard out of the way of the top right rear motor bolt.

Be careful not to strip these bolts either.
They have Loctite; use a torch.
And make sure your local hardware store has these replacement bolts handy in case you have to drill them out.
The rear brake pedal needs to move anyway to get the right swingarm bolt out.

Also the sprocket bolt itself, as well as removing and installing the new sprocket on the shaft can be very difficult. Some of the best professionals have had trouble.

Loctite has been used on everything and you will need a torch to remove them.
Even so, you will need a strap wrench with an old belt as the strap to hold the sprocket and a high power impact wrench.

Even with all that right, you have a chance of stripping or breaking the bolt. The sprocket is pressed pretty tight.
Be very careful not to permanently damage the motor bearings by prying between the motor itself and the sprocket to try to remove it, and also by tapping with a hammer to try to fit the new one on. You will be tempted to do both, but you need to find another way.

A gear puller would be much better.

There are other things to watch for:

Mark your phase leads and pay special attention to the routing.
Don't over-tighten the motor jack nuts and bolts until you have the swingarm back in place as it can pull the frame together slightly making it impossible to get the swingarm in place.
Make sure you unplug the 8 way motor encoder harness and it doesn't get yanked and pull a wire.
The top shock mounting bolt is a 15 and 17 mm and can be done with ratchet wrenches 1/32 of a turn at a time, or without ratchet wrenches if you are known to have extreme patience. It can take a while. The 2014 is a little easier and is (seems to be a) dual 17mm bolt and nut.
The swingarm bolts are 10mm allen head and can be extremely hard to relocate even when working with someone else, a rubber hammer, and a flashlight. Those who have replaced their own belt before can vouch for this.

Again, I doubt too many on this forum have done this, and those who did I'll bet agree with me that it makes more sense after they did it and perhaps had their bike out of commission to work through the things that didn't go right, and would agree to just upgrade to the SR or DSR first vs trying to change the front sprocket.
Also the 25 tooth sprocket will break belts easier as less teeth are engaged than the 28 tooth, which can make it more likely to sheer teeth in the event of a wheelspin, and it bends the belt at a sharper radius which can possibly fatigue the carbon strands more. The SR actually uses a 30 tooth front sprocket which is even nicer to the belt than the 28 tooth.
Brakes
Zero motorcycles so far have had single-disc brakes for front and rear systems.
It is only a question of time when Zero will add dual front disk brakes in the road bikes range. Single disk is not recommended for the kind of speeds/overall weight the new models are reaching.
Rear Brake Spring (Suggestion)
Remove the rear brake spring or replace it with a lighter spring.

On most models, there is a spring suitable for a dirt bike that is over-designed for a street bike.
There is a kind of spring inside the brake pump, so the external one is just to keep the foot-pedal without rattling.
Test the rear brake after doing this.
Brake Maintenance
Check for pad wear or debris.

Keep the pads and discs clean.
An occasional brushing of the disc holes is worth doing maybe once a year.

Check hydraulic fluid level.

Make sure the brake fluid is in good shape and the type/specs you need.
If in doubt, replace with fresh fluid (not from an already opened bottle).

Make sure the brake fluid reservoir is not over-filled (top).

There has to be some empty space, or your bike will be lightly "braked" and your disk/pads will deteriorate prematurely...and you will get less range.
Brake Systems
Brake Systems
Front
Rear
Year
Manufacturer
Rotor
Caliper
Manufacturer
Rotor
Caliper
Notes
2013
Nissin

313mm ⌀ floating

Nissin
221mm ⌀ fixed
relatively weak

J Juan upgrade available for rear brake.

2014
J Juan
240mm ⌀

S: 34mm
X: 30mm

Same pad sizes as 2013.
2015
J Juan

320mm ⌀ non-floating
M8x23mm shoulder screw fasteners

S: 32/30mm
X: 27mm

Bosch Gen 9 ABS; New pad sizes.
2016
Bosch Gen 9 ABS
2017
Brake Hydraulics
Models
Front
Platform
Years
Caliper Piston Area
MC Piston Area
Hydraulic-Advantage Ratio
S
2015
1509 mm² (total)
126 mm²
11.9:1
2016
2017
A 9.5mm-piston master cylinder - like the Nissin 3/8 I put on my 'MX' bike - would give the SR a 21.1:1 ratio, or @ 78% more pad pressure than the OEM 12.7mm master cylinder.
Any Brembo, Nissin, etc. 9.5mm / .375" master cylinder w/switch should drop right in and make a huge difference, and you won't have to touch anything else.
On the rear, the 11mm master cylinder from the FX (Zero part# 25-06731) has 49mm M6 bolt spacing / rear reservoir hose / top output / clevis, and should give @ 19% more pad pressure than the SR 12mm master cylinder.
This won't be a night-and-day difference like the front master cylinder change, but it should still be very noticeable.
Brake Pads
General Reading Material
General Brake Pad Replacement Suggestions

Try to not use synthetics pads or "sintered", but organic or semi sintered ones.

Sintered are better for very aggressive riding/braking, but are generally noisier.

Sand the pads.

In the 2012 models, keep the sintered pads; the brake pump is very weak.

Grease the back of the pads lightly with copper grease.
Check caliper position.
Check caliper springs, if any.
Check the wheel for trueness.
Sand the disk; it could have lightly crystalized.
Make sure all the bolts in the system (including wheel) are properly tightened.
After all of this has been preformed and before riding, clean everything exposed to dirt/grease with isopropyl alcohol
When riding again, try to not brake very aggressively the firsts 20-30 miles.
Brake Problems
Squeak

Brake squeak (pad front against the disc) happens occasionally and is relatively quiet and noticeable but not anomalous.

Squeal

Brake squeal (pad back resonating against caliper cylinder) can be very loud and annoying. Squeal does not technically impact performance but it's very unpleasant and might cause the rider to hesitate before fully braking which is a safety issue.

Solutions
Clean the pads and/or discs for squeaking.
Try a different brake pad (attractive if you want a different pad feel or performance in the first place).
LocTite Disc Brake Quiet stick applicator for the backs of the pads.
Chamfer the brake pads

File the edges of the pad to put a 45 degree edge on them
You only need 1-2mm
Brake Pad Fit
Nissin (2013 on rear, and 2013/2014 front)

J Juan (2014+ on rear, 2015+ on front)
Past forum threads of highly varying quality / ability to clarify:
EBC

The EBC brake catalog covers Zero models.
However, it has always had the wrong shape recommendation for 2013-2014 models, and for the FX entirely! Double-check any recommendation.
Their Carbon X pads can eliminate front brake squeal. EBC Carbon X page

SBS

offers a brake search engine which covers Zero models.

Goldfren

offers a good cross reference between brands.
Brembo's Motorcycle Brakes Configurator has reasonably usable Zero model lookup.
Their Carbon Ceramic pads are reported to resolve brake squeal issues.
Stock and Replacement Pad Specs (needs refinement/checking)
Front
Rear
Year
Models
Stock
SBS
EBC
Brembo
Galfer
Stock
SBS
EBC
Brembo
Galfer
2010-2012
S/DS
SFA264
708 HF
FA264
N/A
188
544 HF
FA83
07KA07
094
X/XU/MX
2013
S/DS/FX/MX/XU
Nissin TT2508HH sintered-metal
694 HS
FA185
07KA17
164
Nissin TT2182FF
790 LS
FA367
07YA41
286
2014
S/DS/SR
675 HS
FA208,FA213
07BB02
165
FX
Galfer FD093 G1651 semi-metallic
604
FA131
147
2015-2017
S/DS/SR/DSR
674 HS
FA209
07BB03
172
675 HS
FA208,FA213
07BB02
165
FX/FXS
671, 742
FA181
138
References
Brake Pad Replacement
Rear Pad Replacement for J Juan rear brakes (2014+)

Tools
Remove safety spring-clip from the rear of the bolt (on the side of the wheel).
If there's any debris like paint on the pad material, you may want to sand them flat/clean gently over some 200 grit sandpaper on a flat surface.
Put in new pads.
Screw-in the bolt.

It maybe good to use some anti-seize paste if not present from the factory.
Torque value unknown, but be quite gentle - probably something like 10lb/ft (hand-tighten firmly with a regular screwdriver kind of torque).

Reinstall safety clip.
Test your ride carefully!
Powertrain
The powertrain technically includes all of Zero's power storage and delivery components including the battery, but this section focuses on the motor, power delivery via the controller, and their inputs via throttle and drive mode configurations.
Licensing
For a time, Zero openly offered powertrain components in a licensed manner for prototyping and other uses.
Currently, probably for reasons of liability and support overhead, this is not publicly offered but does seem available on request for companies wanting to develop products where Zero's powertrain is a good fit.
Throttle
The Zero throttle is a very straightforward twist-grip motorcycle control that operates a sensor instead of pulling on a mechanical cable or operating hydraulics.
Zero switched the throttle supplier from a Magura with a linear potentiometer to a Bitron with a Hall-effect sensor in 2015 which changed how the wiring works.
Connections

The Zero throttle connects directly to the controller, so anything you do related to the throttle signal can compromise the operation of the bike if there's an electrical fault or discrepancy.
Customization

See Drive modes to customize throttle input interpretation as an owner.
Use the mode control for "Custom" mode on 2014+ or "Eco" on earlier models to set the maximum torque the throttle applies.

This also directly changes how quickly torque ramps up for a given throttle twist/position.
Advanced Customization

The Sevcon motor controller settings are where most of the throttle interpretation happens.
Replacement

TODO...
Assembly

The return spring cannot be tensioned while disassembled throttle is on the handlebar. Throttle must be removed to place the spring end correctly. see video from Harlan Flagg: https://www.facebook.com/harlanflagg/videos/1364143910276196/
Troubleshooting

One report of a "snatchy" throttle turned out to have this explanation:

There is a black adjusting screw which holds the pinion gear of the throttle in place or for adjustment.
The pinion gear had moved to the right and caused the spring clip for throttle return to pop out of the slot.
This was clicking through the gears and causing a notchy throttle feel.
Resolution: Reset the pinion location and tighten the screw.
Magura Throttle
The 2012-2014 stock throttle is a 5kOhm Magura throttle
Basic details

The Magura Twist Throttle has a 0-5kΩ output.
Comes with matching grip for opposite side.
7/8" (22mm) handle bar fit
68" long control cable
Weight: 0.5 lbs
Connectors

Three wire output directly to the controller.
Magura Throttle Connectors
Wire
Function
Destination
Illustration
Blue
Throttle High
Sevcon Pin 34
Brown
Wiper
Sevcon Pin 22 (analog)
Orange/Black
Throttle Low
B- Sevcon terminal
Bitron Throttle
2015+ models use a new HAL-based (Hall-effect active device) sensor from Bitron which can't be replaced easily by Domino or similar
Product reference: Bitron HAL-based throttle
Connectors

8 wire output, bundled into two pairs of 3 wires for potentiometer outputs.
The hall-effect sensor may be a potentiometer wired up as a voltage divider as follows:
Measured voltages
Wire
Twist
Voltage
Brown
None
0.5
Full
4.5
Brown/Red
None
4.5
Full
0.5
Regen
The Sevcon controller can enter a regeneration mode where it captures momentum from the motor and charges the battery.
Operating Range

Regen for Zeros operates between 12mph (where the motor cannot produce enough voltage to naturally power through the controller) and 4500 RPM (70mph in default gearing).
This band can be adjusted in MBB settings.
Level

Regen levels are defined/set in terms of percentage of maximum allowable levels, so 0-100%.
That 100% maps to a 40A recharge limit setting in the Sevcon controller, equivalent to 10% of the maximum discharge rate of a Gen4 size 4 controller.
The 100% setting also corresponds to 60% of the 72Nm torque limit also specified.
The recharge limit may be set up to 91A via Sevcon setting or higher by a dummy value (65535?).
Zero sets regen levels to preclude rear wheel lockup, so raising the limit is a risk that ABS cannot directly control.
Regen has the same effect for SR/DSR models as for S/DS.
Efficiency

The recharge efficiency of regen is typically that 10% of the energy used to climb an incline can be returned on the corresponding descent.
Triggers
Normal regen is triggered by relaxing the throttle.

There is a position just above the resting position where an actual neutral torque is achievable.
The MBB has a setting in mV for the potentiometer output of the throttle to trigger regen.
Adjusting this is not normally effective unless changing throttle types.

Brake regen is triggered by the same signal that turns on the brake light:

A contact switch against the front brake lever will engage the brake light (and regen); the hydraulic piston and the switch engage simultaneously by default.
Rear brakes engage pad contact and the brake light (and regen) simultaneously, but require some amount of travel before they engage.
Drive Modes
The Zero platform has always offered a simple control for switching throttle and regen mappings through MBB-Sevcon interaction.
2009-2013
Through 2013, only Eco and Sport modes were available, where Eco was the customizable mode but had the Eco default as listed below.
The modes are selected with a rocker switch on the left part of the steering head bracket forward from the handlebars.
2014-
2014 models introduced a separate Custom mode and made Eco mode fixed.
Modes are selected by pressing a selector button on the right hand switch assembly; the selected mode then activates when the throttle is released for a couple of seconds.
Default mode settings

| Mode | Max Speed | Max Torque | Max Regen | Max Regen Brake |
| --- | --- | --- | --- | --- |
| Eco | 70 mph | 40% | 66% | 100% |
| Custom | 70 mph | 100% | 40% | 66% |
| Sport | 98 mph | 100% | 40%? | 66%? |
Customization

Many riders make their own Custom mode settings. There are many options that all involve tradeoffs.
0% (-20%) Max Regen

This enables a "coasting" mode which is very efficient, in allowing the rider to let the bike's momentum carry it forward for a while.
This also helps transition the bike from accelerating to decelerating, since the regen levels come on in a step-wise fashion, which minimizes the dive on the suspension by providing an intermediate step.
NOTE: This has one disadvantage at 0%: in extremely low traction scenarios, this can lead to dangerous fishtailing where the rear wheel starts to slip, in that it can be very difficult to slow it down.

100% Max Brake Regen

Most riders seem to leave this setting at 100% in order to get the most out of their rear brake.

Lower Top Speed (60 or 70mph, say)

This creates a "poor man's" cruise control, where the throttle has no effect at the top end, only ensuring that a specific speed is met.
This can be useful when trying to get a maximum or ensured amount of range.

Lower Max Torque (30% or less)

This can be useful in wet or reduced traction conditions.
Torque setting is mostly about the torque ramp rate (how much torque achieved with a given amount of throttle twist).
By reducing the ramp rate, the onset of a loss of traction is much easier to control and recover from.
Most riders just switch to Eco mode in the rain, but using Custom mode for this can also be effective.
Motor
All of Zero's motors are air-cooled and mounted on a shaft that is aligned with the front pivot of the swingarm so that transmission tension is perfectly aligned with swingarm movement.
Agni Motor
From 2009 to 2012, Zero used brushed DC Agni/Saietta 95-R motors.
These have known quality issues after time and Zero offers many owners a Z-Force motor upgrade or complete trade-in for remaining 2014 models.
Basic Facts

Shaft ⌀19mm
6mm keyway
Chain Specs

420 chain specs: .500" pitch / .3125" roller diameter / .250" roller width / .227" sprocket width.
#41 sprocket teeth will engage 420 chain links, but they're made for .306" dia. rollers and a #41 sprocket / 420 chain combo will wear quickly.
Some sprocket places sell '41/420' sprockets, but there's no such thing.
Z-Force Motor
For the 2013+ models, Zero has their own motor design, trademarked "Z-Force" built by Motenergy.

Motenergy makes a generic version, the ME1507, of the same form factor, although it may differ in a few ways.

From Motenergy's ME1507 product page, it's clear that they're advertising a model on par with the 2016 IPM update:
The ME1507 is an Radial Air Gap, Permanent Magnet Synchronous Motor (PMSM) with an Internal Permanent Magnet Rotor (IPM). Designed for battery pack voltages of 100 VDC or less. Maximum rotor speed of 6000 rpm. Continuous current of 200 amps, and continuous power of 17 kw. Weight of 44 pounds.
Zero uses Sevcon Gen4 size 4 controllers for the base Z-Force models.
It is a sealed, air-cooled 3-phase brushless motor with inbuilt speed sensors which is roughly described as brushless DC (BLDC) or permanent magnet AC synchronous (PMAC) since the controller is continuously adjusting the phase angle of the field to the rotor's current position and speed.
The X platform uses the 75-5 model.
The S platform uses the 75-7 model.
Motor theory

IPM vs SPM for a different motor control regime but some principles translate to the Z-Force motor.
Efficiency

Range vs Speed by Patrick Truchon discusses the theory and measurements in depth.
Does Gear Size Affect Range? by Patrick Truchon with more theory!
Z-Force Motor R-Variant
The 75-7R motor was introduced in 2014 with high-temperature magnets.
These require Sevcon Gen4 size 6 controllers to deliver more current and torque
SR (2014+) and DSR (2016+) models use these motors.
Z-Force Motor IPM Update
In 2016, Zero introduced an interior permanent magnet (IPM) design as distinguished from a surface permanent magnet (SPM) design of the original motor introduced in 2013.
The IPM design reduces the heating associated with developing magnetic flux and distributes the heat produced more evenly.

This allows the motor to operate at higher outputs while producing less heat overall and concentrating heat production where it dissipates more easily.
In practice, this avoids hitting thermal limits which require cutbacks to protect the motor windings.

2016 models S/DS/SR/DSR/FXS have the IPM design.
FX and S/DS models with a 3-brick battery retained the SPM design (presumably to be phased out with inventory).
The IPM design motor apparently involves custom Zero programming of the Sevcon controller for the encoder, so off the shelf DVT software cannot perform alignment/commissioning but can apply settings / DCF files and restore them.
Z-Force Motor Mount/Torque Update
In 2017, the Sevcon controllers were updated ("4.5" is the unofficial revision) to support more current to the motor.
The belt was also reinforced and widened to apply more torque through the transmission and be more robust against interference.
Accordingly, the motor shaft is now splined instead of keyed so the motors and sprockets are not compatible across the 2016-2017 year-line.
Motor Mounting
Burton's 2013 to 2014 motor swap thread shows the most detail about the physical mounting of the motor.
Motor Shaft
Pre-2017

The motor shaft is keyed; the key has a square cross section.

Measurements

Dimensions seem to be ¼" square ⨉ 2.0" length (expressed in metric on drawings).
Ends 5mm from shaft end.
Shaft diameter is ⌀28.275mm+0-0.021
Shaft length extends 66.675mm beyond the motor face minus 4mm for raised parts of the face.

2013 models had a minor recall about the shaft key coming loose, but this was a design revision that has not recurred.

2017+

The motor shaft is splined to allow higher torque transmission.
Rumor has it (via Harlan at Hollywood Electrics) that the spline is supposed to match a Kawasaki KX250F as well as a Yamaha YZ450F.
Motor Sounds
Whirring

When the contactor is closed and the controller is engaged, if you push the motorcycle around without it being under power, you'll hear a soft whirring sound.

This sound is from the controller applying a field (of white or other color noise) to the motor trying to track its position to prevent cogging.

Cogging is a term for the rotor moving out of sync with the stator magnetic field.

This is normal and harmless on a Zero.
This sound can be used as a confirmation that the contactor is shut and that the motorcycle should be ready to drive (aside from the kickstand and kill switch).

Example / Reference: Strange noise Zero DS 2017 (video)
Whine/Tone

While moving, the motor tends to make a solid smooth tone resonant with the RPMs the motor is rotating at, usually noticeable around 15-30mph (30-50kph).
Motor Wiring
The motor's stator is connected to the controller for power and position feedback.
Power Inputs
3-phase / Y-shaped (120° phase offset) power inputs from the controller.

A (M1)
B (M2)
C (M3)
Sensor Connections
8-pin Metri-Pack 150 (Mouser p/n 829-12047937)

Motor Position (Cosine) / white
Motor Position (Sine) / blue
Motor Position (Ground) / black
unused
VDD (5V) / red
Shield / green
Temperature (negative) / yellow
Temperature (positive) / yellow
Motor Alignment
The back side of the motor (encoder side) has screw jack bolts that let you tweak the motor position. Mostly this is only needed when (re)installing the motor.
Procedure
Loosen the four M6 socket head screws.
Adjust the portion of the silver nut that is not wedged into the slot on the motor.
Motor Commissioning
Motor commissioning refers to aligning the controller's sine wave programming against the motor using its position sensors.
Benefits

Maximum efficiency (avoids current applied wastefully)
Avoid any slippage.
Avoid misapplied torque which might wear on the bearings.
Motor Limits
The following regards what engineering constraints limit the power and RPM of the (IPM) Z-Force motor. Pre-IPM motors generated more heat for a given amount of power, so cooling was usually the first concern, but the IPM design pushes the frontier further so the topic is worth addressing.
RPM

The Z-Force motor is design-limited to 6,000 RPM as follows.
RPM is primarily limited by the inductance of the motor windings.
At low RPM, under full throttle, the current through the driven phase(s) of the motor ramps up from 0 to the maximum allowed by the controller pretty quickly, and you get full torque because you've got full current.
But the faster the motor turns, the faster the motor controller has to cycle the phases of the motor on and off, and eventually, you reach a point where there's not enough time (because of the inductance of the motor windings) for the current to ramp up to maximum before that phase has to be turned off and the next phase cycled on.
At that point, power starts to drop off, so very shortly after that, the motor won't have enough torque or power left to drive the load.
The mechanics of the motor could easily have been designed for higher RPM, but there's no point since you'll be current-limited anyhow.
Torque / Power

The easiest way to get more torque, and thereby more power (since power is proportional to torque times RPM), is to pump more current through the motor.
Several things can bottleneck that effort:

First, the motor windings have a DC resistance because they're copper wires with fixed gauges and lengths.
The bike's wiring external to the motor also has some DC resistance in it.
If you apply more voltage to a fixed DC resistance, you'll get more current, but the batteries only give you ~110VDC to play with....and of course, the battery has a current limit of its own.
You'll need to be sure the controller can handle the current as well; you won't go very fast once you smoke the controller.
Since the motor rotates and therefore the windings have to be commutated (driven on and off in the proper sequence and speed), the motor's inductance also comes into play as discussed above about RPM.
You could change some of this stuff fairly easily (higher-gauge wiring is pretty simple, though might be tough to fit in some of the tight confines the Zero's wiring is routed through), but other things are more difficult.
To reduce the motor winding's DC resistance, you'd want to use heavier wire, but you wouldn't be able to get as many turns onto the same coil form.
Fewer turns would create less inductance, which also helps allow higher current levels, but fewer turns also results in a weaker magnetic field for the same current, so you might actually reduce the torque the motor puts out.
Then you'd also need to be sure you don't over-current the controller, or the batteries, and cooling everything involved becomes an additional topic.

It's kind of like asking what's the highest VO2 max an athlete can put out.

It's not just about his lungs, it's about his heart, his muscles, his metabolism at a microscopic level, even about his mental attitude.
Tweak any one thing and the system's whole balance shifts.
That's why engineers make the medium-sized bucks!
Speed

Vehicle top speed can only be altered by the gearing (sprocket ratios).
Power output is not affected by gearing; only torque is.
So, a ratio yielding a higher top speed will result in lower torques throughout the range, resulting in slower accelerations from start.
References
Controller
This encodes three-phase sine waves from the DC power and a number of signals.
The power is applied to the motor in synchronization with the current speed and position of the rotor.
Controller alignment (motor commissioning) is the process of tuning all of this for maximum efficiency and to avoid any slippage.
2017 "Gen4.5"

2017 models reference higher current ratings without publicized evidence of a Sevcon model change.
These improvements seem to be in choosing MOSFETs with increased power switching efficiencies to allow higher continuous and peak current levels.
"Gen4.5" has been a term heard describing these improvements.
Location

Beneath the seat at the front of the tail assembly, under a plastic sheet cover.
Mounted from the underside of the tail of the frame, between the frame "horns", with a set of fins for radiative cooling.
4 bolts secure the controller to the frame (need to confirm sizing and whether/how this varies for size 4 and size 6 controllers).
Accessing
Key off the motorcycle, and confirm that the contactors open.
Wait 10 minutes to ensure any residual voltage between the battery and controller has dissipated.
Uncover the controller by using a Philips head screwdriver to loosen the screw retaining the plastic sheet covering the controller.
Connectors
Controller Connecotors
Main terminals are, in order from front to rear: M1, B-, M2, B+, M3.

For Size 4 and Size 6, the bolts are all M8 with a torque setting of 11Nm±2Nm; bolts should engage a minimum of 10mm and thread depth is 15mm.
For Size 2 (2013XU), the bolts are all M6 with a torque settings of 7Nm±2Nm.

M-terminals supply the motor with its rotating field in three phases. Each gets a sine wave that is offset by 0, 120, 240 degrees.
B+ and B- connect to the battery power at positive and negative, respectively.

Connector info (see AMPSEAL Automotive Plug Connector and Header Assembly (PDF, English))

More connector info (look at bottom for pins)
Diagnostic Cables

Zero Sevcon programming cables are part #86-06747 connected as follows:

Pin 1 is "Key Switch In": power for the logic circuits.
Pin 2 is linked to pin 24 via 120Ω resistor to tell the Sevcon that it's at the CANBus termination.
Pin 13 is "CAN High".
Pin 27 is "CAN Low" in the Sevcon manual (pin 24 also is, unless used for termination signal).
Controller Feature Usage
Throttle

Sevcon provides the throttle with two mappings:

Mapping voltage to value in the first place (separately for forward and reverse)
An "input characteristic" profile which has linear, curved, crawl, and user-defined segmented options.

The controller also supports:

Control modes targeting speed (used through 2012) versus torque (used in 2013+).

The control mode translates the throttle signal into motor operation, so it makes the throttle target a speed or a level of torque.

Dual throttle inputs.
Regen proportional to the throttle.
Directional throttle.
Speed limit proportional to throttle.
Reverse speed limit.
Regen

The Sevcon controller manual refers to regen as braking, and has a number of recommendations and features disabled to help prevent wheel lockup for "on-highway applications".

Braking

The Sevcon can also apply reverse torque as braking or a reverse gear, and supports separate speed and torque limits while the motor is rotating in reverse, very important if used on a Zero since motorcycles are unstable when reversed so must operate within human walking speeds.
OEM Programming

Zero programs the Sevcon controller for their needs, above and beyond DOT, NHTSA, and EU vehicle manufacturing standards.
Some of this is a bunch of settings and some of this seems to be a custom version of the firmware code.
The new IPM motor may have demanded further customization than previous models, where custom firmware code is particularly relevant.
Settings can be changed and restored, but not code without some OEM-supported technical assistance.
Controller CAN Diagnostics
Via the MBB logs or the console, emergency (EMCY) entries related to SEVCON will be CAN controller events from the Sevcon Gen4 drives.
Example logged events
07004     06/03/2017 09:30:18   SEVCON CAN EMCY Frame      Error Code: 0x5000, Error Reg: 0x40 Sevcon Error Code: 0x46c3, Data: 0x04 0x01 0x00 , Unknown
07005     06/03/2017 09:30:18   SEVCON CAN EMCY Frame      Error Code: 0x   0, Error Reg: 0x00 Sevcon Error Code: 0x46c3, Data: 0x00 0x00 0x99 , Unknown
07006     06/03/2017 09:30:18   SEVCON CAN EMCY Frame      Error Code: 0x5000, Error Reg: 0x40 Sevcon Error Code: 0x46c3, Data: 0x04 0x02 0x00 , Unknown
07007     06/03/2017 09:30:18   SEVCON CAN EMCY Frame      Error Code: 0x   0, Error Reg: 0x00 Sevcon Error Code: 0x46c3, Data: 0x00 0x00 0x99 , Unknown
07008     06/03/2017 09:30:18   SEVCON CAN EMCY Frame      Error Code: 0x5000, Error Reg: 0x40 Sevcon Error Code: 0x52c3, Data: 0x00 0x00 0x00 , Unknown
07009     06/03/2017 09:30:18   SEVCON CAN EMCY Frame      Error Code: 0x5000, Error Reg: 0x40 Sevcon Error Code: 0x46c3, Data: 0x0c 0x10 0x00 , Unknown
07010     06/03/2017 09:30:18   Restarting Sevcon to clear cutout fault    
07011     06/03/2017 09:30:18   Module 00                  vmod: 112.127V, batt curr: 65498A
07012     06/03/2017 09:30:18   Module 01                  vmod: 112.156V, batt curr: 65506A
07013     06/03/2017 09:30:19   Sevcon Turned Off    

CAN message examples
ID    b0 b1 b2 b3 b4 b5 b6 b7
"81";"00 31 04 C3 4D 00 00 00"
"81";"00 31 14 C3 4D 00 00 00"
"81";"00 82 10 0F 53 02 00 00"
"82";"00 10 01 54 4F 00 40 00"
"82";"00 10 11 54 4F 00 40 00"
"82";"00 31 04 C2 51 00 00 00"
"82";"00 31 04 C2 51 00 04 00"
"82";"00 31 04 C3 4D 00 00 00"
"82";"00 31 05 C3 4D 00 00 00"
"82";"00 31 15 C3 4D 00 00 00"
"82";"30 81 10 0B 53 01 00 00"

Bytes b1+b0 (switch bytes)
| Error code (hex) | Error description |
| --- | --- |
| 00xx | Error Reset / No Error |
| 10xx | Generic Error |
| 2xxx | Current |
| 3xxx | Voltage |
| 4xxx | Temperature |
| 50xx | Device Hardware |
| 6xxx | Device Software |
| 70xx | Additional Modules |
| 8xxx | Monitoring |
| 90xx | External Error |
| F0xx | Additional Functions |
| FFxx | Device Specific |
Byte b2

Byte b2 is error register, bit-wise coding, also according to DS-301
| Bit | Error cause |
| --- | --- |
| 0 | Generic Error |
| 1 | Current |
| 2 | Voltage |
| 3 | Temperature |
| 4 | Communication Error |
| 5 | Device Profile Specific |
| 6 | Reserved (always 0) |
| 7 | Manufacturer Specific |
Bytes b5-b7

If any of bytes b5-b7 are not 0x00 means error is set.
If bytes b5-b7 are all 00 it means the error is reset.
Might be only b6?
Bytes b4+b3 (switched bytes)

Bytes b4+b3 (switched bytes) describes Sevcon specific errors
Code
Interpretation
Notes
0x2401
Login
0x3441
Host SW Upgrade
0x3442
DSP SW Upgrade
0x34C1
Watchdog Reset
0x45C1
BDI Warning
Battery Discharge Indicator's remaining charge is less than warning or cutout levels. Charge the battery.
0x45C2
BDI Cutout
0x45C3
Low battery
0x45C4
High battery
0x45C5
High capacitor
0x45C6
Vbat below rated min
Charge the battery! Or the B+ or B- terminals have been disconnected or damaged.
0x45C7
Vbat above rated max
The battery voltage is detected above 117V or 118V; discharge it through another safe load.
0x45C8
Vcap above rated max
0x45C8
Vcap above rated max
0x45C9
Motor low voltage
0x45CA
Motor high voltage
0x4601
Device too cold
The controller (or motor?) needs to warm up before operating.
0x4602
Device too hot
The controller (or motor?) is too hot; reduce power to cool it down; check cooling fin bracket.
0x4603
Motor in thermal c/b
The motor's defined temperature limit has been exceeded so power cutbacks are engaging.
0x4681
Preop
0x46C3
Ride-Through Fault
Low-voltage ride through?
0x4781
Anon EMCY
0x47C1
Service Required
0x4881
Seat
0x4882
Two Dir Fault
0x4883
SRO Fault
0x4884
Sequence Fault
0x4885
FS1 Recycle Fault
0x4941
Low oil
0x4981
Throttle Fault
0x4B81
Anon EMCY
0x4C41
Too Many Slaves
0x4DC3
Supply Critical
0x4F01
Bad State
0x4F02
EMCY Fail
0x4F41
Internal Fault
0x4F42
Out of Memory
0x4F43
General DSP Error
0x4F44
Timer Error
0x4F45
Queue Error
0x4F46
Sched Error
0x4F47
DSP Heartbeat
0x4F48
IO SS Error
0x4F49
GIO SS Error
0x4F4A
LCM SS Error
0x4F4B
LCP SS Error
0x4F4C
OBD SS Error
0x4F4D
VEHAPP SS Error
0x4F4E
DMC SS Error
0x4F4F
TracApp SS Error
0x4F50
New PF Detected
0x4F51
DSP not detected
0x4F52
DSP Comms Error
0x4F53
App Mgr SS Error
0x4F55
DSP param
0x4F81
Anon EMCY
0x5041
Bad NVM Data
0x5042
VPDO out of range
0x5043
Param fixed range error
0x5044
Param dyn range error
0x5081
Invalid Steer Switches
0x5101
Line Contactor o/c
0x5141
Line Contactor welded
0x5181
Dig In Wire Off
0x5182
Alg In Wire Off
0x5183
Alg Out Over I
0x5184
Alg Out On with No FS
0x5185
Alg Out Off with FS
0x51C1
Power Supply Interrupt
0x51C2
Precharge fail
0x52C1
Encoder fault
Check the encoder wiring to the motor
0x52C3
Current Control Fault
Can't control the currents on the motor. Check the motor load and wiring; check controller programming.
0x5301
CANbus Fault
0x5302
No Bootup
0x5303
LPRX CAN
0x5304
LPTX CAN
0x5305
HPRX CAN
0x5306
HPTX CAN
0x5307
CAN Overrun
0x5308
CAN Off
0x5309
Nodeguard Error
0x530A
PDO Short
0x530B
HBeat Error
0x530C
CANopen Device State
0x530D
CAN Error State
0x530E
SDO Handle Error
0x530F
SDO Timeout
0x5310
SDO Abort
0x5311
SDO State Error
0x5312
SDO Toggle Error
0x5313
SDO Rx Error
0x5314
SDO Length Error
0x5315
SDO Tx Error
0x5316
CANopen Ev Unknown
0x5317
SDO Bad Source
0x5318
SDO Bad Error No
0x5319
Mtr Slv in Wrong State
0x5341
Wrong DSP protocol
0x5342
Osc WDog Tripped
0x5343
Flt o/flow
0x5381
Anon EMCY
0x54C1
DSP Overvoltage
0x54C2
DSP PF Fault
0x54C3
Mosfet s/c M1 Top
0x54C4
Mosfet s/c M1 Bottom
0x54C5
Mosfet s/c M2 Top
0x54C6
Mosfet s/c M2 Bottom
0x54C7
Mosfet s/c M3 Top
0x54C8
Mosfet s/c M3 Bottom
0x54C9
Mosfet tests incomplete
0x5741
Invalid Rating
0x5781
Anon EMCY
Example
ID    b0 b1 b2 b3 b4 b5 b6 b7
"82";"00 31 04 C2 51 00 04 00"

Node id 2 sends emergency error.
Error code: 0x3100 (b1+b0) meaning "Voltage" error category
Error cause: 0x04 (b2) bit 2 set meaning "Voltage" error cause
Sevcon error: 0x51C2 meaning "Precharge fail"
Controller Configuration
The controller's configuration implements a number of Zero features:
Speed calculations.
Distance calculations.
Over-voltage limits to protect the battery by cutting out regen or refusing to operate.
Under-voltage limits to protect the battery charge state.
Current limits to protect the battery.
Delay before regen toggles on or off.
Driving modes like Eco/Custom/Sport which include speed and torque limits and speed ramping limits to prevent wheel lockup.
Configuration

Some MBB settings direct the Sevcon controller; look to the MBB first.
The MBB can also provide a dump of Sevcon diagnostics and logs.
DVT software to maintain the Sevcon programming is available but recent versions require a license and the cabling is not cheap. The older unlicensed versions may have trouble maintaining newer programming by Zero.
For those interested in better understanding your Zero's motor controller setup, you'll need some specific cables and software. These will allow you to browse the current controller configuration as well as make changes such as increasing regeneration rates, customising sport or eco modes etc.
This is what you'll need:

An IXXAT CAN-USB compact adaptor v1.5 (v1.01.0087.10100) or v1.6 - approx USD300 but you may find it cheaper on eBay or borrow/rent it from another forum member or dealer.

You cannot buy these anymore, you must get them off ebay or part of a Thunderstruck EV $900 kit.
You cannot use a new version of the IXXAT CAN-USB either as it will not work with an unlicensed copy of the software. And to get a license you have to own a business.

A DB2 female to OBDII male cable with a specific pin mapping (not the most common one). Easysync make a DB9 female to OBD male cable that has the correct pin configuration - about USD25
Sevcon DVT Customer software

It has to be version 1.03c or lower to use unlicensed (Google is your friend, as is Dropbox in this case).
Good luck saving your DCF files with it. You need to write down your settings before making big changes. Even if you bought the new version and got a license you would have to use a NEW IXXAT USB-CAN as the old one isn't compatible.

The Sevcon software will run on Windows XP, 7 and 8. There are manuals and getting started guides on the Internet (Google again) on how to use the DVT software including one at Thunderstruck EV.

WARNINGS

Do not link any files as they have been removed multiple times in the past. One of the dropbox links you will find will have at least 3 different versions. If you install any new versions completely remove everything from the previous versions. If you find the program wont start up and it isn't 1.02 then install a "merge" installation of TCL and it should work.
You can brick your controller temporarily by making changes. It would be nice to have a backup but these online versions of "free" sevcon software all have issues with saving. I have tested 1.00 1.01 1.02 (which never ran) and 1.03c so far. If you brick your device you will need someone to give you a DCF file to return your device to working order. But good luck getting it from a form member who doesn't work for a dealer as stated it is next to impossible to export the file.
Sevcon is very much against this use of their product and software, and have issued takedown notices for publicly available files.
You will not get official support and people will be reluctant to post details publicly. Get the 200 page DVT / SEVCON GEN 4 manual from the manufacture's webpage and read it a couple times. Try contacting knowledgeable people privately.
You really need to understand what you are doing when you start to make changes. This isn't a toy you are going to be remotely piloting, it is a vehicle you are risking your life on!
Zero has specific programming to customize the Sevcon controller, so it is not clear whether customer customization is achievable beyond basic modification of settings or performing an alignment using DVT.
Recovery

DoctorBass has documented a backdoor method of recovering a Sevcon controller if its firmware is in an unusable state
Using the IXXAT connection, issue the following command:
can send "0x7FA 0x48 0x65 0x79 0x73 0x6c 0x69 0x70"

This byte sequence is also apparently available as "BD" (for "backdoor", presumably).
Systems
Instrument Cluster
Until 2014, Zero used branded versions of generic Koso instrument clusters, mapping the fuel level indicator to battery state of charge.
Pre-2014

The 2012-2013 RX-1N shows battery level in 11 increments.
It's relatively effective to treat each increment as representing 9% of charge state, and do a little mental math to figure out that each increment could represent 6-12 miles (for say 2013), and work out the remaining range / speed tradeoff from that.

go slower to get closer to 12 miles of range per increment
go faster if you can afford to burn off the battery to reach your destination in time.

The Koso instructions linked below show how to operate it.
2014+

The 2014 custom gauge changed the pin connector, so there's no simple way to install one on an older model.
It offers an ergonomic advantage that the instrument cluster no longer obstructs access to the keyed ignition and steering lock.
The state of charge reading is now primarily numeric as a two-digit percentage, with a continuous bar level reading next to it.

Disadvantage: no countable number of increments and also making the rider more aware of state of charge calculation nuances.
Advantage: It's more accurate, and the dash's other functionality (like range and efficiency readouts) easily compensates for remaining inaccuracies.

The OEM manual explains its capabilities pretty well.
Connections

Koso connectors are much simpler than Zero's connectors to its own custom dash. Interchanging them would be a significant project.
Common Problems
Clock skew

The internal clock is separate from the MBB clock so can drift over time, often faster by minutes per month or so.

Loss of indication

When these have issues, it has mostly been due to moisture entering the (relatively well-sealed) housing.
This can be disassembled for cleaning but would need re-potting with dielectric grease perhaps when re-assembling and need to be very clean and try inside.
Diagnostics
Charger
Zero motorcycles have a stock Level 1 charger built in, accepting single-phase AC from common household outlets (100V to 240V).
Location

Bolted onto the underside of frame under the battery pack.
Protected by a metal belly pan on the DS/DSR/FX and very hard ABS plastic on the S/SR/FXS.
Inlet

S Models - Located on the left side of the frame above the footpeg with a rubber boot attached.
X Models - Located in the front below the right "batwing".
The inlet is an IEC 60320 C14 inlet for a cord ending in a C13.
The bike comes with a tethered C13-shaped rubber dust cover for the inlet, P/N 45-04864.

It protects the inlet from dirt which would create resistance and heat in power connections, eventually damaging the inlet and/or the onboard charger.
Press the dust cover in firmly after unplugging the cord to minimize wear on the inlet and charger.
It's very cheap to replace but seems proprietary so far.
Connections

Charger electrical connections face the rear towards the motor; cables run upward.
Power

The onboard charger for Zero motorcycles is rated to use 100V to 240V AC but is limited in capacity to the 110V power rating, so operates at half current at 220V.
Efficiency should be a little bit higher at higher voltages because of the reduction in current.
Calex Charger Behavior
Per CANBUS diagnostic reply, the Calex charger operates as a CC/CV mode charger.

Constant current (CC) mode is the default operational mode.

The charger attempts to deliver a target amount of current to the battery.
This means that the charger's power input is proportional to the battery's voltage at that moment, which rises from low state to the high state of charge, so charging will be slower at low voltages (< 20% SoC).

Maximum allowed battery voltage: 116.4V (Confirmed via charger self-report over CANBUS)

When battery voltage reaches or exceeds this value, the charger enters a constant voltage (CV) mode.
Since the rate of charge dynamically adds voltage to the pack, the taper eases off this addition so there's a stable charge equilibrium at the end.
Tapering behavior is observed to reduce output current in increments of 1A and typically starts at 12A.

Current taper cutoff: 10A (Confirmed via charger self-report over CANBUS)

The charger will cut to 0 output rather than taper below this value.

Maximum allowed current: 65.535 A (Confirmed via charger self-report over CANBUS)

This is a meaningless binary value.
Overcharge Protection

The charger is limited by the manufacturer to a range that matches Zero's battery safe range.
The charger is connected to external AC sources and is therefore a vulnerable component while plugged in.

The charger is an isolated power supply with suppressors on the input.
So, if a surge were big enough, the suppressors could fail short.
Then the circuit breaker should fail after that.
The BMS and the rest of the bike is completely isolated from the charger, so there's no current path to them.

This is why some people on this forum report their charger is dead, but the bike is fine, and there wasn't any fire. Most of the time Zero, replaces the onboard charger for them.

Worst-case scenario

BMS unresponsive
MBB unresponsive
Contactor welded
Charger outputs more than 117.6V

In the event of all these holding (extremely unlikely), there is some risk of a fire.
This is probably why Zero asks you to check on the bike every 72 hours to make sure the bike is still responding and the BMS is still alive.
Reliability

Certain model years (MY14 and MY15) have had onboard charger faults after 900-1200 miles and require replacement under warrantee.
MY16 and MY13 appear to have a lower defect rate.
This appears to be a third-party quality issue with Calex that was reportedly resolved by early 2016, but this is not proven perfectly yet.
Meanwell Charger Behavior
These chargers do not interact over CANBus messaging, so just operate in a preset way in CC-CV mode, although the CCU also has some control over it to implement battery protections.
Clicking Sound

There is a known issue, per Clicking sound when plugged-in, that the Meanwells sometimes make a repeated clicking sound.
It seems to happen generally in the cold.
This symptom does not seem to precede an equipment failure, and should go away once charging is complete.
Charger Operation
Mainly, the charger is the most routine bike maintenance and you just plug it in and can forget about it.
When to Charge

Per Zero's recommendation, the battery state of charge is ideally kept between 30% and 70%.
Always plug in when the SoC is below 30%.
Leave it plugged in to reach 100% and improve cel balance if you are planning to ride the bike in the next few days.
You can unplug the bike when it reaches 70% if the bike will not be ridden sooner than a few days, or if your next ride will not require more charge.

This keeps the battery in a healthier state and improves battery lifetime beyond the warranty.
What to Watch For

When plugging in, expect:
The contactor to close with a click or remain closed.
The dash charging indicator to begin blinking green.
After a few seconds, (2014+ models) the charge time indicator should display a number of hours and minutes until fully charged.

This indicator helps predict when a desired SoC can be anticipated, with a little math.
Trouble Indications
Spark at the plug when connecting.
Heat from the plug.
No charging dash indicator.
Circuit breaker trips.
Reliability Tips

There is a growing consensus that the Calex charger's limited cooling capacity can lead to damage over time if it's operated repeatedly at the high end of its rated band.
To minimize risk of a charger fault or component burnout, avoid operating it while the battery is hot and still cooling, and address any heating or sparking at the plug.
Check the Common Charging Problems section regarding the plug and cord.
Basic suggestions:

After an intense ride in the heat with the battery temperature high, wait for a couple of hours until the temperature is lower.
Keep the inlet covered when not in use.
Use contact cleaner on the inlet periodically (once per month) or whenever the charging cord plug warms up significantly during charging.
Minimize strain and load on the charging cord.
Unplug the cord and cover the inlet when not in use.
Ground fault circuit isolation (GFCI or GFI) enabled outlets often trip when using the Zero onboard charger, relating to how AC phases are wired to a single or multiple outlets.
If this happens regularly, it is reasonable to break off the grounding pin from your charging cord, or, better yet, get a cheater (three prong to two prong) "cheater" plug.
Charger Power Cord
The charging cord is a 10-ft 14AWG cord with a NEMA 5-15P (US) to IEC320 C13 output plug rated for 15A; the onboard charger draws 11-12A at 120V AC (and half the amps at ~220V).
Zero specifies that any extension cord be at least the above specification, and 15A continuous rating is important to look for. When in doubt, prefer a thicker gauge cord, a shorter length, and a sturdier plug.
Do not let a charge cord sit coiled up, particularly in a container; make sure that any heat produced is not confined near the cord for any reason.
Plugging into a 220V outlet will reduce the current to the onboard charger by half, so is one way to drastically minimize risk to any cords.
Charger Connections
AC input is an IEC-60320 C13 inlet.
DC output is an Anderson SBS50-BRN, but it seems to be a narrower pin pitch with no center data pin set.
CANbus signal interface is a JAE MX23A18NF1 connector (applies to the Calex, not the Mean Wells!)
CAN signal pins per GWP data sheet

| Pin | Function |
| --- | --- |
| 4 | CAN ground |
| 5 | CAN +5V power |
| 6 | CAN Dominant Low |
| 7 | CAN Dominant High |
| 10 | ob_charger_attached_n [charger_attached] |
| 11 | ob_charger_attached_n [charger_attached] |
| 12 | charger_en_0 [charger_en_n] |
| 13 | ob_charger_ref_0 [charger_gnd_ref] |
CANbus wiring

Adapted from an examination of the wiring on a 2014 SR: Onboard charger wiring for 2014 and 2015+ for the Calex.
When the onboard charger is plugged in and powered on the onboard charger pushes:

5V and 48mA through the Charger attached Pin #11.
5V and 26mA through the Charger enabled Pin #12.

The 5V ground reference is Pin #13 which is battery negative.
With this knowledge, another onboard charger solution can be wired to function as follows:

Run a separate circuit that when triggered pushes 5V ~50mA through pin#11 (attached charger) with the other end of the 5V circuit connected to the battery negative pin #13.
When this is triggered, the bike shows the battery state of charge % and charge time remaining, closes the contactor and allows charging - through the accessory charging port, the onboard charger port or via the Sevcon battery terminals for high power charging.
Upon completion of charging, the 5V can be switched off and the charge level and time remaining switch off and the contactor opens just as with the onboard charger.
The bike can be keyed on and ridden away as normal.

Using this method there is no need to leave the bike on when charging via the accessory charging port or the controller battery-side cables, or if you are using the accessory charging port without triggering the auxiliary pin on the accessory charging port's Anderson SBS75XBRN.

NOTE

For 2015 onwards, the charger install uses additional wiring which may have a different approach using CAN signals, so it may require a different approach.
Charger Replacement
Since some generations of onboard chargers seem to develop faults relatively often, being able to replace a charger on one's own might save someone a lot of grief who doesn't live near a dealer.
Steps (adapted from these instructions):

Unplug the motorcycle, and key it off. Wait for at least 10 minutes to ensure any residual charge has dissipated.
Unbolt the skid pan (2 rows of 4 3mm allen head bolts on each side of the pan, and 2 smaller bolts) and remove it.
Unplug the wiring at the rear of the charger area. There are three plugs, one on the AC end of things that's bolted to the bike, (your charge plug) the comm connector (enable signal, can comms etc...) and one plug on the DC side that goes up to the charge wiring harness.

The comms plug just has a tab; push in the tab and pull that one out. (Both of the other plugs are really difficult.)
Start with the DC plug.
The cables are tucked up between the battery and a frame member, so cut the zip ties (Including the zip tie holding the plugs together) and pull the push on zip tie mount things on the lower half of the cable going to the charger.
Pull down on the charger side of the connector from the bottom while pulling up on the top connector.

Sometimes this requires a flesh donation to the motor, so covering the motor with a rag would be smart.

Pull the terminals out of the plug housing (see Anderson disassembly), and pull it down thru the hole between the motor and frame.
Next, the AC plug.

It loops up under the seat and is zip tied on in a handful of places.
There are two small bolts on the backside that are difficult to reach, so use a decent set of hex drivers with handles.

There is a fuse holder plug that connects the ground to (somewhere...).

Squeeze some tabs to get the green locking piece out.
Then squeeze more tabs to get the plug apart.

Now with the cables out, the charger just has six bolts on the tabs holding it up. Take those out and the charger will be detached.

Assembly is the reverse of disassembly.

Suggestion

You can extended the DC wires on the replacement Calex charger, and put the plug set sideways, and up higher to make it easier to get at.
Main Bike Board
The Main Bike Board (MBB) controls the overall system, implements safety interlocks, and directs the controller; it is also the entry point for configuring these systems, performing diagnostics, and examining operational events.
When referring to "the firmware", or "the logs", the MBB is mainly what is meant.
Location

Below the front area of the seat under cable runs on the left side.
The MBB is located aft of the DC-DC converter with a bracket sandwiched between them.
When using the OBD2 port, the console accessed is from the MBB.
Playing with the 2012 MBB shows Doctorbass' transcript using 2012 firmware. 2013 models' interface differs quite a bit from this but the general logic and experience are the same.
Protections

The MBB unit appears to be permanently sealed and potted to protect it from dust and a certain amount of moisture ingress.
Interlock Troubleshooting

Use careful electrical isolation measures when troubleshooting electrical switches used as inputs for interlocks enforced by the MBB.
Replacement

An MBB must be programmed specifically for the bike in question.
A dealer must select the correct and latest firmware to apply to the bike per its basic parameters:

Year
Model
Battery configuration

Information from the bike's VIN is necessary to select the right programming by the dealer or OEM.

This information may not be sufficient, if it requires coding in the presence of a Power Tank or Charge Tank.
Main Bike Board Limitations
The MBB design is very modest and seems to prioritize light weight and simplicity over robustness.
Take as much care as possible when troubleshooting in and around this module.
A professional-grade application of dielectric grease around the connectors seems advisable, but a good set of instructions to implement that doesn't quite exist yet.
Performance and Lockup

The MBB communicates with the bike's other systems via CAN Bus, which is a Multi-master bus, meaning that multiple nodes on the bus must initiate a transfer.
The MBB also has limited memory, I/O dispatching, and computational performance, meaning that it can get clogged with requests for data outside its designed parameters.
This means that running any telemetry while in drive mode through the OBD-II serial console or using the Bluetooth transmitter will meaningfully increase the load on the the MBB, and in some cases prevent it from acting on rider inputs, including safety interlocks like the cutout switch or kickstand interlocks.
Reportedly, 2017 and newer models have increased performance and enough memory to complete an onboard upgrade with an atomic swap of versions by holding new and old firmware versions simultaneously, but there's no known means of using these in older models.
Electrical Vulnerability

The circuits connected to the pins seem to lack significant protection against shorting faults, which could be a source of breakages while dealing with connected systems.
OBD-II Serial Output

The use of the non-standard OBD-II port most easily draws power from a very limited internal circuit.
The OBD-II port as a result is typically not usable over a long cable without an external power supply and good quality connections.
Main Bike Board Connections
The MBB has a 34-pin and 40-pin connector mounted on the top of the MBB, making them relatively accessible and a way to identify the MBB.
Both are made by JAE Electronics.
Inputs
Component
Function
Wire
MBB Pin
Role
Kickstand Switch
Safety Interlock
Red 20AWG
27
Orange (black) 20AWG
12
Yellow (black) 20AWG
11
Kill Switch
Safety Interlock
Red 20AWG
23
White 20AWG
24
Outputs
Component
Function
Wire
MBB Pin
Function
Notes
DC-DC Converter
Enable Signal
Orange (Red) 18AWG

21 (2013)
20 (2015)
Battery Management System
Zero's proprietary BMS board manages the battery, of course.
The same board model seems to be capable and used for both single-brick (X platform) bikes and power pack (S platform) bikes, given software configuration changes. The board appears to be OEM-designed and has revision numbers that indicate progression over time from the 2013 model line.
Power Note

This is the one power drain on the vehicle when it is completely turned off with no charging, but it draws a very minor amount of power like a "sleep" mode.
Caution

The board is entirely solid state and not designed for fixing, only replacement.
Any damage to this board will disable the motorcycle.
WARNING

The board has full battery voltage inputs to it at all times.
Take extreme care to avoid connections that could short, arc, or ground.
Before accessing the BMS, first turn the bike off and disconnect charging so that the contactor is open and you do not interact with the BMS while it performs a cel balancing operation.
Location (S Platform)

Behind the lower front face of the battery behind the front forks/wheel.
Remove the lower front body plastics and the front battery face to access the unit.

Location (X Platform and Power Tank)

Each separate brick has its own BMS inside the armored casing.
The long brick has one BMS module inside the armored casing.
Protections

The board is mounted with rubber vibration dampening.
The board is layered with a very thick coating ("dam and fill potting") to protect the components from moisture and shock damage.
The rubber pads covering reset buttons and LED indicator lights (for 2015+ models) have dielectric grease coating (CP70 datasheet) those components.

The covers are not there to make it waterproof, only to keep the dirt out of the grease.
MY13 bikes had no grease. MY14 bikes had a different grease that did not age well, and CP70 is worth applying to both MY13 and MY14.
Maintain that coating and do not pressure wash the front of the battery casing to avoid damaging this board.
Inspecting

If the BMS stops working (no indication from the lights, no response to reset), the appropriate, non-warrantee-risking thing to do is take it to a dealer and they'll likely replace it under warrantee.
But if a dealer visit is difficult or there's an emergency, a visual inspection might inform what's going on (naturally, a bike that doesn't work feels like an emergency; use your judgement).
Basically, uncover the BMS and look for burned out components.
There is a large pin connector which may be loose, which would explain a loss of power to the BMS. Apparently this is very difficult to work with but can be re-attached carefully.
Don't loosen the BMS mounting without a very good reason - it's always connected to battery cell voltage by some pins on the side that run into the batter pack so a spark there might be damaging.
If you are going to lift off the BMS, take extreme care with the fasteners and dampeners to not drop them into the battery casing.
You'll also need to restore each and every fastener and dampener because the BMS mount prevents vibration damage.
Diagnostics

The mobile app can extract BMS logs, but it is a very slow and error-prone process compared to MBB log extraction.
The front of the board has a diagnostic port for a live debugging connection.
A cable to access the serial connection of the diagnostic port is described here
BMS Parts
Battery Connections

CAUTION: Always live at full pack voltage, and pose a risk of sparking damage.

Precharge circuit

(see Precharge)

PL536 chips

(see the architecture section)

BMS Indicator Lights and Reset Controls

accessible through ports.

Upper port shows the indicator lights, in "1234" order, left to right.
Lower port covers the two reset pushbuttons and the diagnostic port, usable with dealership cables (should be a CAN port or at least a serial TTY).

Through diameter is 24.5mm or 0.96"; outer diameter is 26mm or 1.02".
Heyco ergonomic plugs shows a likely rubber plug fit but is not directly available.
32/24 blind rubber grommet at Eastern Beaver seems closer to original and can be ordered individually.
Rubber Mounting Bushings/Spacers

Spec: ID 7.8mm, OD 12.5mm, Height/Thickness: 5.25mm, black rubber
Potting

Spec: Silicone (unclear type; thick gel form), and CP70 (industry-specified dielectric grease, do not substitute) around openings and reset buttons.
Internal Pack Wiring for X Model connector to BMS and contactor
BMS Architecture
Some general speculation here about how the BMS is designed and arranged, correlated with BMS board examination.
The product identifier "PL536" occurs in BMS logs, referring to a TI BMS chip that handles 3-6 cells in series.
The Zero BMS has 5 of these (visible on the front of the board above).
The 5 chips divide up the 28 cell series into groups that each chip monitors (seemingly 6 per chip until the last chip handles 4 for a total of 28).
References
BMS Reset
For a number of errors, the official manual recommends resetting the BMS.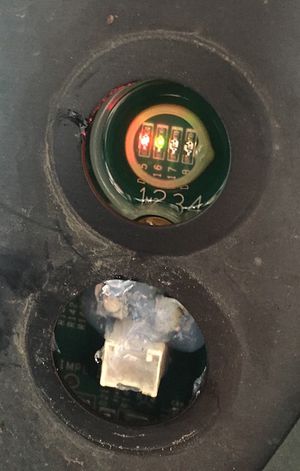 2015+ BMS Reset
Key the bike off and unplug it from charging. Wait for the contactor to click open.
Uncover the two rubber pads on the front of the batter case facing the front wheel.

The upper pad covers a string of small LEDs, one red on the left followed by four green. They'll indicate charge level when the bike is keyed off.
The lower pad covers a white plastic port coated in dielectric grease. Above that port are two small micro-switch buttons which are the reset buttons.

Press to reset

The button on the left as you face performs a hardware reset. The right button performs a software reset.

Take a pen (say) and depress the (right) software reset button for a few seconds and then release.

Expect the upper pad's LEDs to go dark while the button is depressed and then turn on again when release.
The lights should stabilize after an initial startup sequence for a few seconds.

Check whether the error code is clear by keying on the vehicle or whatever is appropriate.
If the error is still present, try the (left) hardware reset button in the same way. Then try both at the same time.
Replace both pads.
2013-2014 BMS Reset
Key the bike off and unplug it from charging. Wait for the contactor to click open.
Uncover the rubber pad on the front of the batter case facing the front wheel, below the window for the BMS indicating lights.

The window covers a string of small LEDs, one red on the left followed by four green. They'll indicate charge level when the bike is keyed off.
The rubber pad covers a white plastic port coated in dielectric grease.

Press to reset

There is only one reset button above the plastic port which performs a hardware reset.

Take a pen (say) and depress the reset button for a few seconds and then release.

Expect the upper pad's LEDs to go dark while the button is depressed and then turn on again when release.
The lights should stabilize after an initial startup sequence for a few seconds.

Check whether the error code is clear by keying on the vehicle or whatever is appropriate.
Cell Balancing
The BMS connects to the battery cells via the interconnect wiring and can sense cell voltage and feed small amounts of current to cells that are abnormally low in order to maintain battery longevity and minimize the possibility of cell damage.
There are 28 contacts on the left side of the back of the board (as viewed from the front of the bike looking at the battery) which connect to each cell in the "brick" series. It detects voltage levels on all cells, through interconnects between bricks that harness each cell in the same position in the brick's series, and through this same path able to balance cells by targeting current to the cells with the lowest voltages.
Cell balancing because of the limitations of this circuit can take a long time and is part of why Zero recommends keeping the motorcycle plugged in when unattended by default.
The BMS has a precharge circuit for ensuring that the contactors can close without causing damaging current spikes to the controller or other components.
Precharge is necessary because of capacitors in the controller; connecting sets of capacitors electrically requires care to match voltages because of the rate at which capacitors will charge and discharge to each other to balance potentials.
See Precharge Theory for a detailed explanation.
Operation
When the motorcycle is keyed on, precharge supplies a low amount of power (fused at 10A) to the controller-side main bus.
Voltage should climb above 85V within 4-5 seconds of powering on.
At this point, the BMS measures the voltage on both sides and decides to close the contactors.
If this process fails, precharge will stop and then the voltage level will decay.

You will likely see error code 25 for a precharge error on the dash (when error codes are selected for display).
Warning

The precharge circuit is not isolated from the controller or accessory charging port, and can be damaged if a large transient current is induced from an outside source to a de-energized motorcycle.
Precharge Failure

A recent (mid-2016) firmware update improves the robustness of the precharge logic especially when used with accessory charging systems that are permanently connected to the vehicle.

If while starting the bike, the sequence completes before the contactor closes, the green run light for the motorcycle will flash until the contactor does close.

To address a failed precharge on startup:
Key the bike off if after several seconds, the contactor has not shut with an audible click and the green run light is still flashing.
Wait 2 seconds (ensuring the dash indicator goes fully dark) and then key the bike on again.

This should allow precharge to get a boost from residual charge from the last precharge startup cycle.

Repeat a few times if necessary. If the contactor never shuts, check the logs and any error codes.
Charging Control Unit
The Charging Control Unit (CCU) on Meanwell-charger-equipped models (all 2013 and the 2014FX) collects battery temperature sensor data, battery voltage, and charger DC voltage to decide on whether to open or close the contactor. It also manages the Meanwell onboard charger which has no CANBus connection or programmability, so when the programmable Calex charger was introduced, the CCU's functions were moved to direct BMS/MBB management.
Connectors

CCU 18-pin connector: JAE Electronics MX23A18SF1
TODO

more from Burton's post here: Re: 2013 S 11.4 quick charger build
The contactor protects the battery against faults. It is analogous to a circuit breaker. The CCU directs it.
2012-2013 models exhibited behavior where the BMS in certain situations yielded a "contactor welded shut" condition that require dealer servicing. Later model years fail more safely (open).
2014+ models do not have a CCU, and the BMS directly controls the contactor and onboard charger.
Location

Under the seat in front of the MBB with the connections mounted on top.
Limits

The CCU terminals are not designed for high amperage currents. Presumably, anything above the 2013's intended 30A charging limit could damage the CCU or trigger the contactor opening.
WARNING

This is always energized. Any exposure of this at any time will risk direct contact with battery terminals that could result in injury or equipment damage. DO NOT UNCOVER this without professional-level care!
If you are in a remote location, and have trouble with a contactor unit not closing without any indication of a particular condition that interlocks it in the BMS, a little mild mechanical agitation (while the vehicle is keyed off) against the top surface with a rubber mallet might loosen it.
DC-DC 12V converter
This is a solid state switching power DC step-down converter designed to produce low voltage DC power from the pack voltage.
Appearance

It's about the size of a long box of soap but although black underneath, will be covered entirely with Nashua aluminum ducting tape, so will appear silver.
S-Platform Location

Below the front of the seat under cable runs, between the MBB (separated by a bracket) and the back of the battery frame area.

X-Platform Location

Below the removable battery compartment. See our FX teardown layout guide.
Protections
Ingress: IP67
Short circuit overload
Reverse polarity
Fully isolated
Can parallel with diode safeguard
Connections

There is a 5-pin connector controlling the converter, facing the left as installed on the bike, connected as follows:
Pin
Function
Measurement
Component
Years
Wire
MBB Pin
Illustration
1
Enable signal
12V
MBB
2013
Orange (Red) 18AWG
21
2015
20
2
Input (Positive)
116V
Battery
2013
Orange (Blue) 16AWG
7
3
Input (Negative)
2013
Orange (Black) 20AWG
5
4
Output (Positive)
13.5V
Fuse Block
2013
Blue (16AWG, 14AWG) wires
5
Output (Negative/Ground)
12V return conduits
2013
Black 10AWG
Output

It is configured to output 13.5V DC; usually produces ~13.8V DC.
There is very little ripple that is typical of a gas-power motorcycle's alternator-driven DC supply.
Capacity is 300W (20-25A) for pre-2015 bikes and 500W (35-40A) for 2015+ models, with most of that excess needed to run ABS pumps, etc.
Operation

The input side is always-on DC from the battery, upstream of the contactor.

This is the best place to tap for an always-on power supply.

The converter is enabled by a 12V signal from the MBB.
Troubleshooting

The converter can fail in a way where it shorts its enable line and will not turn off even if the bike is keyed off.

If this condition happens in rain:

Let the bike dry out until it clears.
Attempt a dielectric grease application to the inputs while de-energized.

If the DC system output disappears:

Check DC voltage upstream of the fuse block in case the fuse block is faulty.
Check the continuity and snugness of the connectors and pins.
Check for the enable signal from the MBB

Continuity: < 1Ω between pins.
Not shorted to B+?: > 151kΩ from pin 20 to pin 7.
Not shorted to ground?: > 1MΩ from pin 20 to 18.
References
Firmware Versions
Using the Zero App to download the logs, and Phreak's Log Parser Utility (forum, Github, online), different users have reported the latest firmware versions to be:
Latest Board and Firmware Versions
MBB
BMS
Board Year
Revision
Version
Revision
Version
2013
1
67
2014
1
44
1
43
2015
3
25
2016
3
51
3
39
2017
12
21
The online log parser has a list of the most recent firmwares that have been uploaded to the server: Latest Firmware Versions
Feel free to update this section as you discover new available updates.
Guessed/Inferred Changes
Version Changes
Component
Version
Release Date
Notes
BMS
MBB
48
spring 2017
49-51
49 Build Date: 06Jul2016

51 Build Date: 25Apr2017

Confirmed: SoC improvements, particularly for pre-2016 model years.
Observed: 2016 SoC is significantly more pessimistic in v51 than in v49.
Guess: Throttle remapping to a smoother roll-on curve.
Guess: Regen seems to apply more broadly.
Upgrading Firmware

As of 2017, Zero models are capable of performing remote firmware updates by the customer using the mobile app.
Apparently this doesn't transfer to older models because the older boards did not have enough storage space to perform an atomic/reversible update.

This means holding both firmware versions and being able to toggle which version to use.
So, if anything goes wrong with a firmware update, the system can roll back to the previous version without requiring a dealer visit.
Battery
Basic Concepts

Metaphorically speaking, think of a river and a reservoir.

Volts

water pressure.

Amps

volume of water flowing.

Charge (Kwh)

how much water is behind the dam.

Power (kW)

the rate at which water is flowing.
The following guidance includes advice adapted from MostlyBonkers' research summary and Battery Notes from a Farasis Engineer.
Charge Tips
Generally, refer to the Charger Operation section, but for battery concerns, the following are relevant:
If you run your bike to empty, do your best to give it at least a partial charge (ideally to 40-50%) as soon as you can.
Charge and discharge your bike freely and at your convenience.
Don't worry about keeping the bike topped up, like standard car batteries.
Don't feel you have to run the bike to empty before re-charging; it's fine to charge if you've only used 10%, for example.
If you can afford extra chargers to reduce charging time, Zero's fast chargers won't hurt the batteries.
Use the bike as much as you can. If you aren't using it for a regular commute or aren't lucky enough to have the freedom to ride regularly then it will work out a lot cheaper to own a conventional motorbike.
Zero's engineers have done the work to ensure a long service life from their battery packs and have backed it up with a five year warranty with the 2014 model range onwards. That should be enough to drop any anxiety you may have and just concentrate on enjoying the bike.
Battery Capacity
Normally, the true energy a battery can have is calculated by taking nominal voltage times the Ah capacity of the battery = Wh (divide by 1000 for kWh units).
However for some reasons, based on industry convention, Zero calculates battery energy (the kWh) by taking the maximum voltage the battery has at 100% capacity times the capacity in Ah, instead of nominal voltage.
Maximum voltage is only present at the beginning of discharge when it is full, and then it drops (nonlinearly).
The nominal voltage is like the average voltage the battery over the entire discharge range. The average is the voltage measured at the battery terminal when it has 50% charge state and is disconnected from any load.
For example, the 2013 S has 100Ah and a nominal 102V: the total energy the battery has is 100Ah x 102V = 10200Wh (10.2kWh). But if you use maximum battery voltage you get 100Ah x 116V = 11.6kWh.
This also applies when adding a power tank, confusing customers about the official rating versus what the mobile application reports.
Regardless of this complexity of measurement, Zero's range figures appear reliable in the general context of the test conditions.
Cells
The current manufacturer is Farasis who are supplying pouch cells for the 2013+ model range.
NMC Cell Chemistry

The chemistry used is Lithium Nickel Manganese Cobalt: LiNiMnCoO2 ("NMC" or other rearrangements of those letters).
NMC is a relatively new battery chemistry which differs from the Li-cobalt chemistry we are familiar with from mobile phone batteries and laptops.

While Li-cobalt has a higher energy density than NMC (storage capacity per kilogram), it doesn't cycle as well and ages quicker.
That's fine for a mobile phone that is likely to be obsolete after 2-3 years, but not for an electric bike.

The automotive-grade NMC cells that Farasis supply should easily satisfy the requirements of the five year warranty that Zero are providing with their current Z-Force battery packs.

It seems they should last 8-10 years if they aren't abused.
Even if you start to notice some significant deterioration after five years, the rate at which battery technology is progressing means that you should be able to buy a new battery pack with much better capacity (range) than the original for less money.
Battery Cells
Voltage
Years
Form
Manufacturer
Model
Datasheet
Capacity
Minimum
Nominal
Maximum
Dimensions
2009-2011
cylindrical
Molicel
IMR-26700A
Molicel 26700 [6] [7]
2.9Ah
2.5V
3.8V
4.2V±50mV
26.4mm ⌀ ⨉ 70mm
2012
pouch
EIG
EIG C020
EIG NCM C020
20Ah
2.5V
3.65V
4.15V
130mm ⨉ 217mm ⨉ 7.2mm
2013-2014
Farasis
Farasis 25Ah
Farasis IMP06160230P25A 25Ah
25Ah
2.0V
3.65V
4.15-4.20V
161mm ⨉ 230mm ⨉ 6mm
2015
Farasis 27Ah
27Ah (25Ah label)
161mm ⨉ 230mm ⨉ 6mm
2016-2017
Farasis 29Ah
29Ah (28Ah label)
160mm ⨉ 230mm ⨉ 6mm
2018
Farasis 32Ah
32Ah (? label)
160mm ⨉ 230mm ⨉ 6mm
Farasis Claims

Per Farasis engineers and industry professionals:

25Ah

A solid cell, and are Farasis's oldest chemistry design.
They are a manganese-rich cathode (NMC) 25Ah cell with excellent cycle life, and acceptable C-rate.

27Ah

An adaptation of the 25Ah cell chemistry with thinner foils and more of them.
This means that there is more active materiel (more capacity) but less conductive path to get that capacity in and out.
So for the slow discharge S/DS bikes, you get more capacity, but they are lower C rate, and cannot handle being used in the FX platform.

29Ah

Higher discharge rate (peak and continuous) than the 25Ah cell.
More capacity than the 27Ah cell (especially at higher C rates/cooler temperatures).

32Ah

10% capacity improvement and very likely lower internal resistance.
Internal weight savings and better cooling are inferred.
Farasis Specs
Discharge
Charge
Cell
Continuous
Peak (10sec)
Max Burst
Maximum
25Ah
4C (100A)
7C (175A)
400A
1C (25A)
References
Cell Arrangement
Notation

See Battery Cell Arrangement Notation to understand how Zero's battery cell arrangements are described.
Pack Configurations
Cell
Voltage
Series
Pack Voltage
Years
Platform
Configuration
Molicel 26700
3.8V
14

7⨉2s banks

48V (min)
53V (nominal) ≈ 3.8V × 14
58V (listed/max)

2009
S
14s24p
Monolith (12 or 24 parallel)
2010-2011
X
14s12p
S
14s24p
EIG C020 20Ah
3.65V
18
2012
X
18s1p
1 module
S
18s2p or 18s3p
2 or 3-brick monolith
Farasis 25Ah
28

116V (max)
102V (nominal) ≈ 3.65V × 28
84V (min)

2013-2014
X
28s1p
1 or 2 removable modules
S
28s3p or 28s4p
3 or 4-brick monolith
Farasis 25Ah
2015
X
28s1p
1 or 2 removable modules
Farasis 27Ah
S
28s3p or 28s4p
3 or 4-brick monolith
Farasis 29Ah
2016
X
28s1p
1 or 2 removable modules
S
28s3p or 28s4p
3 or 4-brick monolith
2017
X
28s2p
Long brick (fixed), or 1 or 2 removable modules
S
28s2p or 28s4p
Long brick with storage, or 2 long-brick monolith
References

2011 Zero S battery rebuild to Tesla cells reveals Molicel construction for the 2009-2011 era.
Brick
Zero arranges Farasis cells in 28-cell series in modular form, referred to as "bricks" because they're bathed in an epoxy after assembly. The brick configuration is "28s1p".
Both the Power Tank and Power Pack Module products encapsulate a single brick.
For the S platform 2014+ years, installing the Power Tank changes a "4p" to a "5p" (and presumably "3p" to "4p" but this seems unlikely).
Components and Weight

28 cell ⨉ 485 g/cell = 29.9 lb
For 2015, each brick weighs 32 lb, implying 2.1 lbs for epoxy/etc.
Dimensions

8? x 7.5 x 9.75in (HxWxL)
References

DoctorBass' repackaging of a 25Ah brick into two, length-wise reveals some structure.
Monolith
The term "monolith" refers to Zero's standard Z-Force Power Pack sealed battery assembly with specific, fixed dimensions and a single BMS with fixed communication and power interface.
A monolith is designed to package up to 4 parallel bricks, described as "4-brick" or "28s4p", referring to 4 parallel stacks of 28 cells in series.
The 4p arrangement is a "full" arrangement: the monolith is split into 4 equal quadrants each fitting a brick.
A "3-brick" arrangement was available for 2013-2016 S and DS bikes, leaving the forward upper quadrant empty (presumably filled with lightweight but load-absorbing material).
Interconnects

An interconnect wiring system electrically connects each cell across bricks that is in the same position in the series.

Interconnects minimize the complexity of cell balancing by ensuring that only 28 conductive connections are needed from the single BMS to keep cells balanced.
Interconnects also ensure that a set of 3 or 4 cells are electrically able to balance a certain amount of load, reducing stress from imbalanced load variations while running.

Interconnects do seem to embody some specialized emergency fuse safeguards.
Components and Weight

32 lb/brick ⨉ 4 brick = 128 lb
The 4-brick monolith weight of 140 lb implies 12 lb for the base plate, BMS, dog house with contactor, current sensor, fuse, and connectors.
Long Brick
The 2017 model year shifted Zero's battery assembly to a "half monolith" or "long brick" configuration containing the same number of cells as for 2 bricks. A single BMS manages the cells in both stacks.
Model Changes
The 2017 S and DS models offer a 2p arrangement using a single long brick arranged along the forward half of the monolith frame area, and leaves the rear half of that area empty for a storage bin accessed from the side of the frame.

The prior 3p configuration is no longer for sale.

The 2017 X platform bikes are delivered by default with a non-removable long brick.

They are available optionally with single removable bricks like prior model years for an additional cost of about $500.
Design

The long brick arrangement figures suggest that each brick aligns its cells with the other brick.

Layout appears to be more efficient as a result.
Interconnects between the bricks seem to be trivial and nearly-zero-resistance, improving cell life.
There is unsupported speculation that 56s1p arrangement is a possible future evolutionary step as a result.
Long brick Monoliths

For 2017 packs, made with "long bricks", the interconnects are extremely simple, only connecting two stacks which are aligned directly against each other.
2017 monoliths consist of two "long bricks" with simpler interconnects.
State of Charge
State of Charge is a calculation meant to help estimate remaining energy in the battery.
SoC is most easily calibrated using the battery pack's voltage at rest (or at a slight trickle charge if not at rest).
Voltage per SoC at rest (MUST FIX)

| Battery Voltage | SoC |
| --- | --- |
| 116.20 | 100 |
| 114.24 | 95 |
| 112.00 | 90 |
| 109.76 | 85 |
| 108.36 | 80 |
| 106.96 | 75 |
| 105.56 | 70 |
| 104.16 | 65 |
| 103.04 | 60 |
| 101.92 | 55 |
| 101.36 | 50 |
| 100.80 | 45 |
| 99.68 | 40 |
| 99.12 | 35 |
| 98.56 | 30 |
| 98.00 | 25 |
| 97.16 | 20 |
| 96.60 | 15 |
| 96.04 | 10 |
| 95.76 | 5 |
| 95.20 | 0 |
SoC Indications per protomech
The mobile app appears to simply show kWh using Zero's max capacity rating, i.e. present voltage times present amp hours.
The voltage and amp-hours are likely to be correct, but the kWh readout is a rough guide at best.
The percentage reading adjusts to the estimated pack maximum over time, so if the pack ages, the reported Ah and kWh readout will decrease, but not the maximum percentage.
Variance across Battery Pack Years

The sensors measuring current and temperature for the battery pack improve over the years, impacting SoC indication.
One can find multiple complaints of going into limp-home mode at 5-15% from 2014 SR owners, for example.
2017 model year bikes appear to have an increased range of current sensor calibration quality, improving that year's estimations.
Other References
BMS SoC Estimation
SoC is inherently an abstract / simulated measure, not one that can be directly proven with enough physical inputs.
The actual proof of state of charge is to fully discharge the battery, running an integral of current as discharged (this is the Current Method of Estimation).
But a "full" discharge must be decided from a measurement, too, taking minimum cell voltage, which sometimes (and possibly for certain cell generations) can have a single cell fall in voltage early causing SoC to drop early.
And this voltage can be a dynamic result of the rate of discharge, so that restarting the bike after a few minutes' rest period can show a higher SoC than before.
BMS estimation modes
Current Integration Method, or "coulomb counting", which measures the battery current over time and estimates its integral or sum.

Battery current will reverse for regen mode and for charging, and this is measured and included in the estimation.

Voltage Method, a fairly inaccurate but simpler method where battery voltage is measured and then dynamically compensating the voltage reading by a correction term proportional to the battery current, and by using a look-up table of battery's open circuit voltage vs. temperature.

Voltage correlates to SoC well at the empty and full states, but less well in the plateau area of 20-80%.
Method Switching

The SoC method may switch during operation, and should be indicated in the event logs.
It appears to change primarily when charging starts or stops; it is probably triggered by the battery's Charge Mode state.
When the method switches, SoC may change dramatically (by 12% or more) with no clear explanation.
Temperature Effects

Batteries are chemical systems that can be very complicated to summarize.
One of the main capacity factors is the pack temperature, which is determined by both outside temperature and any heat produced internally from resistance during charging and discharging.
Temperature appears to be a significant factor in building the SoC estimation for either method.
Examples

Walk through the logic of SoC boundary parameters with some stock Zero equipment.

Equipment

Farasis 25Ah cells (using the datasheet available) in a 28 cell series.

Static Voltage Walkthrough

The 116V reported by the mobile application at 100% SoC corresponds to 4.14V (=116V/28).
0% state of charge at least naively then would correspond to 92.4V ( = 3.3V × 28).
The nominal cell voltage listed (3.65V) then corresponds to a nominal pack voltage of 102.2V, which does reflect the relatively stable battery voltage reading near the middle of the state of charge cycle in steady state.

Reframing (per Terry)

Zero will let you discharge to about 88 volts and up to 116.4 volts.
By the Farasis data sheet, this is using the full capacity of the cells with the exception of about 4 volts from the whole pack.
84 volts would be 3.0V per cell but 88 volts is pretty close.
88 volts is about 3.14V per cell and there is less than 1% energy left at 3.14V.

In any case, the state of charge calculation is driven by attempting to bracket vehicle usage to stay in this range.

The desired voltage range (to maintain battery chemistry over the stated lifetime) drives stated limits, coupled with an estimation of the amp-hours remaining from any given point in the collective state of the battery pack.
SoC Calibration
SoC Drift
The SoC has an inherent drift based on inherent sources of error:
An integral is not generally computable from time-sampled measurements.
Battery current sensors seem to have calibration targeted at the high end of the range (highway speeds) and do not have a known recalibration program; likely a non-linear output.
Temperature measurements must rely on sensors in specific positions in the battery (with no feasible ideal position).
Steady throttle usage should experience less drift than wildly varying usage, but the inherent measurement problems still lead to some drift.
SoC Drift Correction

SoC drift is only really eliminated by the battery reaching an equilibrium state.
The BMS seems to recalibrate SoC for the 100% condition:
Pack voltage at 116.2V.
Battery state at rest via either:

0A charge or discharge current.

with some few minutes time spent with the charger disconnected.

~0.8kW charge rate

NOTE: observed by testing with a controllable switching supply; onboard charging can substitute.
Battery Storage and Capacity with Age
Chemically, the cells mainly age in two ways:
The electrolyte reacting with the active components of the cathode and anode in the cells, and releasing gas (calendar life).
The interaction between the lithium ions and the anode/cathode blend that causes a small amount of damage each time they are cycled. (Cycle life)
You just have to come to terms with the fact that from the moment the battery pack is manufactured it will very slowly lose overall capacity regardless of whether you use it or not. Li-ion batteries are good at holding their charge so you don't need to worry about letting them stand for a long time, providing they've got a reasonably good state of charge (SoC). At 40-50% SoC the overall capacity loss due to aging is minimized. At full charge the aging effects are increased but not by such a great amount that it should cause any great concern. For some owners it might be wiser to follow Zero's recommendations and just leave the bike plugged in for however long you plan to store the bike. This at least makes sure the individual cells stay balanced with each other and there's little risk of them dropping to a very low SoC at which point the aging effects begin to increase. If you let the SoC drop below their minimum threshold you run the risk of the battery pack becoming unusable. I think that's why Zero recommend leaving the bike plugged in over winter. If there's some sort of power cut mid-winter and the bike isn't checked for a few months, then at least there's a good chance the battery won't have discharged too much.
Farasis recommendations:
The manufacturer might state that you will get 500 cycles from a battery and they will be referring to full cycles. However, if you only ever use 10% of the capacity from a full charge and then top it up, you will get more cycles from it before the battery health drops to 80%. In this example you are likely to get 1500 cycles from a battery that you only ever discharge to half it's capacity. That's assuming that all other variables remain the same. In day-to-day use, variations in state of charge and temperature are more likely to affect battery life than how you cycle the battery. Taking Zero's claim's of an estimated battery pack life of 496,000 km using city ranges it would take at least 2,250 full cycles to achieve this (2014 Zero S 11.4 kWh). Taking into account the loss of capacity in this period and the figure is bound to be more like 2,500 cycles. Most trips and daily commutes will probably drop the battery to 40-50% SoC thus increasing the number of cycles we would get from the battery. Let's say we average 60 miles between charges of a 100 mile combined range over the life of the bike. Then let's allow ourselves 3,000 cycles before the battery drops to 80% health. That's still 180,000 miles. Even if we then halve that to allow for temperature and aging (very unlikely even in harsh conditions) we get a very, very conservative estimate of 90,000 miles. That should give even a heavy commuter a good five or six years of use before noticing significant reduction in range. Even then, a daily average of 60 miles would still give you a 20 mile reserve.
If you do decide to leave it at 40-50% SoC you also need to be organized enough to check the bike every couple of weeks or so. It wouldn't hurt to charge it up after a few months, leave it plugged in for a few days to make sure the cells get properly balanced, then take it for a ride to bring the SoC down to the 40-50% level again before leaving it for the next few weeks or months.
I have no doubt that the good people at Zero have done their sums, know the specifications of the batteries in detail and are confident that their battery packs will have at least 80% health after five years even if the bike is never ridden and left plugged in all the time. Zero also state in their specifications that their battery packs are good for hundreds of thousands of miles before they reach 80% of their original stated capacity. That in itself should be enough to put your mind at rest, but if it isn't then perhaps these golden rules should help:
Don't leave the bike standing empty for more than a few days.
If you have to store the bike for a long time, then either leave it plugged in and don't worry about it, or leave it at 40-50% SoC but keep an eye on it.
Just use your bike as much as you can and don't worry about the battery. The engineers have thought all this through and are backing it up with a five year warranty. The whole scene will be different in five years time, so it isn't worth thinking about.
Battery Temperature Effects
Performance

Battery internal resistance is higher at lower temperatures, which means that while riding, losses to battery internal resistance mean a loss of range at lower temperatures.
Farasis quotes internal cell resistance as <2mΩ but it's not exactly clear how this translates into calculating those losses without some description of how that trends over temperature and charge rate.
The warmer the battery is, the lower these losses will be.
Below freezing temperatures, the battery chemistry will not allow effective charging at all, and Zero provides protections to prevent this until the battery's temperature has been raised sufficiently.
It follows that to get maximum performance, charging and discharging repeatedly at a high rate will raise cell temperature enough to reduce internal resistance so more will be delivered to the motor.
Degradation at high temperatures
Temperature is a bigger factor than state of charge when it comes to aging. Apparently, for every increase of 10F degrees in battery temperature across its lifetime, battery deterioration over that lifetime can double.
Heat Production

It is worth noting though that Li-ion batteries shouldn't generate a lot of heat when charging at normal rates.
On a Zero, charging at or below 4kW will not produce much heat.
Therefore, even if you live in a hot climate and have just been on a ride, the cells should cool down overall even while they are charging (although direct sunlight on the battery will add more heat).
You might want to be a little more careful if fast charging in a hot climate but don't forget that the BMS will either reduce the charge rate or stop charging altogether if the cell temperature exceeds the limits that the engineers have set. They have set these limits on the conservative side to avoid any claims on that five year warranty.
Storage

If you are going to store the bike, it makes sense to store it somewhere cool.
Fridge temperature is probably best but never store below freezing.
If you don't have the option of storing it somewhere cool, then don't worry about it.
Battery Memory Effects
There are no memory effects with Li-ion chemistry. Some 'Smart' battery management systems might recommend performing a deep discharge followed by a full charge from time to time. This helps re-calibrate the system and give better estimations of capacity remaining. However, there is no need to do this from purely a cell maintenance point of view. All Li-ion batteries have protection circuits to keep the cells within their safe operating voltage range. You can therefore simply charge and discharge at will and not worry about charging a battery that is half full.
Rate of Charging and Discharging
The Farasis cells have a nominal capacity of 25 Ah (2013-2014). Each cell has a maximum continuous discharge rate of 100 A (4C rate). You would have to discharge the battery in 15 minutes to achieve that, which is impossible to achieve normally.
Conveniently, the Zero S 11.4 should achieve a range of approximately 70 miles at a constant speed of 70 mph. That would result in a full discharge in an hour. Even maintaining 80 mph, the maximum sustained speed of the bike, it's difficult to empty the battery pack in less than half an hour. So the cells are operating well within their specifications.
The maximum charge rate for Zero battery packs is 25A for each cell or brick (2013-2014), which would mean a full charge in an hour, referred to as a 1C rate. Even with 2 x 2.5 kW Elcon chargers, you're only going to get a full charge in 2 hours, probably more like 2.5 hrs as the charge rate will drop as the battery reaches capacity. Yet again, the cells are under relatively little stress even with a fast charge.
Protections
Contactor
The contactor mutually protects the battery and the bike's systems from damaging each other, particularly for rush currents or overcurrent conditions.
Model

Contactors for the 2013+ years are GIGAVAC GX-series contactors.
The 2013 year contactor is not identified, and some reported an occasional failure mode where "contactor welded shut" could occur.
2014+ years feature the GX11, which appears to fail safe open by design (SPST-NO) and has had no significant reported issues.
Location

The 2013+ power pack contactor is housed within the "dog house", an enclosed area extending from the main power pack enclosure top face at the rear.
For the Power Tank accessory and bricks and long bricks, each enclosure has one contactor operated by the BMS within.
Behavior

See Charging Control Unit and Contactor Limits.
Theory (ref)

A contactor is a large relay: it allows a fairly small voltage/current signal to switch a much larger voltage/current.
It has two sides:

The drive/coil side (control).
The load (contact) side.

On the drive/coil side, there's a "kickback" diode which handles the inductive spike caused when the drive to the coil ceases.

Without that diode, the energy represented in the magnetic field inside of the coil would have no place to go, so it would cause a voltage spike which can be damaging to components.
The kickback diode gives that energy somewhere to go, allowing it to ramp down fairly slowly without a big voltage spike.

Depending on how the coil side of the contactor is wound, it has a certain current requirement to pull the contactor shut, say 12V @ 100mA, which will be provided by the driving circuitry.

There's not necessarily any relationship between the coil rating and contact rating, except that bigger (higher-current rated) contacts might be heavier and require higher coil current to get the armature to move.
The kickback diode only needs to carry this amount of current, regardless of the contact side current.
If a 3A kickback diode is specified for that contactor, it will be adequate for any contact side current.

The make/break current is the rating for the contact side of the contactor.

You won't actually want to make or break the contactor under the limiting conditions (you'll always want to both make and break the contactor at exactly 0 amps), but in an emergency, it's rated to do so without the contacts welding together -- and an emergency is what the contactor is there for.

In automotive use, you often see the coil set up for 12V, drawing maybe 100mA (the current can vary widely though).

That small current pulls the contacts together, which switches on the high-current side.
Contactor Limits
Zero's effective contactor limit for the charging rate is 95% of 1C rate.
The BMS will open the contactor for the following conditions:
Inactivity

If the motorcycle is keyed off and not otherwise set in charging mode, the contactors will open after a few seconds.
If the motorcycle is keyed on and not otherwise set in charging mode, and then 30 minutes pass without control input.

Twisting the throttle is sufficient to reset this timer; otherwise restart charging once it happens.
Voltage

Voltage is too low or too high outside its safe operating range.
If voltage is too high (117V):

Confirm with the Zero mobile application
Attempt to bring it back to normal range by discharging the battery:

operating the motor (fastest but requires a closed contactor, and the Sevcon won't operate above 118V) or:
turning on all available electrical loads.

If voltage is too low, charge by any means necessary:

Prefer the onboard charger or an equivalent rate source through the charging port.
In an emergency, the regen feature can be used to charge the battery through the motor.

Drive the motor by spinning the rear axle with a suitable power source, with the bike in Custom Mode with regen set to 100%.
Power

Incoming power exceeds 1C rate continuously for a minute. A 1C rate charges the battery fully in 1 hour.
For a battery with 13 kWh max capacity, this value will be 11.4 kWh nominal / 102V = 110A (say).
If the charge rate is too high for the battery, downgrade the charge rate manually and restart.
Field testing indicates that the short time setting for the contactor opening is 30 seconds, and that a 20 second period under that limit will reset it.

This may vary due to environmental conditions like ambient temperature.
Temperature

If the battery temperature (not ambient) is outside safe operating bounds:
BMS Behavior over Temperature Ranges
Cold Battery
Normal
Hot Battery
Range (F)
 … -22F
-22F … 32F
32F … 110F
110F … 122F
122F … 140F
140F … 
Range (C)
 … -30C
-30C … 0C
0C … 43C
43C … 50C
50C … 60C
60C … 
Effect
operation prevented
charging prevented
charging normal
charging tapered
charging prevented
operation prevented
The Zero battery will emit heat while its charging rate exceeds 4 kW, and it will cool if under that threshold.
If temperature is out of safe range, do whatever is appropriate to bring the temperature back in range.
Calculating Contactor Limit Per Bike
Per Zero's specs pages:
Maximum capacity (kWh) = COUNT(cells) × (cell capacity rating (Ah)) × MAX(cell rating (V))
Example

A 2015 SR w/ Power Tank has 15.3kWh max, 13.5 kWh nominal, with a 102V nominal voltage, so is nominally rated at 133 Ah.
1C rate means that it can charge at up to 133A.
At 10% actual SOC (3.4 volts per cell), 1C = 3.4 volts per cell × 28 cells in series × 133 A = 12.7 kW.
At 95% SOC (4.1 volts per cell), 1C = 4.1 volts per cell × 28 cells in series × 133 A = 15.3 kW.
These are DC power ratings; AC input power will read 10 to 20% higher (due to conversion losses).
Contactor Limit Per Power Tank or module

The current capacity will be proportional to the number of bricks vs 4 providing a scaling factor.
Or, more directly, the Ah rating on the label indicates the 1C rate.
Charging Limits
Capacity (kWh)
Voltage
Capacity
Contactor Limit
Year
Cell
# Bricks
Max
Nominal
Max
Nominal
(Ah or 1C amps)
A (95% assumed)
2013
25Ah
4
11.4
10.0
116
102
98
93
2014
2015
27Ah
4
12.5
11.0
108
103
2016
29Ah
4
13.0
11.4
112
107
2017
2018
TBD
Battery Fuse
Each "brick" has an internal 300A fuse for protection in case the contactor welds shut (very difficult if not impossible by design in post-2013 models).
Naturally, if this fuse blows, your battery warranty may be in question, and certainly if you open the pack to replace it.
Battery Stress Factors
The following factors speed up degradation:
Hot Temperatures

This causes the electrolyte to become more reactive. Farasis claims to have one of the most stable electrolyte blends in the business, and use a lot of proprietary tech to keep the cathode/anode blend as least reactive as possible, but the effect is unavoidable.

High Voltage

Again, The higher the potential between the cathode and anode, the faster the reaction between the electrolyte and the actives occurs.

Very Low Voltage

Below a certain voltage (2.0-2.2V/cell) the potential between the cathode and anode is such that the battery has used all its high potential lithium, and so it starts picking on the next easiest thing, which is the copper.
This process is super ugly, as it electroplates the copper off the negative foils (anode) and electrodeposits it onto the positive foils (cathode). PERMANENT IRREVERSIBLE DAMAGE. This is super dangerous too, as the next time it is charged, that copper gets blasted back to the negative foils and lands wherever it feels like, as the anode isn't designed to deal with copper Ions. So they form big crystal sharp structures called dendrites, which at best can pierce the separator and cause high self discharge and gassing as the electrolyte nucleates (gas builds up, the cell goes to 0V and looks like a balloon) , or at worst, the dendrite is able to get a solid connection between the cathode and anode, and this causes the cell to short internally and results in fire. Luckily for you, Zero has an amazing BMS and pack topology that sips hardly any power from the cells in a key-off state, but you still can murder the bike by approaching 0% SOC as slowly as possible until it is at its absolute lowest SOC (state of charge) and the BMS shuts the bike off. What happens is that the bike has the smallest amount of reserve battery then, and the BMS sipping away at that small amount will eventually murder the cells over a period of several years.
Battery Longevity
If Zero are putting a five year warranty on their battery packs, it's quite possible that they believe they will last ten years. Tesla are saying that their battery packs are good for 15 years apparently. It seems a lot like buying a normal bike or a car. Feel confident that it will give you at least five years or 50,000 miles of good service. If you don't mind buying a five year old vehicle and taking a bit more risk, then you should achieve double. Time will tell and sellers will be able to quote actual range figures to prospective buyers.
Battery Future
Battery technology is improving every year, but not at the same rate as computer technology. A 10% per year increase in capacity might be a reasonable expectation. We can always hope that there will be a significant breakthrough that makes is way to production and changes the state of the art much quicker. For the time being though, we have robust technology that should give you five to ten years of service and a range of about 100 miles of mixed riding as long as you don't spend much time on fast roads. It's perfect for many city commuters and people who like relaxed rides taking the country roads. You will need an ICE bike for longer journeys and touring, unless you are willing to plan in long charging stops. If you can use your bike for your commute or have regular trips that cover less than 100 miles a day, then range anxiety won't be an issue.
Battery Best Practices
Basically, the way to kill a Zero the fastest is to either ride it to absolutely dead as possible, and then store it in a shed for six years, or to store it at absolutely tip top charge in direct sunlight in a super hot desert in Arizona somewhere. Either way, you will still struggle to kill them before the warrantee is up.
So, to prolong your battery life, you can do the exact opposite. Store the bike in a cool place with a stable temperature at a medium SoC. About 60% or so is fine for S/DS (one BMS sipping on 3-5 cellboxes) or 70% for the FX modules (one BMS per cellbox).
When you get done riding your S/DS hard on a hot day, let it cool down for 4-6hrs before charging it.
This takes less time for FX modules.
Fast charging is fine, but know that around the .8C mark is the point where at normal ambient temp, you go from cooling off to heating up. If your pack is already hot from a ride through the desert at WOT, and you fast charge, you are still going to be on a hot pack when you continue your WOT journey. This is not a big deal, but it's helpful to bring the battery temperature back down to minimize the aging effects that this accumulates over time. The BMS will keep you from really breaking your pack, so don't worry about it.
Construction
The Power Pack is a heavily armored box case.
Dimensions for the full Power Pack are 10" width, roughly 17" height and 14" depth.
The "long brick" enclosure for 2017+ models is the same at roughly half the depth, and of course the storage area on S/DS models with this Power Pack has about the same dimensions minus clearances and dividing bracket allowances.
Battery Removal
X Platform

The OEM manual covers this, and it's a primary feature of the X platform that the power packs can be swapped or removed.
As of 2017, X platform models (FX/FXS/FXP) are assembled by default with a "long brick" 6.5kWh pack that cannot be easily swapped or removed; it is bolted into the frame. The option to buy a model with individual power pack modules is still available for an additional cost.

S Platform

This is very involved, only suitable for a dealer or experienced electrical engineer equipped with a hoist, because the frame must be lifted vertically off of the battery, and the battery must be electrically detached from the systems safely.
There is also almost no realistic reason to do this for a battery under warrantee.
Steps below are a rough sketch of the process.

Remove the belly pan and onboard charger.
Disconnect all cables leading to the battery.
Place the motorcycle on a center lift that can balance the battery on its own.
Harness the frame into a hoist and put some of the load onto that hoist.

The hoist should be rated to lift the bike's weight entirely.

(Possibly) remove the front wheel and/or forks.
(Possibly) remove the rear wheel and/or swingarm.
Use an allen key wrench to remove the 2 bolts on each side of the lower battery mount (4 total).
Lift the frame?
Battery Pack Rebuild
This is the most unrecommendable thing to do for a Zero owner who is not an experienced electrical engineer. The battery warrantee will be completely forfeit, its watertightness will be compromised, and there is likely little a non-expert can do to improve the design. And you could be killed.
For older Zeros whose battery warrantee has expired, contact a dealer or Zero's corporate technical support line to see what they can support. Zero has in the past offered reasonable trade-in value for older motorcycles which are difficult to support and rare.
It is conceivable but entirely unconfirmed that pack upgrades or recycling trade-ins might be offered years after a model is released.
One rebuild report: 2010 Zero X Battery rebuild with pouch cells
References and further reading
Charging
The CCU (Meanwell-charger-equipped models only for 2013 and 2014FX) and BMS manage the onboard charger and the battery's contactor to prevent charging in a number of conditions.
Operation

The contactor makes an audible "click" sound when closing and opening.
Don't twist the throttle after turning the bike on until you hear that click.

The bike prevents itself from lurching forward if the contactor closes while the throttle is open, but you shouldn't rely on that or find yourself surprised.

Similarly, do not start charging without a closed contactor.

The onboard charger will enable charging mode by CAN bus communications, or keying the bike on can at least close the contactor for drive mode.
Charging mode can be retained through charging port inputs at the signal pins, but they cannot initiate charging mode.
Charging Indications
External

The dash charging light will flash while charging.
The dash charging light will be solid once fully charged.
The BMS front indicator window shows 4 LEDs. The number of LEDs lit indicates the SOC level in quarters.
Voltage (verifiable with the mobile app)

Battery voltage will rise with its state of charge while charging from below 20% and then stays relatively constant (easing from 100V to 104V) from 20% to 80% where it starts rising again.
A Zero battery will have a full charge when it has 116V while at rest.
During a charging session, the voltage will dynamically increase by as much as 1V so expect 117V at the end of a full charge until charging stops.
Indications for the Zero battery state of charge while charging may have a significant inaccuracy at high charge rates, and typically report lower than actual towards the upper end of the range (80% - 100%). Turning the motorcycle off and letting the contactor open and waiting for several seconds should restore charge accuracy.
The battery will charge most efficiently between roughly 20% and 80% state of charge, with voltage high enough that current limits allow more power input. At higher voltages, chargers taper out of concern to maintain battery condition.
Charging Heat
The Zero battery will emit heat above a charging level of 0.4C (4kW for a 4-brick pack), and will naturally cool below that threshold.
Expect several degrees Fahrenheit rise when performing a full charge near a 1C rate.
The onboard charger is attached to the bottom of the battery on the S-platform and will conduct some heat into the battery as it operates.
Discharging a battery at a very high rate can also produce heat.
High Temperature Guidance

See the hot weather usage recommendations for thorough guidance.
If the battery temperature is already high enough to cause concern about the next charging phase, ride at relatively modest speeds to allow ventilation to cool it faster than discharge heats it up.
Use a battery temperature indication to help understand this.
On-board Charging Port
The onboard charger is connected to an IEC C14 inlet hard-mounted to the lower left side of the frame above the footpeg.
Rubber Plug

A rubber plug is included to protect the inlet from the elements (which then protects the onboard charger from sparking currents that can degrade it over time).
Keep the rubber plug on when the inlet is not connected to a cord.
Replacement
Accessory Charging Port
The Zero platform includes a charging circuit terminated by a hard-mounted brown Anderson SBS-75X connector to support OEM and third-party additional chargers.
Input

Only supply DC power to this port in the battery's normal range, or risk catastrophic damage to the battery.
All external chargers are switching power supplies that turn AC (or sometimes DC!) power at a wider range of voltages into DC that behaves well with Zero's battery technology and voltage range.
2012 Zero batteries operate in a lower voltage range than 2013+ Zero batteries; chargers for one range of years should never be used on another range of years.
To use
Remove the rubber boot cover and plug in the charger(s).
Use the onboard charger in conjunction with the accessory charging port to keep the motorcycle in charging mode (allows keying off while charging among other things).
Replace the rubber boot after unplugging the charger(s).
Mounted locations
Platform
Years
Location
X
2013+
Forward of the motor on the right lower side of the frame, under a plastic panel with 5 fasteners.
S
2011-2012
Right side of the battery.
2013
Above the motor on the right side (opposite the ODB-II port).
2014+
Above the motor on the left side (more accessible than 2013), covered by a rubber boot.
Location
Charging Circuit Fuse
The charging circuit has a fuse encapsulated in a cable that protects the battery from charging at too high a rate.
Affected Circuits
2013: the charging fuse acts on the accessory charging port, and does not disable the onboard charger.
2014+: the fuse acts on the circuit containing both the accessory charging port and the onboard charger but has a much higher limit.
Location

On the right side of the bike under the seat behind the battery, near or under quite a few 12V cable runs.
Fuse Specification
Platform
Years
Current Limit (Continuous)
Power Limit (Continuous)
Product
X
2013+
S
2013
30A
3kW
Eaton JJN-30
2014+
100A rated, 85A slow limit
10kW
Eaton JJN-100
NOTE

2013 Battery Pack Longevity Recalls
The battery pack replacements performed by the manufacturer due to discovered defects wind up being upgrades to 2015 and then 2016 model year power packs, and seem to include upgraded charging circuits, so those older models will have the higher-rated fuse and work like the newer bikes, charging-wise.
Replacement

WARNING: This fuse is not meant to be user-serviceable, and could be very dangerous to replace without the exact same specification.
The fuse is downstream from the contactor, so if the contactor is open (it should be if you can't charge and the bike is keyed off), it should be de-energized.

Verify this with proper testing equipment.

It's a huge inline fuse within adhesive heat shrink, so it's difficult to extract and replace.
The wires do have ring terminals once you get the fuse out, so you could wire in a fuse breaker. Or if in a pinch just bolt them together.
Fuse Part Investigations

A 2014 SR was found to have an Eaton JJN-100 fuse, a fast-acting fuse rated for 300V and 100A.
If the 2014 match is correct, a JJN-30 would seem to be the match for a 2013 Zero (same datasheet as above).
There was supposition of a 60A limit on 2014 motorcycles, implying a TTN-60, but that has not been proven with evidence.
Electrical System
Lights and Signals
Headlamp
Zero's models ship with halogen bulbs.
X Platform Headlamp
Pre-2014

Hella circular reflector unit (possibly the Vision Plus 5¾" conversion headlamp).

2014+

In 2014, the FX acquired a dual projector configuration with a W3W stock running light.
Adjusting angle (2014+)

There are two retaining bolts on each side of the headlamp assembly.
Loosen all four bolts, pivot the assembly to the angle as desired, and then re-tighten to fix it in position.
S Platform Headlamp
Pre-2012

Hella circular reflector unit (possibly the Vision Plus 5¾" conversion headlamp).

2012+

For 2012+ models, the Zero's stock headlamp assembly is the LSL Urban Headlight with an H4 bulb in a 9003 / HB2 socket, and a W3W stock running light.
LSL Urban headlight housing dimensions: 190mm width, 260mm height, 125mm depth.
The headlamp housing OEM is by TRIOM with part number T7869010. It can be bought on the Italian market (ebay.it or amazon.it or such) for $100 instead of $160 in the US.
Power

The stock headlamp draws about 55/60W which is the largest regular 12V electrical load by default.
The electrical load doesn't impact range much (110Wh over 2 hours compared to 11+kWh yields 1% range difference), unless you ride a very slow long travel leg for, say, offroading.
However, it does heat up the housing glass.
Bulb Retainer

The headlight is fastened in by a plastic bracket that locks when rotated, and covered with a rubber boot to protect from moisture.
Removal
Unbolt the two lower mount screws with a 4mm Allen wrench.
Unbolt the two upper mount screws with a 3mm Allen wrench.
Disconnect the headlight and running light wires to detach the assembly completely.
Adjusting angle (2013+)

There is a set screw on the upper-right rear face of the headlamp housing to adjust the angle of illumination.
Adjust this while the bike is sitting fully upright.
Remove the lower screws and swing the headlamp on the two upper bolts to access the screw while adjusting.
Turn clockwise to raise the angle, counterclockwise to lower.
Turn Signals
Zero uses a triangle-shaped turn signal housing on a flexible stalk.
The turn signals are oriented so the front and rear are interchangeable if you swap sides going from front to rear and vice versa.
Maintenance

Always check for functioning turn signals (running light, headlamp, turn signals, brakes).
Connectors

Threaded insert into the headlamp and tail bracketing (not identified, could be M8) with a notch to hold their position.
Barrel-style single wire connectors (generic, unidentified, 2 per signal).
Turn Signal Bulbs

2013+

Type PY10W, similar to 1156, but the side pins are offset by 150 degrees rather than 180.
Also called BAU15S or R10W.
The glass is amber (as the lenses are clear) and smaller, since the regular 1156 glass is too big.
AF1 Racing references #AP8127489 as "amber turn signal bulb, staggered pins"

2009-2012

Clear 1156 incandescent bulbs, very standard.
Turn Signal Flasher
The turn signal ("blinker") flasher is a simple three prong flasher relay.
It's attached directly by a plug so is easily replaced if it fails (or for an LED compatible unit).
Label
Flasher Unit 12V
2x10W
PN: 8078
Made by Ecie Cheng Du

Low Noise Revision

As of 2016, the part is revised with the description "low noise", suggesting reduced electronic or audible noise.
Flasher Location
Years
Platform
Location
Photo
2012
S/X
Under the seat below the fuse block.
2013+
X
Behind the right fairing
S
In front of the front plastics area under the frame "wishbone" with other electrical connections.
Tail Light
The tail running and brake light assembly is an LED unit made by TRIOM, an Italian company.
The product made for Zero has not been identified so far, but has shown no failures, either.
Switchgear
Fuse Block
The 12V fuse block protects the DC-DC converter from faults in all the 12V components.
Components
Platforms
Years
Components
Rating
Notes
Photo
S,X
2013+
Accessory circuit
10A
Sumimoto plug (all years) and SAE plug (2014+ years)

Headlamp
10A
Instrument cluster (Dash)

running lights

5A
Turn signals (Flashers)

horn
brake lights

10A
Ignition key
5A
2015+
ABS circuit and the ignition key
5A

ABS pump
25A
limited duty
ABS valve
10A
Wiring

The fuse block connects to the positive side of the DC-DC converter output on its left side.
The downstream wires enter a mesh sleeve, through a ferrite ring to clean up RF interference, and lead forward into a larger sleeve that runs (for the S-Platform) along the left side of the forward tank area.
Location (S-Platform)

Under the seat under the Y-shaped frame join piece on the left side.
For 2015+ models, the 25A ABS pump fuse is mounted to the back of the block and may require removing the frame join piece to access fully.
Location (X-Platform)

On the frame under the right side front body panel.
For 2015+ models, the 25A ABS pump fuse is mounted to the frame above the block.
Ignition Switch
The ignition switch is a locked turn-key operation for enabling the bike with a reasonable amount of physical security.
The ignition wiring runs under the steering head to the MBB. This implies that the MBB is at least partially powered while the bike is keyed off.
Security

Position the steering in the locked position to prevent easy access to the wiring which facilitates theft/override via "hotwiring".
MBB pins (per 2013 trace)

4 - Orange/White 20AWG
5 - Orange/Black 20AWG
Handlebar Switch Housing
The handlebar switch housing assemblies seem generic but have Torx T22 security bolt fasteners making inspection and maintenance more difficult than average.
Kill Switch
The kill switch (or engine cutoff/cutout switch) prevents motor operation as a separate control from other interlocks.
It is wired as a digital input to the MBB.
Usage

Use it whenever the bike should not be operating, as a redundant safety mechanism to prevent injury or damage.
Use it if the vehicle is on its side after a crash or other incident to prevent spinning up the wheel.
Use it whenever someone unfamiliar with the motorcycle is sitting on it or nearby, in case they decide to touch the throttle.
Troubleshooting

The status command in the MBB console can report its reading.
MBB Pins (per 2013 trace)

23 - Red 20AWG
24 - White 20AWG
Kickstand Switch
The kickstand has a safety cutout switch to prevent motor operation while at rest.
Raise the kickstand for testing only with the rear wheel lifted off the ground via a stand or lift.
Electrical Note

The connector is three pronged and needs to be connected correctly or can cause a fault with the MBB.
Do not disconnect or reconnect while the vehicle is keyed on or contactor is shut to be safe.
Connector

The connector appears to be a Sumimoto MT sealed series connector MT-3S-2, p/n 6180-3241.
This connector appears to be a very standard application for Japanese motorcycle interlock switches for sidestands/kickstands.
Troubleshooting

The status command in the MBB console can report its reading.
MBB pins (per 2013 trace)

10 - Yellow/Black 20AWG
11 - Orange/Black 20AWG
27 - Red 20AWG
Tail Wiring
Tail wiring includes the tail lights (running and braking power), each rear turn signal, and the license plate illuminator.
Connections
Photo
Connector
Function
Wire Color
Standard Suzuki or Honda brake light (3-wire)
Tail light power
Brown
Brake light power
White with red stripe
Negative/Return
Black
Single pin connector

Socket: Molex 03-09-2011 [8] [9]
Pin: Molex 03-09-1011 [10]

Left turn signal power
Green
Negative/Return
Black
Right turn signal power
Grey
Negative/Return
Black
Note about Braking Regen

Braking regen is activated by the pressure switch on the front brake lever or hydraulic switch on the rear brake pedal, through the rear brake power circuit.
If that circuit doesn't complete (due to a failed bulb or wiring disconnect), braking regen seems to not activate.
Routing

Tail wiring runs through a sleeve by the controller on the left side.

Ensure it is protected from chafing by the controller cover.

Turn signal wires run through a pair of holes where the tail stalk meets the subassembly underneath the tail.
Schematic
Burton has been maintaining a Zero wiring diagram based on his now-highly-modified 2013 Zero S. It is schematically correct for that year but could use improvement explaining the physical routing and there are missing details like the precharge circuit.
S-Platform Schematic
2013 S diagram by Burton

| | |
| --- | --- |
| Latest versions | |
Burton's thread with updates Later model years have changed a bit; the 12V fuse block has more slots for ABS, at least, and the cabling layout is denser.
X-Platform Schematic
2016 FX diagram by Keith

| | |
| --- | --- |
| Latest version (use pdf, previews are not updated) | |
Pack connector pin layout

| | |
| --- | --- |
| | |
Earlier Model Years

Zero DS 2011 wiring diagram forum thread with a 2011/2012 XU diagram
OBD Location
Zero OBD-II port location by model-year
Platform
Years
Photo
S
2011-2012
In the tank area facing the forward frame join where the fuse block sits.
S
2013
Above and behind the motor next to the accessory charging port, on the left-hand side.
difficult to photograph
S
2014-2015
Above and behind the motor next to the accessory charging port, on the right-hand side.
difficult to photograph
S
2016+
Under the seat on the left side just behind frame bulkhead that the tank plastics rest on for 2016 models.
X
2011+
Under the left side tank plastics.
Routing
S Platform Routing
Under The Seat

The 12V fuse block is bolted under the Y-shaped frame bracket under the seat.
The underside terminals lead to the positive terminals from the DC-DC converter below on its left side.
(The following picture has one flaw: the fuse label is rotated 180°; layout is reverse of the label)
The terminals on top enter a mesh sleeve, through a ferrite ring to clean up RF interference, and lead forward into a larger sleeve that runs along the left side of the forward tank area.
The 12V accessory port cable is lower gauge than the others and has a crimped connection that splits into two circuits for 2014+ models.

The positive side crimped connection is just two inches from the fuse block under the first sleeve, wrapped in vinyl self-adhesive tape.
Ref. Quick and dirty Youtube guide to this areaa
Tank Area Left-Side Routing

All cabling leading to the steering controls and instrument cluster runs along the left side of the frame tank area wrapped in a bundle.
The largest connector on the left side leads to the instrument cluster. There is a smaller 4-pin connector there for ABS circuits (probably).
Negative/Return

The negative side connection for all of the forward 12V circuits is halfway along the tank area under a longer stretch of vinyl self-adhesive tape.
The merged output leads back down to the DC converter between the forward seat and the motor.
Tank Area Front Mounting

A group of components are clamped to the underside of the front part of the frame in front of the tank:
The turn signal flasher relay.
12V accessory ports: Sumimoto connector and the SAE connector (2014+).
The 3-pin headlamp connector.
Tail Routing

Towards the tail, one sleeved bundle runs past the controller on the left side and handles:

Turn signals
Brake and running lights.
License plate illuminator.

The turn signal wires run through a pair of holes where the tail stalk meets the subassembly underneath the tail.
X Platform Routing
Overview

The 12V fuse block is located behind the right hand front body panel.
The turn signal flasher relay is also under the right panel.
The SAE connector is located under the bundle of wires on the right side front body panel.
In the following photo, the cable is on top, but it can be routed around.
Troubleshooting
Dash Display
How to use the instrument cluster to extract basic diagnostics from the bike.
System Warning

The red indicator light in the lower part of the display sometimes will flash a repeating sequence. The official manual lists what they mean, usually related to system startup. Often enough, keying the bike off and on is the way to re-test.

Display Flashes

If the dash display in its entirety is flashing after keying the bike on, this indicates an onboard charger self-test failure. Key the bike off and wait for a few seconds and retry, and it should clear.

No Backlight

Check your running lights and license plate lights, if those are also out then check the fusebox (see: seat removal).
If the fuse pops right away, there is a short circuit in the wiring harness (as happened to a MY2016 DSR pinched wiring harness (or mouse nest!) to the license plate lights).
Disconnect the tail light module and the display module connectors; if the fuse still pops, try removing the tail and tracing the short circuit.
Error Codes
How to use the 2014+ instrument cluster to extract self-reported diagnostic codes from the bike.
Switch the dash display 1 to the error code display to see a cycling list of the 2-digit error codes currently in effect.
Check the official manual for what they mean; some are normal safety interlocks and others are about various systems.
The following are paraphrased interpretations of those codes with (progressively) some basic troubleshooting leads to follow.
Error Codes
Code
Description (official)
Manual Section
Community Notes
0
No Error
Almost abnormally normal!
1
High Throttle
Throttle
Likely throttle connection or potentiometer issue
2
Motor Temperature Warning Stage 1
Motor
Near upper temperature limit; corresponds to blinking temperature light on the dash
3
Motor Temperature Warning Stage 2
At/exceeded upper temperature limit; might involve cutbacks or shutdown
4
Controller Temperature Warning Stage 1
Controller
Near upper temperature limit; corresponds to blinking temperature light on the dash
5
Controller Temperature Warning Stage 2
At/exceeded upper temperature limit; might involve cutbacks or shutdown
6
BMS Throttle Enable Wire Error
7
Low Battery Voltage
Contactor Limits
Should only happen near/below 0% SoC or 84V dynamic pack voltage. This can reset for a bit if the bike is powered off for a few minutes; charge ASAP.
8
High Battery Temperature Status
Can happen during a >4kW charge or while operating at speed in a hot environment; reduce battery load.
9
Low Battery Temperature Status
Can happen in winter storage; will prevent charging. Use a space heater or bring the bike inside ASAP to prevent battery damage.
10
Battery Temperature Warning Stage 1
11
Battery Temperature Warning Stage 2
12
Reserve Partition Warning
MBB
13
Reserve Switch Warning
14
Safety Override Active
15
Charger Attached But Not Charging
Charger
16
CIB Contactor Compromised
Contactor?
17
Charger Error
Charger
18
Battery Temperature Sensor Fault
BMS
19
High Charge Current
Contactor
The contactor limit for charging was reached and the BMS opened the contactor. Key the bike off and on to reset.
20
BMS Low Isolation
BMS
21
Board Vpack Error
BMS
22
Board Temperature Error
BMS or MBB?
23
Post Error
MBB
Power-On Self Test diagnostic result
24
Startup Error
Firmware boot diagnostic result
25
Contactor Open Warning
Contactor
This indicates the contactor is open, which may be appropriate given what safety interlocks are in play.
26
Contactor Welded Error
Mostly relevant for 2013 models; newer batter contactors should not fail this way.
27
Precharge Error
Precharge
Precharge process diagnostic; indicates voltage didn't climb enough in the required time period to allow closing the contactor. Try keying the bike off and on again over a period of a few seconds to retry.
28
BMS Isolation Fault
BMS
Indicates any kind of ground indication as measured by various BMS circuits.
29
BMS Isolation Danger
Indicates a ground indication as measured by various BMS circuits that dispatches the BMS to protect itself by opening the contactor.
30
BMS Can Error
CAN bus error to/from the BMS, as reported by the MBB?
31
SEVCON CAN Error
Controller
CAN bus error to/from the Sevcon controller, as reported by the MBB?
32
Module Variance Too High
BMS
Indicates that a module within the power pack is varying too much from its siblings (voltage? current?). Provide a balancing charge with the onboard charger.
33
SEVCON Error Turn Off
Controller
34
Charge Error Turn Off
Charger
35
Loopback Error
36
Board 5V Error
MBB
MBB fault providing 5V micro-power? (what's affected?)
37
Board 3 3V Error
MBB fault providing 3V micro-power? (what's affected?)
38
Idle Turn Off
The MBB timeout for detecting an idle control state has been activated, opening the contactor. Reset by keying the bike off and on.
39
Throttle Out Of Range Disable
Throttle
The throttle's electric signal safeguard is active
40
BMS Throttle En Wire Disable
The throttle's enable wire safeguard(?) is active
41
Low Battery Voltage Disable
Contactor
The low battery voltage safeguard is active
42
High Battery Temperature Status Disable
The high battery temperature safeguard is active
43
Low Battery Temperature Status Disable
The low battery temperature safeguard is active
44
Kill Switch Disable
MBB
The kill switch safeguard is active
45
Kickstand Switch Disable
The kickstand switch safeguard is active
46
BMS Charger Connected Disable
BMS
The BMS checks whether the charger is connected, and this check failed.
47
MBB Charger Connected Disable
The MBB checks whether the charger is connected, and this check failed.
48
SEVCON Startup Disable
Controller
The Sevcon controller startup failed and the resulting safeguard is active.
49
Contactor Open Disable
Contactor
The contactor is open because of some safeguard (like 25 but not a normal indication). Check other error codes and reset by keying the bike off and on. Check logs later.
50
BMS Self-Test Error
BMS
The BMS runs a self-test to decide whether it's safe to operate, and it failed. Check BMS logs immediately.
51
BMS Self-Test Warning
The BMS runs a self-test to decide whether it's safe to operate, and it succeeded but had a note. Check BMS logs.
52
Reserve Partition Disable
MBB
The MBB reserve storage partition(?) safeguard is active.
53
BMS Internal Disable
BMS
A BMS internal check failed and the resulting safeguard is active.
54
Internal Disable Error
MBB
An MBB internal check failed and the resulting safeguard is active.
55
Internal Fault Error
Could be anything?
56
Monolith Not Connected
BMS as reported by the MBB?
BMS#0 is just undetectable (is this via CAN and voltage readings together?)
57
Module Did Not Connect
BMS as reported by the MBB?
The contactor didn't close? Or something more basic about the BMS reporting the battery unready.

Probably use the onboard charger to fix.

58
BMS Sensor Warning
BMS
59
BMS System Warning
60
Bike Configuration
MBB or MBB?
There may be an error in the bike configuration settings applied to the MBB and BMS.

Basically, they might have inconsistent model specifiers or battery size specifiers.
Isolation Faults
BMS isolation faults are indicated by a combination of codes 20, 28, and 29.
Meaning
On some part of the power system connected to the BMS at that moment, there is insufficient isolation (insulation) from ground.
This can include anything on the 116V power cabling "bus".
This is usually not a short, but can mean an imbalance that could compromise the bike's performance or safety.
If left unattended to, it could deteriorate to a serious problem; in-build protections should shut down the bike prior to damage but this itself would be unsafe happening while riding.
If the BMS reports a specific voltage in the logs with the isolation code, it means that a specific cell (the combined parallel cells at a particular level in the 28-cell series) has poor isolation to ground, roughly computable as "3.7V ⨉ N = logged voltage".
Possible Aggravating Conditions
Troubleshooting
Disconnect anything attached to the Accessory Charging Port.

If the condition clears, check the attached equipment (chargers and cabling) for grounding isolation.

Key the bike off and on slowly, waiting after each transition to see whether the condition clears.

If the error occurs without or before the contactor is shut, then the fault is within the battery and might be due to moisture or dust entering the front of the battery faceplate where the BMS is.
If the error clears after opening the contactor, then the fault is likely downstream of the contactor, including the Accessory Charging Port signal pins, the Sevcon controller, and the MBB and DC-DC connections.

Check for moisture on the Accessory Charging Port signal pins and attempt to dry them as necessary.
Controller Hypothesis via DoctorBass

It might be the Sevcon Motor controller that is defective.
The codes are related to BMS isolation fault but apparently that code is an interpretation of a voltage present relative to the frame and a bad controller like mine had the phase #2 that connect to the motor that had a dead short to the heatsink.

Apparently Sevcon and Zero are aware of that problem.

I got a replacement controller under warranty.
The problem is apparently because the Kapton rtape they use between MOSFET transistors' heatsink and the aluminum heatsink might be punctured and create intermittent low resistance contact to the controller chassis.

Test Procedure

A dealer should be able to do this easily.
Key off the bike and wait 10 minutes for the system to fully discharge.
Remove the seat.
Uncover the top of the Sevcon controller.
Verify all inputs and outputs of the Sevcon controller are de-energized (zero/low voltage).
Disconnect the cables from the controller (M1, M2, and M3, the Ampseal 34-pin connector, and B+ and B- to be extra careful) and cover the leads for safety.
Check for continuity between each phase (M1, M2, and M3 terminals) and the controller heatsink plate.

If you get continuity (low resistance reading), then controller is defective.
Using Mobile App
See the official mobile application article.
Diagnostics
CANbus
Repair
Front brake lever
Inspect brake lever mount for damage
Replacement
Slide in brake lever assembly, taking care to align the rubber boot / plunger (what's the technical term?) and the bolt hole.
Insert 5mm hex bolt from top to bottom and hand-tighten with 5mm hex bit on top until snug. Do not over-torque. Hold the 5mm hex bit in place for the next step.
Fasten threads with 10mm lock nut and hand-tighten until snug. Do not over-torque.
Adjust a set screw on the inside of the lever, if necessary.
Left-over parts
The old brake lever assembly.
Newer brake lever model
Newer replacement parts seem to contain an extra screw (G) used to fit the length of the piston (E) into the cylinder.
With this replacement part the assembly process would be the following:
Put part D into the lower hole of the lever (A).
Screw the piston (E) into the visible hole of part D.
Put the rubber boot (F) onto the piston (E), so that it looks like in the assembled version shown before.
Screw the small screw (G) from the side into part D to fix the piston (E).

Keep it loose, though, so that you can still screw out or in the piston (E).

Slide the lever into the bracket as shown before.

Insert the hex bolt, but do not tighten it.

Check the function of the brake, especially any slack it shows.
In case you have slack, take out the hex bolt, slide the lever out again and adjust the length of the piston by slightly screwing it out.
Reassemble into the bracket and recheck the function of the brake.

If you are happy with it, then tighten the small screw (G) to fix the length of the piston.
Faulty Ignition Switch
Symptom

The motorcycle loses all power while making a sharp turn to the right.

Discussions
Finding

It was the ignition switch wires broken inside the switch.
Troubleshooting

Take off the headlight and see if a right hand turn stretches the ignition wires tight.
There is only 2 screws holding on the ignition switch and the switch comes away from the key lock part.
In one case, a cable tied too close to the ignition switch, which flexed the cable too much over a short distance.
Recommendations

Pry open (from the key lock) and re-solder the ignition switch.
Fill the bottom part with silicon sealant to stop it from flexing at the soldered joins so it won't happen again.